Ronna McDaniel Says GOP Must 'Not Go Along' With Impeachment to Win Back Majority
Ronna McDaniel, chairwoman of the Republican National Committee (RNC), said on Thursday that that the first step Republicans should take in order to win back the majority is to "not go along" with the Senate impeachment trial of former President Donald Trump.
"Let's show a positive vision as we move forward and unite to take back that majority and the first step is to make sure we don't engage in this conviction of this president," McDaniel said during an interview with Fox News. "And not go along with this action of trying to impeach a president who's already out of office."
She continued, "And I hope Republicans will absolutely not go along with what the Democrats are doing as they call for unity and acting in a totally different way."
McDaniel's comments come as Congress awaits Trump's impeachment trial in the Senate. The House previously voted in favor of impeachment for "incitement of insurrection" as many believes Trump's rhetoric fueled the violent January 6 riots at the U.S. Capitol, when his supporters breached the building in protest of Congress certifying state's electoral votes.
On Thursday, House Speaker Nancy Pelosi told reporters that the House and Senate are "ready" to proceed with Trump's second impeachment but noted that she has not yet sent the articles of impeachment to the Senate.
"I'm not going to be telling you when it is going.… They are now ready to receive, but there are other questions of how a trial to proceed. But we are ready," Pelosi said. "It will be soon, as I said you will be the first to know."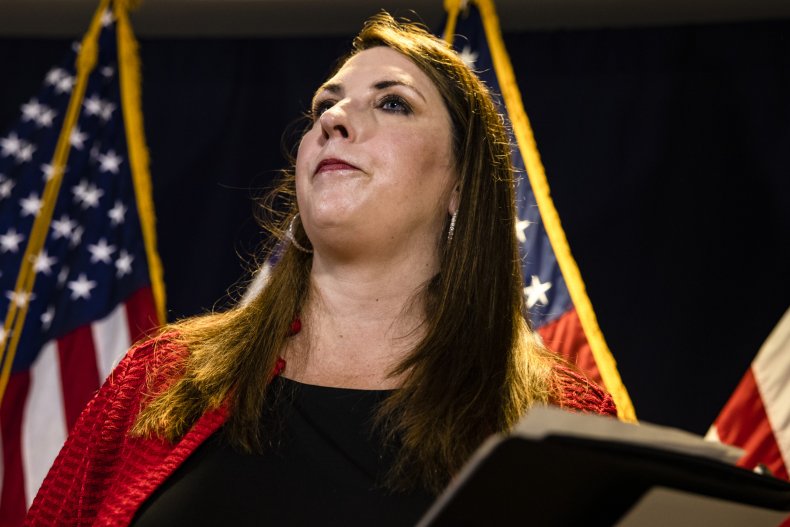 In the House, 10 Republican representatives voted in favor of impeachment but the Senate trial will need at least 17 Republican senators to reach the required two-thirds majority to convict Trump, if every Democratic senator also votes in favor.
Despite McDaniel's comments, several Republican senators have yet to publicly break with the idea of impeachment.
Republican leader Mitch McConnell has yet to announce how he will vote in the trial, but The New York Times, citing people familiar with the matter, previously reported that McConnell was telling associates that he was "pleased" Democrats were moving forward with the process and believed Trump committed impeachable offenses.
Alaska Republican Senator Lisa Murkowski was the first GOP Senator to call for Trump's resignation while still in office and stated that the House acted "appropriately" in their impeachment vote.
While Murkowski did not announce how she plans to vote in the Senate trial, she said in a statement that she "will listen carefully and consider the arguments of both sides."
Similarly, Pennsylvania GOP Senator Pat Toomey also called for Trump to resign after the Capitol riots and told NBC's Meet the Press that he thinks the former president committed "impeachable offenses," but noted that he didn't know if it was "practical" to do so with just a few days left in office.
Newsweek reached out to the RNC for comment but did not receive a response in time for publication.