Ronny Jackson Could Go From Managing 58 to More Than 350,000 as Trump's Pick for Veterans Secretary
President Donald Trump fired Veterans Affairs secretary David Shulkin Wednesday and nominated his personal physician, Navy Rear Admiral Ronny Jackson, as a replacement.
If confirmed, Jackson, 50, would go from managing a staff of around 58 to a department with more than 350,000 employees. The Department of Veterans Affairs is the second largest government department and has a $186 billion budget.
As the president's physician, Jackson oversees the White House Medical Unit, a component of the White House Military Office. The unit is responsible for health care for the president and all members of the Executive Office.
Jackson oversees around 58 people, which includes nine doctors, 10 nurses, 16 physicians assistants and support staff, according to an interview with non-profit American Council on Science and Health.
The Secretary of Veterans Affairs became a cabinet-level position in 1989. Past secretaries typically have had more experience in management of large operations than Jackson does. Shulkin, the first nonveteran in the position, worked in the private sector in health care management. Before him, Bob McDonald served in the position after running Proctor and Gamble. The seventh secretary, Eric Shinseki, was a four-star general and U.S. army chief of staff.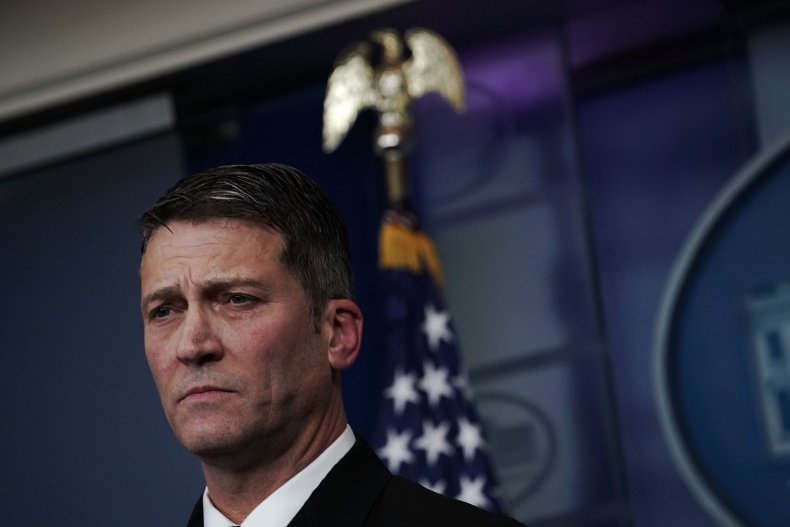 The move to nominate Jackson surprised many and has some veterans groups nervous. Veterans advocacy organization American Veterans (AMVETS) told Newsweek that it had "pretty serious initial concerns" about Jackson.
"While his background as a military officer and a physician are encouraging, as far as we can tell, he's never held a command or led anything remotely close to in scope or complexity to the VA," the statement to Newsweek read. "The President will need to show that this active-duty naval officer is eligible and qualified to run a $200 billion bureaucracy, the second largest agency in the federal government."
The Veterans of Foreign Wars (VFW), a nonprofit veteran's group derided the choice.
"The VFW will be closely monitoring the Senate confirmation process, because what Dr. Jackson's bio does not reflect is any experience working with the VA or with veterans, or managing any organization of size, much less one as multifaceted as the Department of Veterans Affairs," VFW Director of Communications Joe Davis said in a statement.
Jackson graduated from the University of Texas Medical Branch in 1995 with his Doctor of Medicine—then went on to serve in the Navy. Jackson was chosen to become part of the White House medical team in 2006 while he was deployed in Iraq. Former President Barack Obama appointed him as the top White House doctor in 2013; Trump then kept him on after he became president.
The White House did not immediately respond to request for comment from Newsweek.