Ronny Jackson Won't Be Trump's Doctor Again After Misconduct Allegations
White House physician Ronny Jackson will not return to his role as President Donald Trump's doctor, Politico reported on Monday citing two senior administration officials.
Jackson, a rear Navy admiral, has in recent weeks been embroiled in a series of controversies, forcing the withdrawal of his nomination for secretary of veterans affairs.
He has been accused by former colleagues of loosely handling pain medication prescriptions, being drunk on an overseas trip, and presiding over a toxic work environment.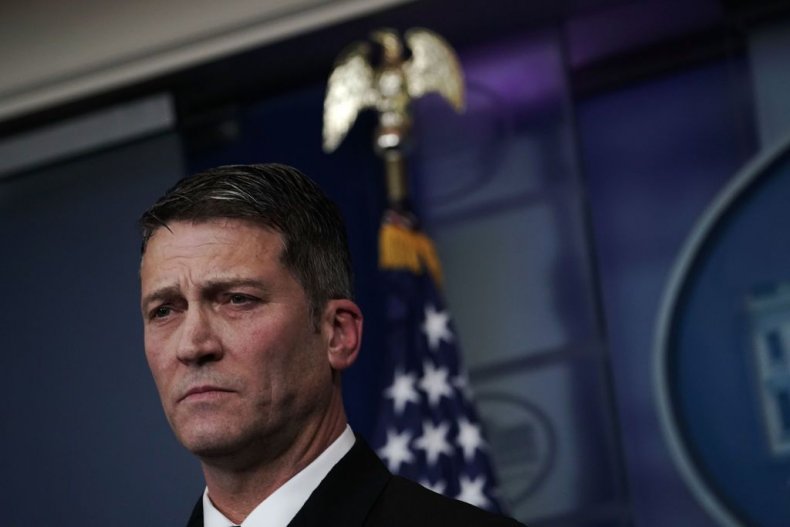 Jackson has denied all of the allegations and returned to work in the White House medical unit. Navy officer Sean Conley, who took over as Trump's physician last month, will continue in the role, according to Politico's sources.
Trump defended Jackson last week amid attacks on his professional record, describing him at a White House press conference on Friday as "one of the finest people I have met" and blaming Democrats for smearing him.
Jackson withdrew his nomination on Thursday after Montana Senator Jon Tester, a Democract, released the allegations against him by former colleagues summarized in a document. Tester acknowledged in an MSNBC interview that not all of the allegations against Jackson were proven, but that they merited investigation.
The White House defended Jackson on Friday, with press secretary Sarah Sanders describing his record as "impeccable" and saying he had passed multiple background checks.
In a tweet on Saturday, Trump attacked Tester, the lead Democrat on the Veterans Affairs committee, calling on him to resign. At a campaign rally that night, Trump said: "I know things about Tester that I could say, too. And if I said them, he'd never be elected again."