Rookie Freelancers Risking Their Lives To Cover The Arab Spring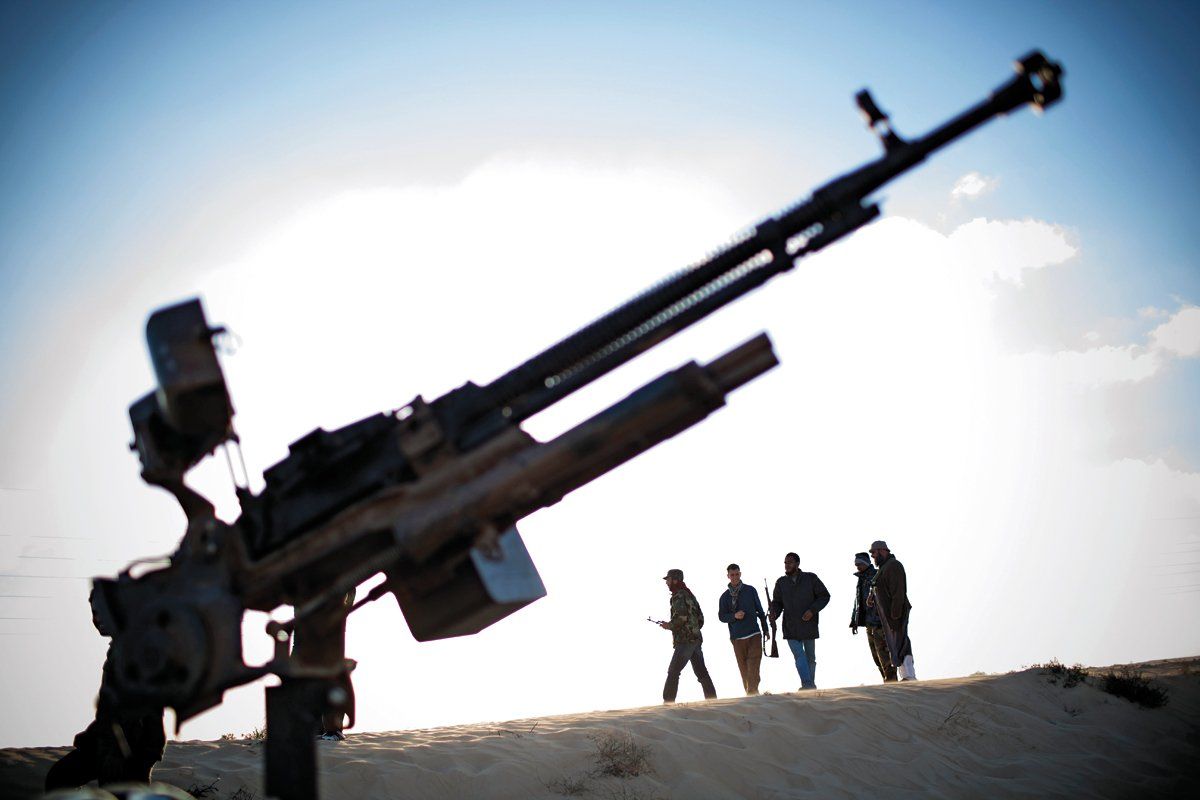 After two days of rough seas, the small fishing boat carrying two seasoned correspondents, rebel fighters, and Ruth Sherlock arrived at the besieged city of Misrata. It was the height of the Libyan civil war and the seasick passengers were eager to make landfall when suddenly, the boat came under fire. Not knowing if the bullets were from government troops or friendly fire from confused rebels, the journalists dove for cover. This is it, Sherlock thought. She was 24, working as a freelancer, with no one to bail her out in one of the most dangerous spots on earth.
Their boat was one of the first to land in the coastal enclave where 600 people had been killed in the first few weeks of fighting, mostly by government shelling of civilian homes. Libya was Sherlock's first brush with conflict reporting—and unlike the experienced journalists she was traveling with, she had no money, no health insurance, no first-aid training, or even the most basic idea about how to work in a conflict zone.
When I met the petite blonde in the Libyan city of Benghazi in February 2011, she was filing stories for a Scottish newspaper and tagging along to the frontline with older correspondents. I was only two years older, but had been through a five-day hostile-environment training course and was on assignment—expenses paid—for an American magazine. I thought Sherlock was insane. "At the time, I was just so desperate to make it as a journalist, it was all I wanted," she says.
Sherlock stayed in Libya for nine months, filing for the Los Angeles Times and the Sunday Times, among others, and in 2012 she won Young Journalist of the Year at the British Press Awards and was hired by the Daily Telegraph. Sherlock's story, however, is the exception to the rule—a throwback to the old model of foreign reportage when quality reporting and risk-taking was ultimately rewarded by a staff position.
The days of TV stations and newspapers fielding a globe-spanning staff of full-time correspondents are over as media organizations are cutting back and increasingly relying on freelancers. The back-to-back uprisings of the Arab Spring have only exacerbated this trend, breaking news budgets and giving more opportunities to independent journalists.
But these young reporters are often venturing into danger without the training and equipment afforded full-time staffers, such as helmets, flak jackets, satellite phones, first-aid kits, or even health insurance. And after paying their own way to cover a story, there is rarely a full-time salaried position waiting for them.
"There's no question that there's been a dramatic change" in relying on freelancers, says Joel Simon, executive director of the Committee to Protect Journalists (CPJ). Simon notes CPJ's caseload is more and more focused on providing support and advocacy for freelance journalists, both local and international, who are more vulnerable than staff reporters. "If they get into trouble, they don't have the full resources of the media outlet behind them," Simon says.
So why do young freelancers do it? Because many feel, myself included, that there seems to be no way around it. Even as rates for articles bottom out, many say they feel a personal passion to cover a story and find they don't have a choice but to pay their own way, hoping to make enough to cover their costs. And while it's a far cry from the glamour of Hollywood portrayals of young people working in war zones, the camaraderie is real. The opportunity to tell the top stories of the day, the hope of establishing a career, and the demands of staying competitive keep freelancers going, despite the severe risks.
Earlier in the Arab Spring, many rookie freelancers were unaware of the risks they were walking into. When I crossed into Libya, despite being on assignment and having completed a hostile environment's course, I didn't have the necessary gear—a flak jacket or a helmet—while I covered the frontline. I never thought to bring any, mainly because I didn't own any.
When the protests in Yemen broke out, the government immediately banned journalists from entering the country, leaving a comparatively young and inexperienced band of freelancers on the front row of the conflict. "There were lots of freelancers in Yemen taking lots of risks that probably were not necessary," recalls Laura Kasinof, 26, who worked for The New York Times from her base in the capital, Sana, and who has since returned to the States. "I think it was a combination of pressure to publish and then we did not know where to draw the line between our own safety and desire to get the story and what was necessary and what wasn't necessary because we didn't have experience in it."
The benefit to being a freelancer is that they can stay longer and work more in-depth on stories, choosing their topics themselves. But the pressure to publish and compete with staff correspondents while keeping costs down can have dire consequences, even for more experienced freelancers.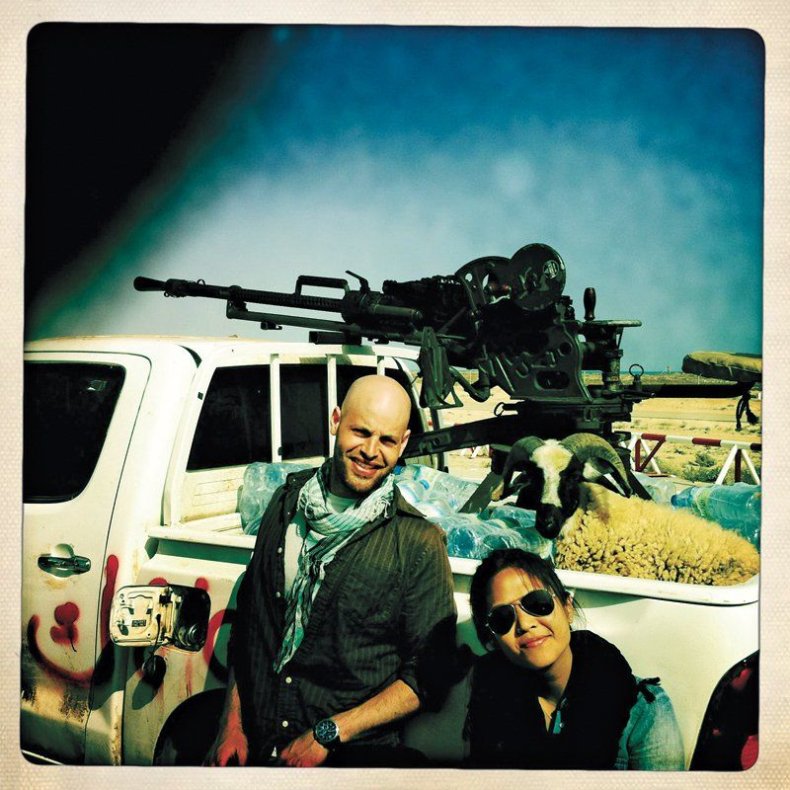 James Foley, who had previously worked in Iraq and Afghanistan, and two other freelance journalists were detained for six weeks last year in Libya when the rebel car they were riding was caught in a government ambush. A fourth freelancer in their vehicle, photographer Anton Hammerl, was killed.
Foley, 38, admits the group should have known better than to venture far past rebel-held territory with inexperienced young fighters. "The idea was to go past where the majority would go, get better stuff because no one else was there," Foley says. "It's the freelancer's conundrum taking bigger risks to beat staffers. I think it's just basic laws of competition; you need to have something the staffers don't, but in a conflict zone that means you take bigger risks: go in sooner, stay longer, go closer."
Foley has spent the last three months freelancing from Syria, mostly in the besieged city of Aleppo, working with photographer Nicole Tung, 26, who also cut her teeth in Libya last year. Despite the risks they are taking and the time they are putting into the story, they are still scraping by. "We can't afford to pay $200–$300 per day for a fixer or a driver, so logistically, it's really difficult to work when you're on your own, because you're depending on the good will of other people, or cheap ways to get around—which is not often the safest way to get around, but you really don't have any other option because you can't afford it," Tung says.
The two say they see a growing number of younger freelancers coming into Syria without any preparation. Tung says it's difficult for her to pass judgment on the new arrivals since she was equally as inexperienced when she arrived in Libya last year. "A lot of the first-time war-zone freelancers ... [are] coming in completely blind, which is frightening actually, because I'm frightened of the situation in Syria and I'm coming in with almost a year's experience in Libya," Tung says.
Media organizations also don't want to take responsibility for people heading into the war zones. When I was in New York City last month, I made the typical freelancer rounds, meeting with editors to discuss prospects to contribute to their coverage from Syria. A surprising amount of them told me not to go, that it was too dangerous and not worth the risk. Then, as they walked me to the door, they told me that if I was going anyway, to keep them in mind for stories. They did not offer to provide me with support, insurance, or expenses.
Katie Paul, 27, a freelance journalist based in Amman who also contributes to Newsweek/The Daily Beast, heard the same thing before she went into Syria this summer. "Most editors go out of their way to encourage you not to go in, because they don't want to be associated with the liability for it," she says. But "if you have information from inside, it's pretty simple: it's better, and so you're going to get published. It's like almost a guarantee."
Paul has not had war-zone first-aid or combat-reporting training. The costs to complete a course remain prohibitively high, and even the programs that offer reduced-price training for freelancers through grants still ask for a portion of the fee and participants must pay their own travel to the site of the course, usually held in America or the U.K. It is rare for publications to assist in the cost of flights or first-aid training for freelancers. A new course started by Sebastian Junger after his friends and colleagues Tim Hetherington and Chris Hondros were killed in Libya, called Reporters Instructed in Saving Colleagues (RISC), offers three days of free medical training but participants need to pay their way to New York City. (Full disclosure, I will be taking the October class.)
As rates for stories remain low, freelancers based in the Middle East are caught in a vicious cycle of not being able to afford the training they need, though they are closer to the epicenter of the story. "It's kind of depressing," Paul says. "These are really big-name publications, prestigious publications, and they're paying me somewhere between $100 and $500 per article, articles that take perhaps like a week or two weeks or three weeks of preparation, not just one day's worth of work."
Sometimes the risks have caught up with reporters. Austin Tice, 31, contributed to The Washington Post and McClatchy from Syria. In mid-August, the former U.S. Marine disappeared after apparently being detained on the outskirts of Damascus. Last week, a disturbing video emerged of a frightened, blindfolded Tice being herded by armed men, who put him through a mock execution. While the men in the video were dressed in jihadist garb, the video first popped up on a Facebook in support of the regime of Syrian President Bashar al-Assad, and the U.S. State Department said it believes Tice is in government custody. Tice filed his first story from Syria this summer.
"It's becoming an industry using really young people as cannon fodder because the more experienced journalists are not willing to take risks that seem unnecessary for a blog or a Web page," says Janine di Giovanni, Vanity Fair contributing editor and author, who has worked from conflict zones for more than 20 years. Di Giovanni also contributes to Newsweek/The Daily Beast. Though the practice has its roots in the Kosovo war, di Giovanni says the situation has been exacerbated with the Arab uprisings in the Middle East and North Africa.
"What happened with the Arab Spring is that a lot of freelancers with little combat training and little experience from Cairo jumped in a car, drove to Libya, ran off to the frontline, got themselves into trouble," di Giovanni says. This "basically set a precedent that is extremely dangerous, because now editors assume people will go for very little money and a very large risk."
I returned to Libya as a freelancer twice after my assignment ended, when I couldn't find someone to pay for me to go in. I slept on people's floors; bummed rides in senior correspondents' cars; and lamented the downfall of the industry with other freelancers. I turned 27 at the rebel-held checkpoint in Sirte, attempting to cross closer to the fighting so I could write an article on my birthday. We were not let through. When I came back to Tripoli that night, depressed and dejected, Sherlock bought me a birthday dinner; by that time she was regularly working for the Telegraph. She gathered people in her room to toast to my prospects.
There is a thrill to being on the edge of history for freelancers and staff correspondents alike. There's a real bond between young people who know how hard it can be to do this job, and whether the risks you are taking are ultimately worthwhile. "I rely a lot on my network of friends to talk about things. We ask each other, 'Really, how's your head doing?' and that's really the only outlet that you get, and a chance to talk about the things that you've seen and what you're going through when you come out," says Tung, who notes one of the things freelancers lack is an opportunity for counseling to deal with some of the personal effects of war reporting.
The industry itself is at a loss about how to tackle the problem of inexperienced freelancers willing to work for lower rates and skimp on safety due to shrinking budgets. Some freelancers say editors should self-regulate, and only take stories from young journalists who have completed hostile-environment training and have their own equipment. Otherwise, they reward people for bad behavior. Others suggest the creation of a fund to help offset the cost of insurance and body armor for conflict reporting, but so far there have been no initiatives.
"It's an impossible situation—you can't tell a pack of eager young journalists that they're forbidden to go into Syria and then if they produce something and they're willing to sell it for $200, perhaps because it's only worth $200, the newspaper takes it, what can you do?" says Tom Hundley, senior editor at the Pulitzer Center for Crisis Reporting, which provides grants to freelancers to cover reporting costs.
Hundley, who spent nearly two decades as a foreign correspondent for the Chicago Tribune, says he's seen the age of freelancers covering conflict drop from those in their 30s to people in their 20s, often with little prior journalistic experience. With an increased reliance on freelancers, Hundley notes reporters are no longer working their way up the structure of a newspaper and learning the fundamentals through daily interaction with editors or mentors. As such, the quality of much of the reporting has dropped. He notes that taking stories from random freelancers at random times also reduces a newspaper's ability to plan coverage and build a more in-depth understanding of the news.
Lauren Bohn, who filed her first foreign story during the Egyptian revolution at the age of 23, has taken advantage of outside funding mechanisms to finance some of her reporting. She worked from Egypt with the support of the Pulitzer Center. As of last week, she is doing an internship with the Associated Press in Jerusalem through the Overseas Press Club. Both Paul and Bohn have been Fulbright fellows. Bohn is also a contributor to Newsweek/The Daily Beast. They see the situation of writing without guidance as troubling. "When you're dealing with these incredibly nuanced and complicated reporting topics and you're in the middle of Syria or in the middle of Libya, you want to feel like you have someone to bounce ideas off of, that you have an experienced editor on the other end," she says. "But for a lot of my stories, you report it, you write it, you take photos, you click 'send,' and you're not having too much conversation with the editor on the other side who is in the U.S.," says Bohn.
Ultimately, the future remains uncertain for young freelancers. "What is the trajectory for people like us?" asks Bohn. "It's unclear. We might be the first generation that's had to grapple with this question of 'Are we going to be career freelancers or are we going to eventually get staffed after older generations cycle out?' Also, the whole media landscape is changing so rapidly, that I'm not sure if half the outlets we're publishing for are even going to be around in 10 years. You just don't know. The onus is on you to define your brand and create your own path."