'The Rookie' Season 2: How Afton Williamson's Talia Bishop Was Written Out Following Discrimination and Sexual Harassment Allegations
ABC's cop drama The Rookie revealed the fate of Afton Williamson's Talia Bishop in Sunday's Season 2 premiere, following Williamson's departure from the series after allegedly facing racial discrimination and sexual harassment on set.
Williamson announced that she had quit the Nathan Fillion-led show in early August, claiming in an Instagram post that she was subjected to sexual harassment by a guest star and persistent "racist commentary & bullying" from the show's hair department.
In Sunday's Season 2 premiere, Williamson's training officer Talia Bishop was briefly mentioned by Fillion's main character, John Nolan, to explain her absence in the new season.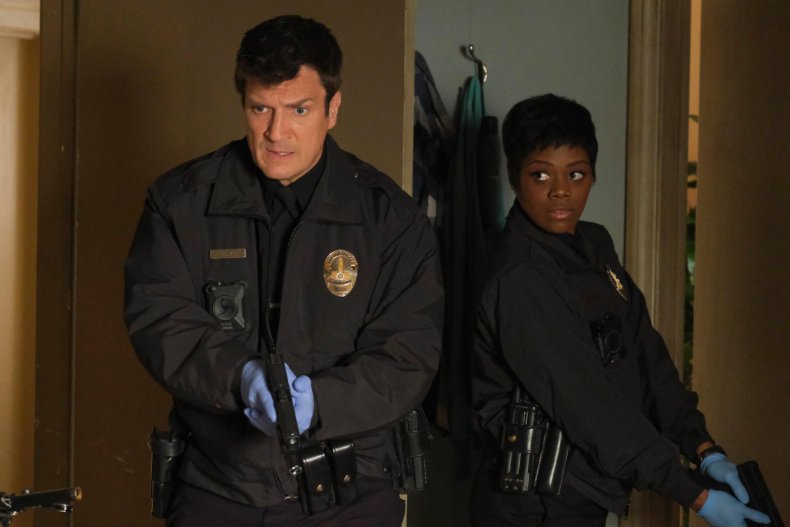 In a scene between Nolan and his girlfriend Jessica Russo—played by Sarah Shahi—it was revealed that Bishop had taken a job at the Bureau of Alcohol, Tobacco, Firearms and Explosives (ATF) after the events of Season 1. "It's not going to be quite the same without Talia," said Nolan, who was being trained by Williamson's Bishop last season.
A new character will be introduced in Season 2 to replace Williamson's mentor-like role.
Afton Williamson quits The Rookie
In an Instagram post in August, Williamson said she would not be returning for Season 2 of The Rookie after allegedly facing racial discrimination from the show's hair department and sexual harassment from recurring guest star Demetrius Grosse.
Williamson said her concerns were not formally investigated after she reported them to the show's executive producer.
"HR protocol was never adhered to following the above reports given by me to my Showrunner/EP and an investigation was never issued for any of my claims. The only time I was asked to participate in an investigation was after a meeting I called in June following our Season 2 announcement," said Williamson.
The Rookie producers eOne said earlier in September it had conducted an independent investigation into Williamson's claims and found no inappropriate behavior on set.
"As a result of the independent investigation, we have concluded that those identified in Ms. Williamson's allegations did not conduct themselves in an unlawful manner or demonstrate behavior inappropriate for the workplace," said eOne in a statement.
"It was also concluded that the executive producers, including showrunner Alexi Hawley, addressed matters of which they were made aware promptly and in a fair and reasonable manner."
Williamson responded to the statement on Instagram, saying: "What saddens me the most is that the lengths that were taken to Deceive, Lie, and Cover Up the Truth, were far greater than those made to Protect and Maintain a Safe Working Environment for Employees."
Grosse, the actor Williamson accused of sexual harassment, said in a statement via his attorney that he had been "exonerated" of the misconduct claims by eOne's investigation.
In a tweet, Grosse added: "I will continue to be an assertive advocate for the respect acknowledgment and advancement for women both in-and-out of the workplace."
'The Rookie' Season 2: How Afton Williamson's Talia Bishop Was Written Out Following Discrimination and Sexual Harassment Allegations | Culture