Roommate Abandons Couple's Puppy in Desert Where Temperatures Hit 114 F
A couple's puppy was allegedly abandoned in the Arizona desert, where temperatures reached 114F, after their roommate became furious with the pet.
Friends, family and volunteers have been searching for the 10-month-old Catahoula Leopard-Anatolian Shepherd cross, named Buddy, since he disappeared on June 20.
It is feared he was abandoned, without food or water, about 30 miles from home in the desert outside Phoenix.
His owner, Vanessa Mendez said that before he went missing the dog had chewed on items and had the odd "accident" inside their home.
"I think the last straw was Buddgy going inside of his room and chewing on some of his things and also peeing," Mendez told KNXV.
She said they realized something was wrong when they returned home and Buddy did not greet them as he normally did.
When they quizzed their roommate about what happened, he reportedly claimed to not know what happened and said he thought they took the dog with them.
The couple later saw a gate in the backyard was unlocked and went to look for Buddy, with their roommate tagging along, appearing concerned.
But, according to another roommate, he had said he planned to dump the dog in the desert.
Video installed outside the home showed the roommate getting into a vehicle at about 2 a.m. and that of an animal silhouette, KNXV said.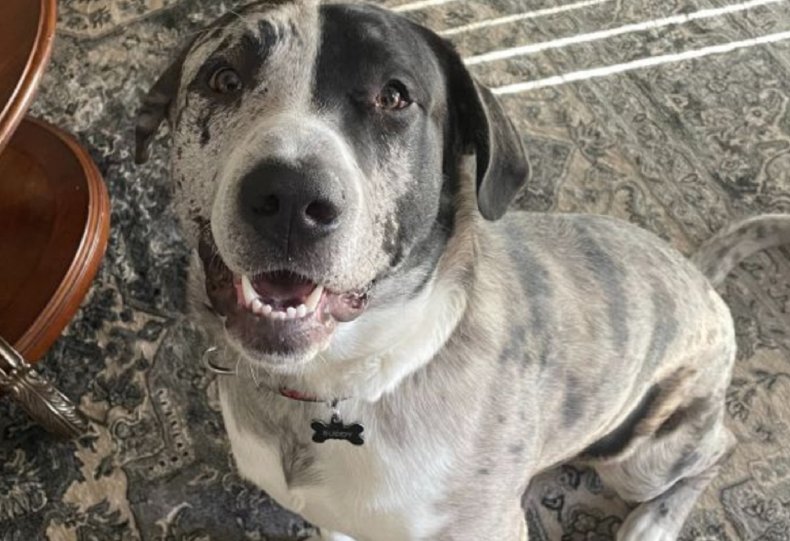 When quizzed by Maricopa County Sheriff's officers the roommate allegedly admitted to leaving Buddy in the desert, some 30 miles away near the Mile Post 4 and New River Road.
The Sherrif's deputy said the temperature reached 114F that day.
Charges against the roommate, who has not been named publicly, are to be reviewed by a Maricopa County grand jury.
Mendez said she could not believe the roommate, who she had known for 10 years, could do something like that and added: "I was absolutely speechless. At first, I did not want to believe it."
She has since shared a GoFundMe to find Buddy that has so far raised $1,865 of a $3,500 target as of Tuesday morning.
In the post, Mendez wrote: "We just want our fur baby home. No dog nor puppy deserves this. Any amount helps."
Traci Cook, from Humane Animal Rescue and Trapping Team (HARTT) that is helping with the search, said: "We have for sure found dogs beyond a month. We've had dogs go missing and had no sightings and no activity.
"Then all of a sudden, three months later, you know, we find the dogs."
The couple is asking for any help to find Buddy and has asked those who see him to text or call 480-510-4171.
Newsweek has contacted the Maricopa County Sheriff and Mendez for comment.