Rooney and England Come Up Short in World Cup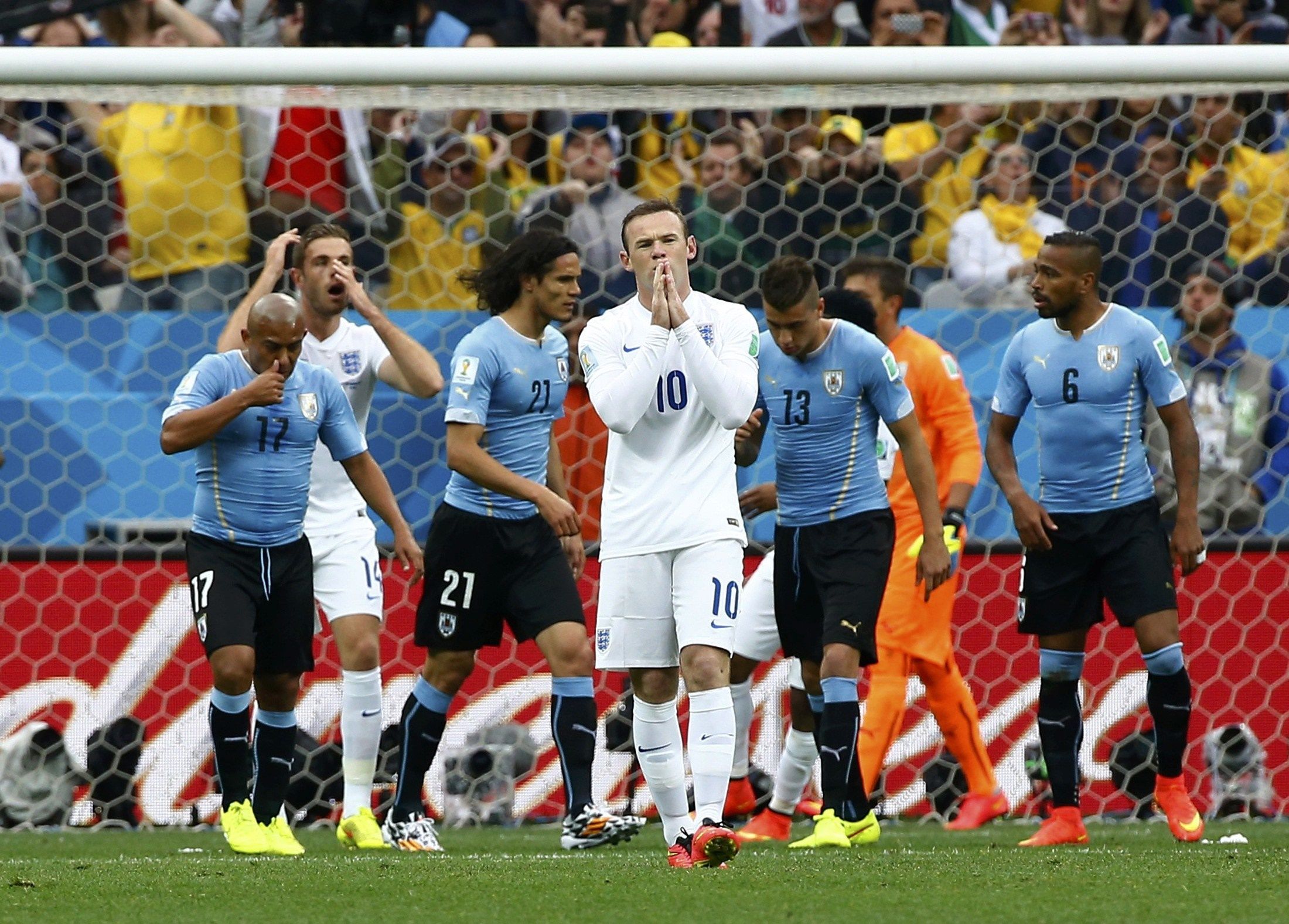 There are two perspectives through which to view Uruguay's 2–1 dismissal of England yesterday from the World Cup in Sao Paulo.
First, from the English viewpoint, World Cup 2014 may now forever be known as "A Few Minutes With Wayne Rooney." The most celebrated English and Manchester United striker since David Beckham departs the World Cup along with his English mates in the group stage, the earliest the Union Jack has done so since 1994, when they failed to qualify. As a nation turns its mournful eyes to tennis and wonders when exactly Wimbledon will commence and they can resume drinking Pimm's without feeling silly.
Rooney did score a goal in yesterday's defeat, but it was all the chances he squandered earlier in the match that will be remembered. And while the defeat, and the probable early exit (England still has the slimmest of chances to advance, but it would require some fanciful results) are not Rooney's fault—indeed, he is the most dynamic player representing the Three Lions—it cannot be forgotten that he went scoreless for 758 minutes of World Cup play dating back to 2006 before finally putting the ball into the back of the net in the 75th minute.
Rooney is still only 28 years old, which means that he may very well return for a fourth World Cup for England—with even more hair atop his head, if history is any guide—but there remains a cloud hanging over the British team no less dark and constant than those that forever seem to hover above London town. The English love their soccer and as a people they support the sport as fervently as any nation on Earth—there's a reason it's called the Premier League—but their national team has only captured one World Cup in their history. And that was in 1966 (years that end in 66 seem to work out well for this nation) when they hosted.
One last thing to consider: Because of FIFA politics and the chance to have a greater number of delegates, the United Kingdom does not include players from Wales, Scotland or Northern Ireland on its side. It may want to rethink that. One of the world's most dynamic players, currently approaching his prime at the age of 24, is Welshman Gareth Bale—who is nowhere near Brazil this month because Wales did not qualify for the World Cup. The British could've used him this week.
In a few weeks, if Andy Murray, a Scot, is to win Wimbledon, all of Great Britain will hail him as their own. If Murray can be British when it suits the English, why shouldn't Bale be able to represent them as well.
Now to the other perspective: Uruguay's. The South American nation that hosted the inaugural World Cup in 1930 and has won two of them despite having a population of less than 4 million, was revived by the return of striker Luis Suarez. That Suarez plays professionally in England, for Liverpool, rubbed even more brine in England's wounds.
Suarez, who scored a prolific total of 30 goals in the Premier League this past season, missed Uruguay's opening match loss to Costa Rica while he recovered from a minor knee procedure. Before yesterday's match, English manager Roy Hodgson imprudently said, "[Suarez] will only be at [world-class] level when he shows it on this particular stage."
Guess what, Roy? Yesterday Suarez did just that. He was pure brilliance, scoring both of Uruguay's goals in dissimilar but transcendent fashion.
In the 39th minute Suarez fielded a perfectly placed pass in the box with his head and buried it in the English net for the initial 1–0 advantage. In the 85th minute, with the score tied 1–1, the charismatic Suarez outraced an English defender for a ball following a Uruguayan goal kick. You could almost hear the shouts of "Bloody hell!" emanating from British pubs from across the Atlantic.
"It wasn't revenge," said Suarez afterward, "but in England they talked about the injury and the coach had words that annoyed me."
Suarez is a controversial figure, certainly. Others less charitably simply label him "a jerk." He has been caught on camera biting an opponent's arm and been accused repeatedly of racially abusing opponents of African heritage. He may also be, right now, the most potent offensive weapon in all of football. His 0.94 goals per game average this past season in the Premier League, none of which came via penalty kicks, was the highest average the league had seen in more than 50 seasons (1960–1961). Right now, in this tournament in this neighboring country, he should be considered the most dangerous player in the world.
Uruguay, as noted, has won two World Cups. No World Cup contested in South, North or Central America has ever been won by anyone other than a South American side. Right now you'd have to consider Uruguay, at best, the third-best South American squad after Argentina and Brazil—and the Chileans would argue, with some validity, that their side is also superior.
However, the Uruguay that lost to Costa Rica without Suarez in no way resembles La Celeste ("the Blue") that defeated England yesterday with Suarez. As long as Suarez is on the pitch, as dynamic and inspired as he seems to be, Uruguay is capable of beating anyone.
Day 8
Match of the Day
Italy vs. Costa Rica
Noon Recife
This Group D match pits two sides that both have three points after winning their openers. Assuming that the match does not end in a draw, the winner automatically advances to the knockout stage while the loser must contend with Uruguay in the points race with one match remaining. The Azzurri have the World Cup pedigree and the most talented player on the pitch in Mario Balotelli.
Los Ticos last qualified for the knockout phase in 1990. One of the players on that team, Alexandre Borges, is the father of current Costa Rican midfielder Celso Borges, who played a key role in the team's 3–1 upset of Uruguay last Saturday.
One final note: Gianluigi Buffon, 36, returns in goal for Italy after missing their opening match vs. England with an ankle injury. Buffon was in goal for the Azzurri when they won the World Cup in 2006.