Rooney Mara To Play Audrey Hepburn—But Fans Think It Should Be Lily Collins
Rooney Mara has been cast to play Audrey Hepburn in an upcoming biopic about the movie icon—but many people think lookalike Lily Collins is the right choice for the role.
Luca Guadagnino, director of Call Me By Your Name, is set to helm the Apple Studios produced biopic, Varietyconfirmed earlier this week.
Mara, known for starring in Carol and The Girl with the Dragon Tattoo, is reportedly taking on the role of the beloved leading lady, though details about the project are mostly under wraps for now.
Hepburn, the fashion icon and much-celebrated EGOT actress is known for her performances in Sabrina (1954), Breakfast at Tiffany's (1961), Charade (1963), My Fair Lady (1964), and Wait Until Dark (1967).
She was nominated for an Oscar for best actress five times throughout her career, winning in 1953 for her performance in Roman Holiday (1953).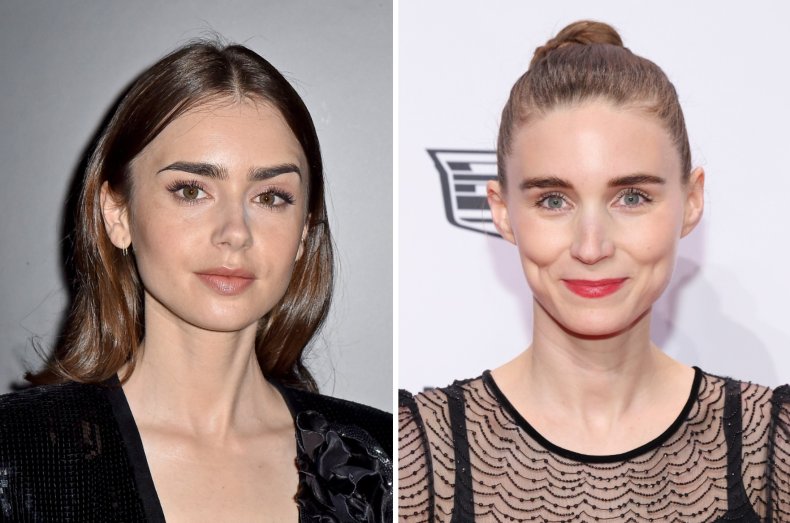 However after Mara's casting was reported, many film fans took to social media to share their thoughts on how Emily in Paris star Collins would be a better fit for the role.
"lily collins this was supposed to be YOUUUU," one popular tweet read.
While another added: "Lily Collins did everything except produce a biopic starring her as Audrey Hepburn. I know she mad Rooney Mara beat her to the punch."
"lily collins was born to play audrey hepburn and yes she does have the range. i said what i said," said another.
While another insisted: "no one thought kristen stewart could pull off playing princess diana and she nailed it. lily collins would have 100% done the same with the audrey hepburn role if she had the chance."
Collins is currently starring in Netflix's second season of Emily in Paris which was released in December.
Earlier this week, during an appearance on The Late Late Show With James Corden, Collins revealed that she had an awkward moment when as a toddler she met Princess Diana with her father, musician Phil Collins.
"Do you have any recollection of this moment in time?" Corden asked.
Collins, being shown a photograph of the meet, replied: "I've been told this is what happened. That's my mom and my dad and I and it's at a Prince's Trust event and I'm giving Diana flowers, but the second that she went to take them, I then tried to pull them back."
She added: "So, as you can imagine, all the air was sucked out of the room. I was wearing a cute dress, so who's going to really punish me there."