Roosevelt Fire Map Update: Wyoming Wildfire Burns 49,805 Acres, Highway 189/191 Closed
Wyoming's Roosevelt Fire continued to grow overnight, expanding to nearly 50,000 acres on Tuesday. Authorities said that the true extent of the damage is unknown, but noted the wildfire has already destroyed at least three structures.
The Roosevelt Fire has burned through 49,805 acres since first igniting on September 15 and was just 25 percent contained on Tuesday. The cause of the wildfire, which began in Bondurant, Wyoming, was unknown.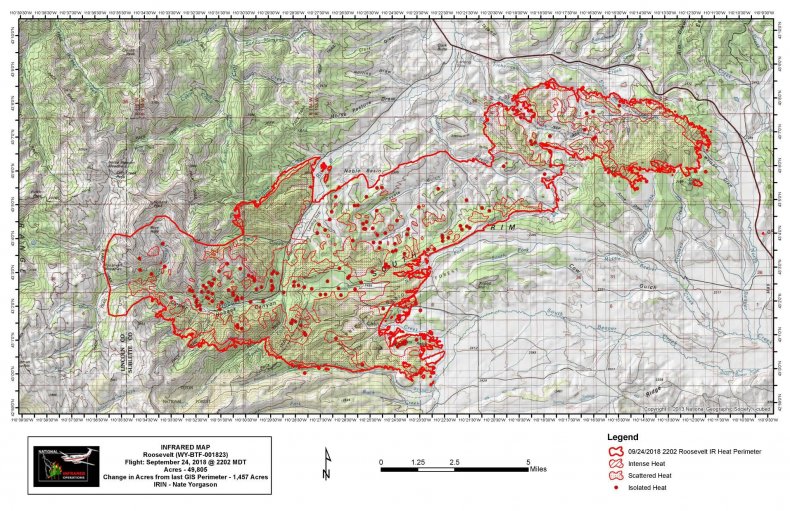 Officials announced that Highway 189/191 would be closed on Tuesday for burnout operations. The highway was expected to be closed for an undetermined amount of time. According to an incident report, firefighters planned to conduct a burnout operation from Rim Draw to Rim Station on Tuesday. Firefighters were focused on maintaining the fire south of Highway 191.
Authorities said that an "undetermined number of structures" were lost in Hoback Ranches, as active fire and firefighting continued in the subdivision. Officials with the Sublette County Emergency Management and the sheriff's office planned to conduct the initial damage assessment on Tuesday and said homeowners would be informed of the status of their home by the sheriff's department once information is available.
Evacuations remained in effect this week, and the Sublette County Sheriff's Office has identified nine evacuation zones. Bondurant's Jack Creek to Dell Creek and Twin Creek Basin north to Rock Creek east to Green River were listed as areas that should be ready to evacuate.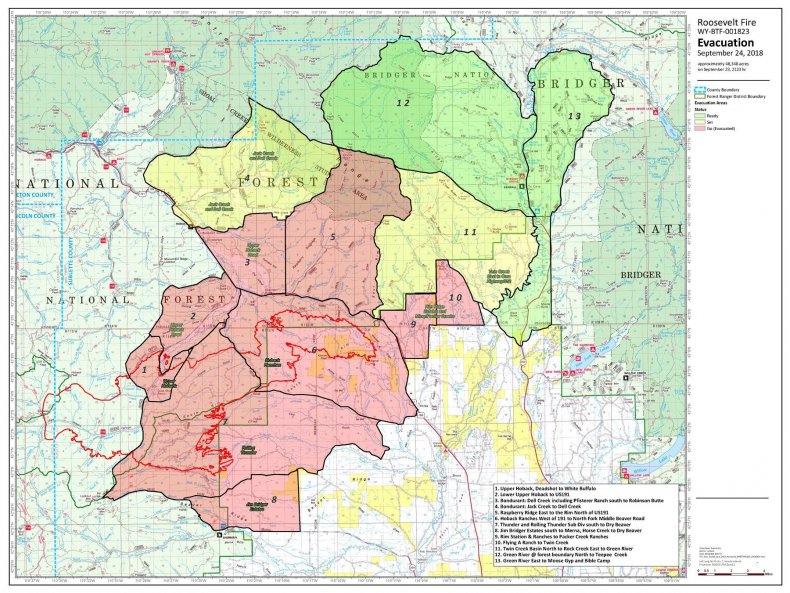 The Red Cross of Wyoming planned to open an evacuation center in Jackson, Wyoming, at the Montessori School of the Tetons, located at 1240B Huff Lane.
The sheriff's office also announced that Lower Valley Energy was asked to turn off power near the rim of the fire while burnout operations were underway. "This has caused loss of power to approximately 200 citizens," the sheriff's office wrote on Facebook. "We will keep everyone updated when we can turn the power back on."
The fire was expected to continue spreading in the next 24 hours due to lower temperatures and gusty winds.
"Potential will be driven by favorable terrain and wind alignment, and location of the fire on the terrain," the incident report on Tuesday said.
The Roosevelt Fire was not expected to reach the Jim Bridge Estates area, KXPI reported.
A public meeting was scheduled for 6 p.m. local time on Tuesday at Bondurant Elementary School and another was scheduled in Daniel, Wyoming for 6 p.m. on Wednesday. The location for the second public meeting was not released.