A video of a rooster crowing for so long that he passed out, before getting up as though nothing happened, has gone viral, being viewed more than a million times.
@HolyCow_Inc posted the video on Twitter on Thursday and said: "Whatever you are doing, go out there and give it your all today!"
The video was then shared by Rex Chapman in a tweet that has been liked around 30,000 times and shared around 7,000 times.
But this is not the rooster's first brush with fame. A different video of the same rooster crowing and passing out went viral in December 2020.
The Denizli rooster named Bahtiyar lives in Denizli, Turkey, with its owner Okan Gokbudak, who says that he does the same thing every time he crows and has become a local celebrity, as reported by LadBible.
According to LadBible, Gokbudak said: "My rooster was crowing in the henhouse and I looked at it because the noise just went on and on, and then I noticed that the bird started to shake before suddenly passing out."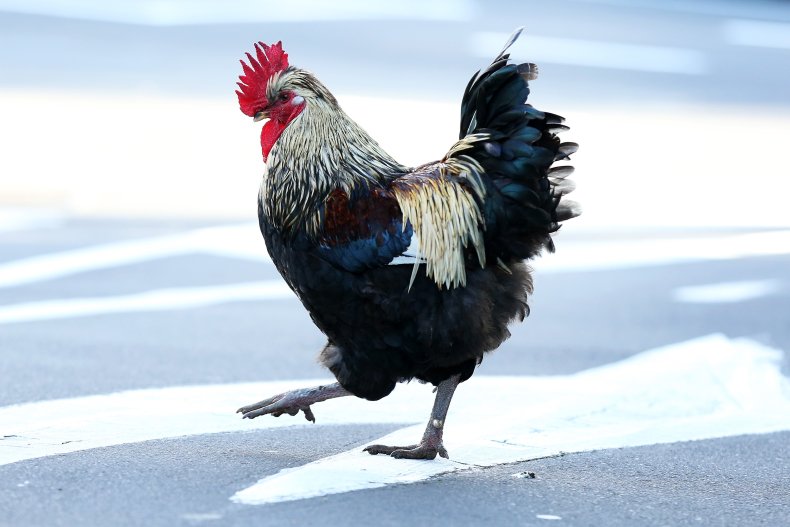 Gokbudak added: "I decided to film it and when I shared on social media, my rooster became an overnight celebrity.
"I guess the reason it passed out is because it was simply too ambitious. He doesn't know when to stop, which means it keeps running out of breath and then faints."
Turkish media outlet Sonsöz Gazeti reported on the rooster when it first went viral in December.
Gokbudak told Sonsöz Gazeti that when his rooster went viral, people made him offers to buy the bird—one person offered around $1,500 USD and another offered to swap the rooster for a car worth around $3,000 USD.
But Gokbudak said he wouldn't sell his rooster and keeps him close at all times: "I love him so much. I do this as a hobby. I never intend to sell it. I do not [let it] leave me because I am afraid that it will be stolen. I leave it in the cage in my room at night and in the coop in my workplace during the day."
Although Bahtiyar the rooster has become an internet star, it is not uncommon for Denizli roosters to crow for so long that they faint.
According to Go Turkey Tourism, this kind of rooster, which is also the symbol of Denizli province, is famous for its "very long crowing," adding that "some roosters fade and fall down while crowing."
Although the rooster crows for around 15 seconds in the viral video, he may be capable of more. Go Turkey Tourism's website says that: "During a rooster's first year the crowing period is 20 seconds. In the second and third years, this period gets longer."
If one thing's for certain, a crow from a Denizli rooster is sure to be an effective wake-up call.