Rory and Mal's Absence From 'The Joe Budden Podcast' Explained
Fans of The Joe Budden Podcast have been left wondering what's going on behind the scenes after two hosts went conspicuously absent from the airwaves.
Today's episode of the podcast was the second to air without Jamil 'Mal' Clay and Rory Farrell, who usually appear alongside Parks Vallely and Joe Budden himself. In the wake of their repeated absences, fans have begun to ask questions online.
As one fan tweeted: "Rory and Mal STILL not back??? Joe Budden, WE WANT ANSWERS."
Speaking on the latest episode, Budden offered to clear up some of the confusion before speculating went too far.
"I'll eliminate some of the suspense," Budden began. "This is Rory's seat, and this is Mal's seat. Whenever they feel like returning to their seats, then they'll return to their seats. And then what will happen is the same thing when your star player comes back to the team."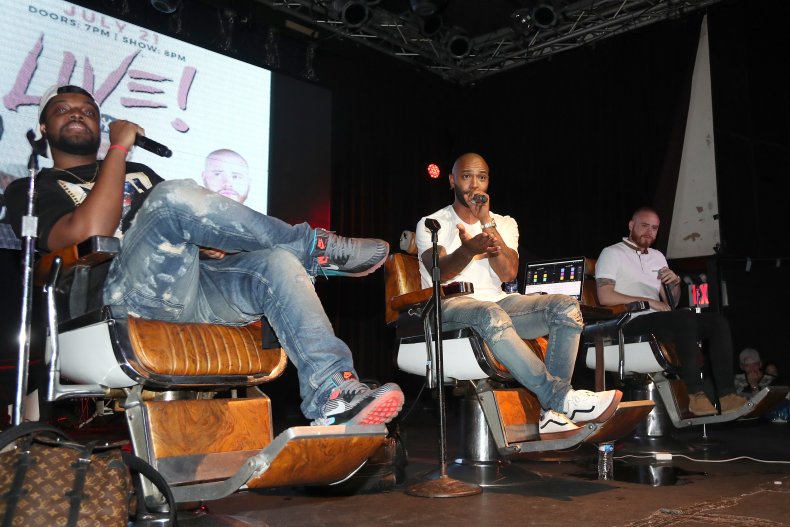 Prior to the success of the podcast, Joe Budden—whose given name is Joseph Anthony Budden II—was a rapper and celebrated lyricist, known for his Grammy-nominated hit, "Pump It Up." The show is a popular hip-hop and rap culture podcast that airs bi-weekly on YouTube and SoundCloud.
Budden did not go into detail about Rory and Mal's reasons for leaving but did confirm that the absences are not down to any falling out or disagreement over finances. Budden and Vallely did hint that issues may have arisen from the mixing of business and pleasure in the fact that it is friends who work together on the podcast.
Budden also explained that he "loves when podcasts go through this type of turmoil," suggesting that it "shapes things, it shapes character."
"Nobody has communicated a beef. What they have communicated to me is something is wrong. Whether that be in our friendship, how we're speaking to each other, the respect level," Budden explained.
He added: "Sometimes in friendship and business, everyone needs to take a step back and go to their respective corners. Sometimes everyone's perspective and position on how to go about that and how it should be executed is different."
Elaborating on the point about working with friends, Vallely added: "I've been doing business with Joe Budden for a very long time. I don't come to you with business s***, because we have to keep doing s***... Other people should probably have somebody else to talk to you or one of your professionals."