TaylorMade Driving Relief: Start Time, How to Watch, Live Stream and Format Explained
After a two-month hiatus, live golf returns to the screens this Sunday when Dustin Johnson, Rory McIlroy, Rickie Fowler and Matthew Wolff competing in the TaylorMade Driving Relief.
Held at Seminole Golf Club in Juno Beach, Florida, the event will see the four players divided in two teams—Johnson and McIlroy will take on Fowler and Wolff—competing for prize money that will then be donated to various charities and coronavirus relief efforts.
McIlroy and Johnson will play for the American Nurses Foundation, while Fowler and Wolff will play for the CDC Foundation. UnitedHealth Group has pledged to donate $3 million, while Farmers Insurance has pledged a further $1 million for a birdies-and-eagles pool, which will go Off Their Plate, an organization that has been helping health care workers on the frontline.
"I think it will be nice to get back out and play," McIlroy, the current World No.1, said during media availability on Thursday.
"Obviously we're going to have to take as many precautions as possible to be able to put tour events on again, but I think the PGA Tour has got a very robust plan in place."
The charity event will be held without fans and will serve as a trial run for the PGA Tour, which has announced proceedings will resume in June.
Proceedings were halted in mid-March as the coronavirus pandemic spread across the U.S. but three events are on the calendar for next month—the Charles Schwab Challenge in Fort Worth, Texas, the RBC Heritage in Hilton Head, South Carolina and the the Travelers Championship in Cromwell, Connecticut.
McIlroy, who will take part in all three events, believes golf can safely resume during the COVID-19 outbreak.
"I think if you take the necessary precautions, wearing a face covering, washing your hands frequently, sanitizing your hands frequently, practicing social distancing. [...] I really do think it's possible,'' he said.
Here's all you need to know ahead of Sunday.
When is TaylorMade Driving Relief?
The charity event will be held on Sunday, May 17, with play scheduled to run between 2 p.m. ET and 6 p.m. ET.
Where is TaylorMade Driving Relief?
Dustin Johnson, Rory McIlroy, Rickie Fowler and Matthew Wolff will compete at the Seminole Golf Club in Juno Beach, Florida.
Given the club has never previously hosted an event reserved to professionals, Sunday will mark the first time the course will be shown on TV.
TV channel
The event will be simulcast on NBC and Golf Channel.
Live stream
A live stream of TaylorMade Driving Relief will be available via NBC and Golf Channel digital platforms and via PGA Tour Live, GOLFTV and Amazon Prime Video.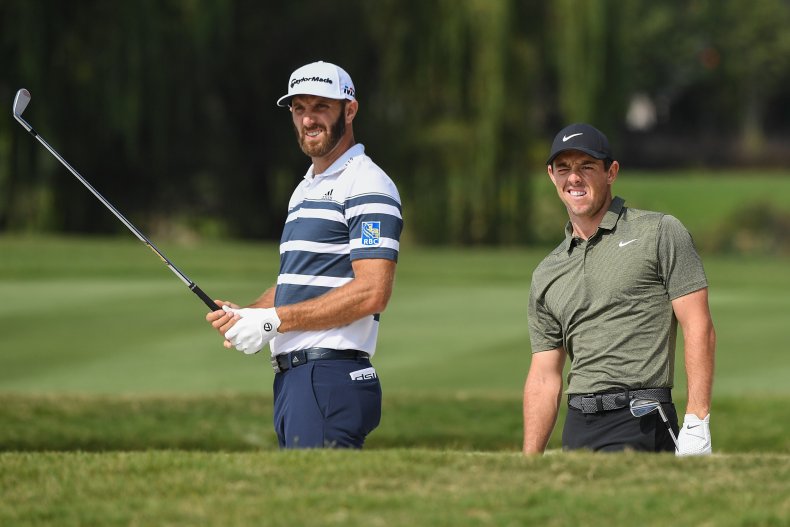 Format
The event will follow a skins format, which means each player will play his own ball, with each team counting the lower score between the two players on each hole. For example, if Johnson were to bogey the first hole and McIlroy was to hit an eagle with both Fowler and Wolff hitting a birdie, Johnson and McIlroy would win the hole.
Both teams will begin the event with $500,000 in the bank, with hole values increasing throughout the round. The first six holes will be worth $50,000 each, while holes from the seventh through to the 16th will be worth $100,000 each. The final two holes, meanwhile, will be worth $200,000 and $500,000 respectively.
Players will also earn an extra $25,000 for a birdie, $50,000 per eagle and $150,000 for anyone who hits a hole-in-one or a double eagle. If scores are tied after the 18th hole, the four players will return to the par-3 17th and play it from 125 yards out to determine the winner.
Odds
According to BetOnline, McIlroy and Johnson are 1/2 favorites to win the most money during the event, while Fowler and Wolff are 17/10 outsiders.
McIlroy and Johnson are 2/3 favorites to win the first skin, while Fowler and Wolff are 6/5 outsiders.