Rosalynn Carter, Oldest Surviving First Lady by 20 Years, Celebrates 94th Birthday
Former first lady Rosalynn Carter celebrates her 94th birthday on Wednesday, more than 40 years after she and former President Jimmy Carter left the White House.
Carter is the oldest surviving former first lady by nearly 20 years. Laura Bush, who celebrates her birthday in the fall, is the second oldest at 74, and Melania Trump is the youngest among the former first ladies at 51.
Husband Jimmy Carter is also the oldest surviving former president at 96. Barack Obama, who celebrated his 60th birthday earlier this month, is the youngest surviving former president.
In the decades since serving as first lady, Carter has remained active in the public service space primarily through her work with The Carter Center, a nonprofit she and Jimmy Carter co-founded in 1982. Among the center's stated objectives are advocating for peaceful conflict resolution, democratic processes and health improvements in the U.S. and around the world.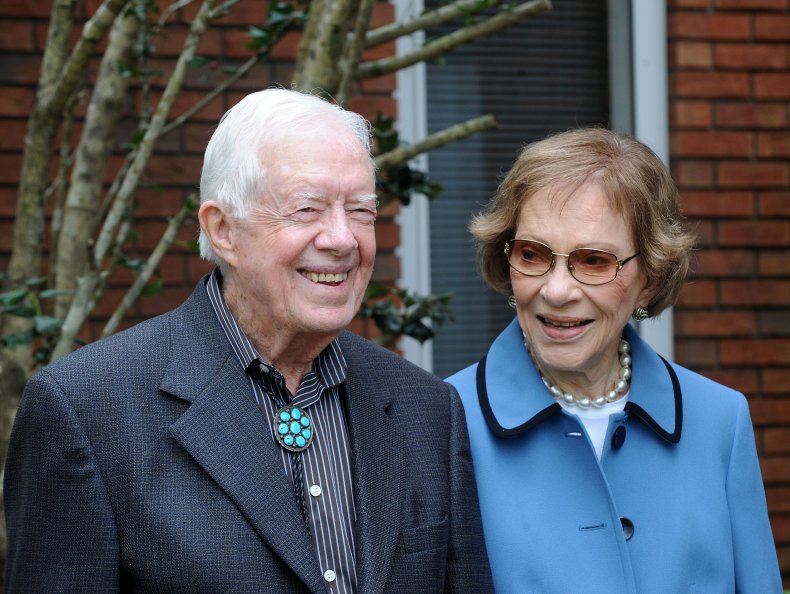 In addition to her focus on human rights at the center, Carter is a strong advocate for mental health and the portrayal of mental health in the media. She serves as the chair of the center's Mental Health Task Force, and in 1996 created a fellowship program for journalists interested in reporting on mental health, which has welcomed more than 200 reporters from around the world over the last 25 years.
Before co-founding The Carter Center, Carter was the Honorary Chairperson of the President's Commission on Mental Health, a position she held in 1977 and 1978 while in the White House. The former first lady is also known for her objections to the death penalty and her push for vaccinations for school-aged children, both of which are positions she has publicly supported for decades.
Eleanor Rosalynn Smith was born on August 18, 1927 in Plains, Georgia. Her future mother-in-law assisted with her delivery, according to a Carter Center fact sheet. She first met her future husband while they were toddlers. The two began dating in 1945 and were married one year later.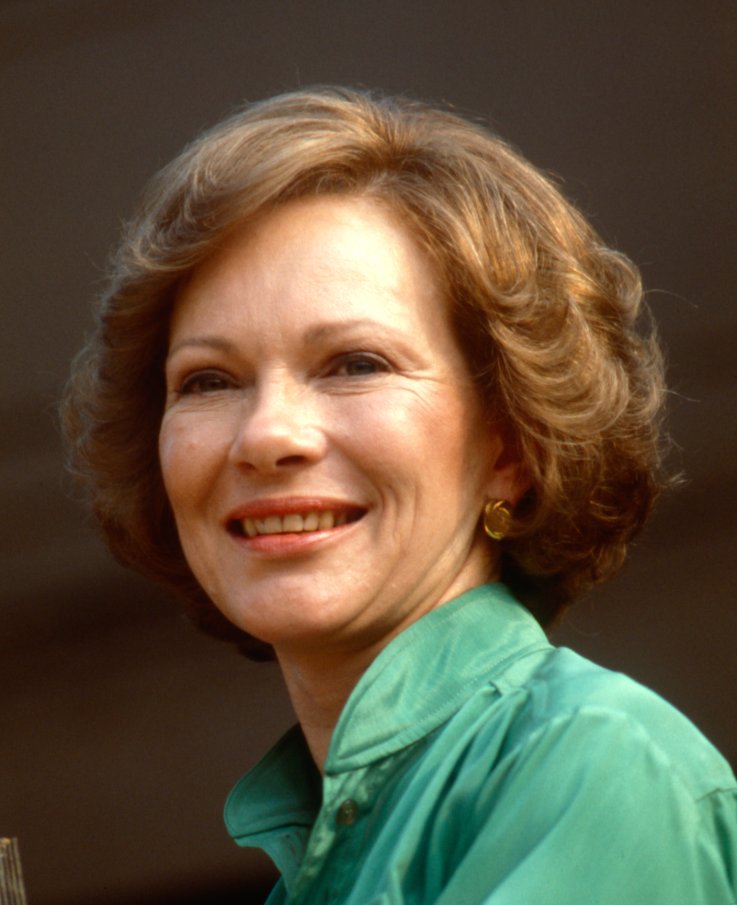 First lady Rosalynn Carter is photographed during an unspecified event in Pine Bluff, Arkansas, on July 23, 1979.
Diana Walker/Getty Images
Carter worked on the family farm before Jimmy Carter began exploring a career in politics in the early 1960s. The couple parented four children as he became a state lawmaker and went on to win his campaign for Georgia governor in 1970.
A biography of Carter credited to the White House Historical Association describes her "quiet, friendly manner" as helping her become an "effective campaigner" for her husband. After Jimmy Carter was elected president in 1976, she became the first to create an office for her work as first lady in the East Wing of the White House, according to The Carter Center.
While in the White House, she was given the Secret Service code name "Dancer." Carter has at least four flowers named after her and supports monarch butterfly conservation efforts. The Rosalynn Carter Butterfly Trail, a program that hosts an annual event about protections for butterflies and oversees a trail of butterfly-friendly gardens that starts with the Carter home in Georgia, is also named for the former first lady.
During time spent outdoors, Carter continues to find joy in fly fishing, which The Carter Center said earlier this year was her "favorite thing to do."
The Carters marked 75 years of marriage in July. They celebrated the occasion in their hometown with more than 300 friends, family members and colleagues, according to a July 10 tweet.