'Roseanne' Returns: Everything to Know About The Premiere
Plenty of changes have occurred in America since Roseanne went off the air more than 20 years ago. But when the blue-collar sitcom returns to ABC on Tuesday, viewers will see the Conner family right where they left off. Well, kinda.
The series ended in 1997, throwing fans for a loop when the two-episode finale revealed the entire Season 9 was a fluke.
During that season, the Conner family traded in their working-class digs after Roseanne won the Illinois State Lottery for $108 million. She kissed her diner, The Lunchbox, goodbye, giving the keys to her co-owned business over to partner Leon Carp and went on to live in the lap of luxury. However, the season finale revealed none of the events that occurred earlier in the 22-episode season were real, but a mere fantasy world Roseanne dreamed up while grieving the loss of Dan, who actually died from a heart attack in the previous season.
When Roseanne comes back to the small screen on Tuesday, all of the Conners will return with the fictional matriarch, including Dan. Along with Roseanne Barr and John Goodman, original cast members Laurie Metcalf, Michael Fishman, Sara Gilbert and Lecy Goranson are also slated to return to the comedy.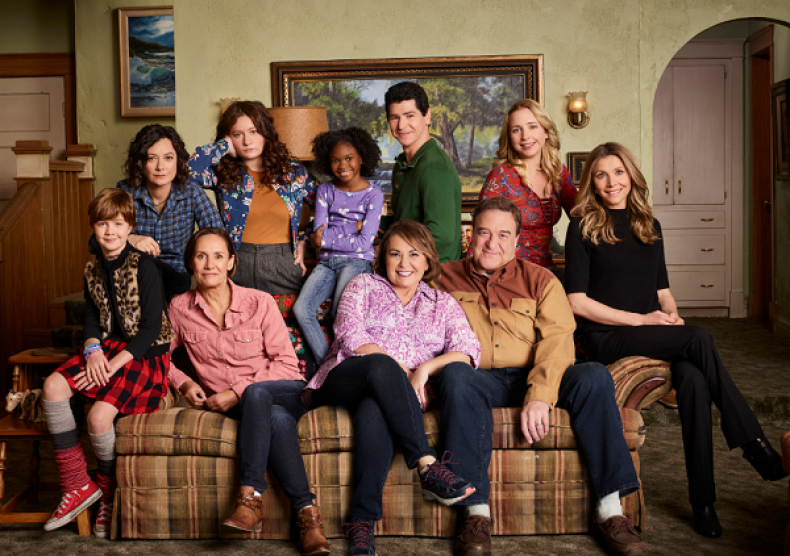 The revival will pick up as if Season 9 and Dan's death never happened. And instead of a fancy mansion, the family will still be living in the same old brown house with the same old plaid couch.
Similar to the original, the revival is slated to tackle issues many working-class families in the U.S. face, like raising children, dealing with in-laws and trying to reach financial stability. However, the updated series will also focus on modern-day themes like divorce, ageism and coping with life in President Donald Trump's America.
"The first episode deals with the election and two different voices, two different opinions on it," Goodman explained while appearing on Good Morning America on Monday. "It's between the sisters. I keep my yap shut. I'm out in the garage drinking."
Roseanne, now a grandmother in the revival, is still a Republican and will still spend ample time clashing with her liberal sister Jackie (Metcalf). As for the topic of Dan's death, it's unclear how the show will handle the events of Season 9. However, during a recent appearance on Jimmy Kimmel Live!, Barr said, "If you're a real fan of the show, though, you'd know that Dan himself was never dead."
She noted viewers would see Dan's death addressed at some point during the revival.
Roseanne will premiere on ABC on Tuesday at 8 p.m. ET.