Roscoe's Rejects Unmasked Man, He Returns With Gun To Steal Chicken, Police Say
An armed man held up a chicken and waffle restaurant, reportedly demanding "put all the chicken in the bag," after being refused service for not wearing a mask.
A police search is underway for the suspect in the heist that took place in Pasadena, California, on Wednesday.
Officers were called to Roscoe's House of Chicken and Waffles on North Lake Avenue around 5:40 p.m., police Lt. Marcia Taglioretti told reporters.
Restaurant workers say the suspect had earlier been refused service for not wearing a mask—a breach of California's statewide mask mandate.
He later returned, alongside another man who was wearing a mask, and began arguing with a restaurant worker who had told him he needed to wear a mask, Taglioretti said.
According to the police, the man pulled out a handgun, pointed it at the employee and said something like: "What are you going to do about it?"
Robert Gonzalez, a cook at the diner, said the man was "was not after money."
"The guy just said, 'Put all the chicken in the bag,'" he told KTLA. "I understand we got some good chicken, but man."
CCTV footage showing the suspect in the restaurant's kitchen was later tweeted by ABC7 news anchor Veronica Miracle.
In the clip, the unmasked man's face can be seen as he appears to cock a handgun before collecting a plate of food behind the restaurant's counter. Taglioretti told reporters she did not know exactly what food items had been taken.
The man fled in an awaiting vehicle driven by a woman, according to a witness.
"He didn't take any cash," manager Angela Prieto told ABC7. "He actually took chicken and before he walked out the door he took syrup for his chicken."
Prieto said staff, some of whom escaped through a side door, had been shaken by the incident, "[My cashier] was very, very scared," he said.
"When I first talked to her she was basically hysterical, but after a while she calmed down and started laughing about it because she realized all he did was take some chicken."
No one was injured in the incident.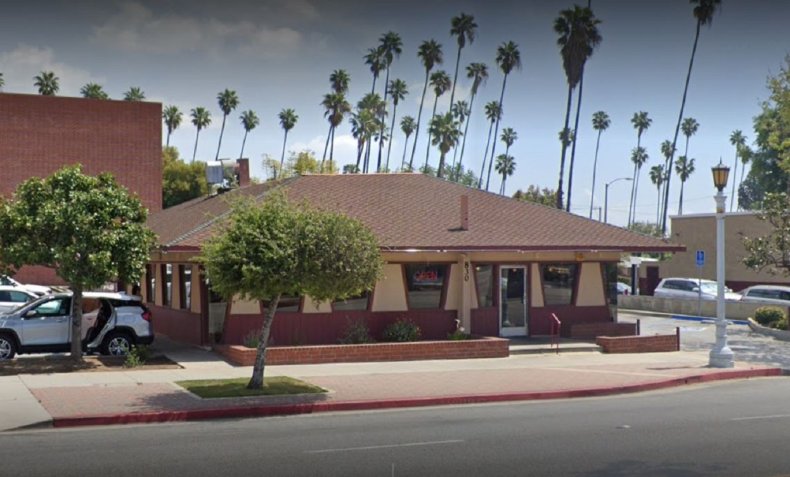 The armed suspect has been described as Black, male and aged in his mid-30s or early 40s. He was last seen wearing a green sweater and white pants with black polka dots.
His male companion was described as Latino with a shaved head, approximately 5 ft 5 in tall, and weighing about 150 pounds. He wore a blue face mask and jacket.
Newsweek has contacted Pasadena Police Department for comment.
Anyone with information is asked to call the department at (626)744-4501.
Diners flocked to Pasadena, which operates its own health department, over Thanksgiving after local officials defied Los Angeles County's order for outdoor dining to be temporarily halted amid a surge in COVID-19 cases.
The city later enforced the ban, before its restaurants reopened for outdoor dining on January 25, when California Governor Gavin Newsom lifted stay-at-home orders.
California residents have been required to wear face coverings in most circumstances outside of their homes under a statewide mandate issued in November.
Newsweek, in partnership with NewsGuard, is dedicated to providing accurate and verifiable vaccine and health information. With NewsGuard's HealthGuard browser extension, users can verify if a website is a trustworthy source of health information. Visit the Newsweek VaxFacts website to learn more and to download the HealthGuard browser extension.