Rose Bowl Parade Live Stream: How To Watch the Annual Parade Online
Every year the Tournament of the Roses—more commonly referred to as the Rose Bowl—has taken place on New Year's Day, since its inception in Pasadena, California back in 1890.
The annual games "began as a small effort by Pasadena's distinguished Valley Hunt Club to promote the city's charm and beautiful weather," according to the Rose Bowl's official website. The day's contests previously included chariot races, jousting, foot races, polo and tug-of-war, but beginning in 1902, the tournament changed to pit two football teams against one another. The football game quickly became the day's biggest event and was instated as a permanent fixture of the festival in 1916. In 2020, Rose Bowl will see the Wisconsin Badgers face off against the Oregon Ducks.
A pre-game parade, which has also undergone many changes since the 19th century, always precedes the collegiate football game.
At 8 a.m. PST (11 a.m. EST), the parade begins, making its way down a five and a half mile stretch of Pasadena's Colorado Boulevard. Each year's parade carries a different theme, and in 2020 the floats will roll on "The Power of Hope."
"The belief that what is wanted can be attained. From the struggles of those who came before us to dreams yet fulfilled, hope is more than simply the possibility of fulfillment. Hope is dignity and respect, joy and happiness, aspiration and achievement. Hope never, ever quits. Through hope, we can aspire to be our best and in turn inspire those around us to reach higher," the parade's official description of the 2020 theme read.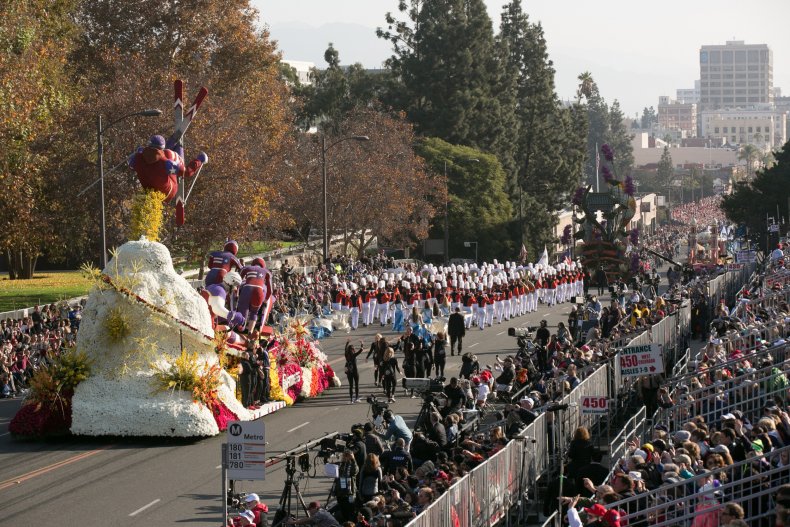 Watch online
For those living outside of the Pasadena area, a live stream of the parade can be found at this website, according to TV news station KCTV5.
Watch on TV
Viewers can also tune in to see the parade televised on any of six channels: ABC, Hallmark, NBC, KTLA5, RFD TV and Univision, while the game itself can be seen on ESPN.
As Newsweek previously noted, 935 volunteers from the Tournament of Roses Association lend more than 80,000 hours of service to help make the parade a success every year.
According to a press release, actors Rita Moreno and Gina Torres as well as Olympic gymnast Laurie Hernandez were announced as the 2020 Grand Marshals, to ride in the and join in the pre-game celebration.
The 131st annual Rose Bowl Parade is also scheduled to feature a performance by the North American touring cast of Disney's Frozen, along with a string of floats sponsored by businesses including Amazon Studios and Chipotle as well as a closing show featuring Alejandro Aranda, Los Lobos and the Chino Hills Dance Team, titled "Where Flowers and Football Meet."