'Rose Ceremony From Hell': What 'Bachelor' Fans Thought of Monday's Show
Warning: This article includes spoilers for the March 14 episode of The Bachelor.
Live from Los Angeles, many fans of The Bachelor watch the "most dramatic" part one of the finale. Tonight, Bachelor Nation witnessed the "Rose Ceremony From Hell"—as host Jesse Palmer called it—and a visit with Clayton's parents.
Before the rose ceremony, Clayton reflects on last week's events with Susie and how his trust is broken. Clayton told Palmer that he will be fully transparent on what happened and how he's feeling with the final two women: Gabby and Rachel.
At the rose ceremony, Gabby and Rachel wait patiently—yet awkwardly—for Susie to arrive. Once Clayton appeared, they knew something was up. With the insane amount of tension in the room, Clayton explained what happened with Susie and admitted that he told each woman that he was in love with both of them and that he'd intimate with both Gabby and Rachel.
After some time apart, both women were very emotional. When they each had a talk with Clayton to get more context, Rachel accepted his rose, but Gabby did not—at first. Following a long conversation, Gabby came back and accepted the final rose of the evening. Clayton convinced her that their love story wasn't over.
The next two days consisted of Gabby and Rachel meeting Clayton's family. Each woman had a chance to talk to Clayton's mother and father about their decisions to stay and they still feel strongly for Clayton. However, during Clayton's later discussion with his family, his mind was still on Susie.
Tomorrow, Clayton's journey as the Bachelor comes to an end.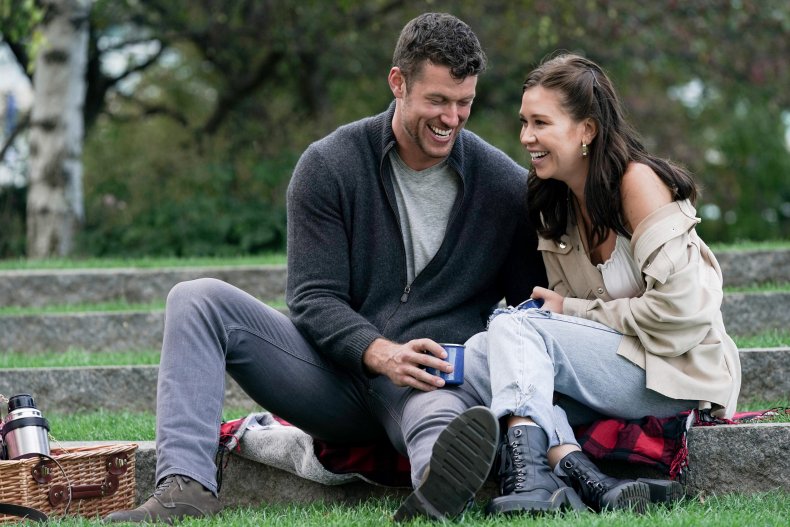 Fans didn't hold back as they live-tweeted the episode on social media.
"You know what woulda been cooler? If they had both said no," @AlexBar26030407 admitted.
"Gabby stayed for Rachel. No one can convince me otherwise," @ryrymanofficial wrote.
Fan @winnie_LaLisa tweeted, "He brought those two women to meet his parents just for him to realize he wanted Susie all along."
"It's not that Clayton slept with multiple people it's why. He knew he wanted to propose to Susie but slept with the others anyway. That's disrespectful to ALL THREE women," @BriannaHigdon wrote.
"'Whoever I pick I love the most' is how I selected which stuffed animal was chosen to come with me on trips when I was 5," @br_bop exclaimed.
Twitter user @liljulsie said, "I am actually obsessed with EVERY SINGLE THING gabby is saying right now... trusting susie more than clayton, being over his s**t, knowing her worth... and being memeable yet saying the wisest things at the SAME TIME. if she ain't the next bachelorette..."
"Gotta say — if you're gonna get your heart ripped apart — you may as well have it done in a building with beautiful acoustics so you can make the person feel extra guilty when the sound of your sobs bounces all over the walls," BrettSVergara tweeted.