Rose Garden's Crab Apple Trees Will Reportedly Be Planted Elsewhere After Melania Trump's Renovation
Although the White House Rose Garden's signature crab apple trees were removed from the plaza during first lady Melania Trump's recent renovation, reports say their disappearance from the property is temporary.
About a dozen trees that previously lined the garden's perimeter are due for replanting elsewhere on White House grounds, according to C-SPAN and the Associated Press. The trees were reportedly transferred to an offsite location for reconditioning upon removal from the Rose Garden, and will reappear in another outdoor space at an unspecified later time.
The first lady's Rose Garden restoration initiative drew fierce criticism online after photos of the completed project first surfaced on Saturday. People largely took issue with the garden's stripped down appearance. The most prominent critiques expressed disapproval and disappointment about the absence of foliage—particularly the colorful flowers and crab apple trees previously planted there—in Trump's new design.
When the first lady described her vision for the renovation in a White House announcement released in late July, she suggested it would pay homage to the design overseen by Jackie Kennedy during John F. Kennedy's presidency. Public fondness for the Rose Garden's crab apple trees and multicolored flowers became closely intertwined with Jackie's memory, as well as the mark she left on the White House during her years as first lady.
"all of Jackie Kennedy's crabapple trees?" Twitter user @wwopl lamented on Monday, amid ongoing conversations about the recent renovation initiative on social media. "talk about erasing history!! this is awful."
The user's response was similar to those of numerous others who used the social platform in widespread opposition to the Rose Garden's alterations. Additional comments shared dismay over the current first lady's decision to uproot what many still refer to as Jackie's garden. Although former first lady Ellen Wilson is credited with the garden's early 1913 design, which she originally managed during Woodrow Wilson's presidency, Jackie's 1962 refurbishment is regarded as the Rose Garden's iconic iteration.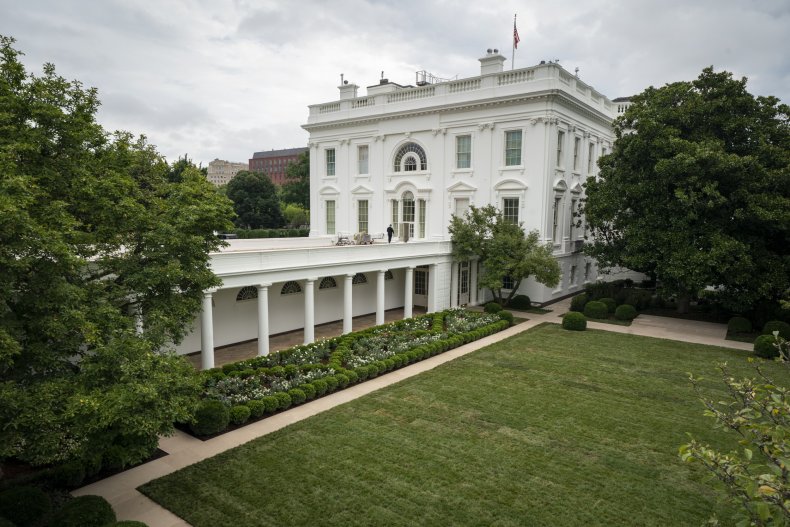 The White House unveiled Trump's renovation just days before the first lady is scheduled to deliver a speech supporting President Donald Trump's nomination for reelection. She is set to give the speech from the Rose Garden on Tuesday during this year's Republican National Convention. Portions of the convention, which began on Monday, will be held virtually due to concerns about coronavirus transmission.
Newsweek reached out to Stephanie Grisham, the first lady's Chief of Staff, and the White House for confirmation about the reported replanting effort but did not receive replies in time for publication.