Rosè Mansion Is Back In New York and Serving Impossible Tacos With Wine
Is there anything better than a crisp and refreshing glass of rosé? Maybe, perhaps, a glass of rosé whilst swinging from a chandelier, or a glass of rosé in a bathtub filled with rose petals—Yes, definitely, both those things are better than just a glass of rosé although rosé is obviously just fine all by itself. Luckily for you, there is a place where you can enjoy all three.
Rosé Mansion opened the doors to its bigger, better and pinker palace on Saturday. Following the success of last year's two-story mansion, founders Morgan First and Tyler Balliet designed an even more immersive rosé activation in New York City, complete with 14 interactive rooms, eight wine tastings and two wine bars featuring 120 rosés from all across the globe. There's even a tarot card reader on hand to give you your wine fortune.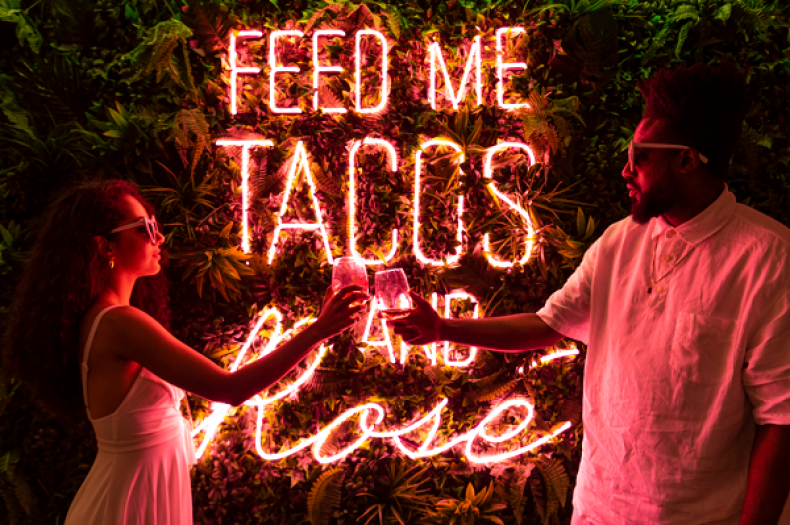 Visitors can take a stroll through the vineyard installation where they'll pass rows and rows of grapevines before heading into the laboratory where they'll learn how rosé is grown, blended and fermented while tasting rosé.
Get your unlimited Newsweek trial >
"Rosé is an incredible vehicle for storytelling," Balliet told Newsweek of the educational aspects of the mansion. "We hope to spark curiosity about the world around us focusing on history, science, and culture."
The pink drinks serve more than just a sensory exploration for the palate and brain. There are scratch and sniff rooms to entice the sense of smell, a Pursuit of Sweetness maze in which guest can decipher their biological preferences for sweet or bitter flavors as well as Cleopatra's Palace where sippers can experience the luxury of wine in the same fashion as one of Egypt's most famous—and glamorous—rulers. They'll also learn of Cleopatra's influence on wine culture. Let the Rosé Mansion ambassadors tell it, the queen often had cases of wine shipped to her from Italy so she could indulge in the grape juice when her lovers came to visit.
Beyond the tastes of wine, visitors can full glasses and even bottles at two rosé wine bars on location. If guests all worn out from updating Instagram Stories with boomerangs at the rosé treehouse or from the top of a rosé swing, there are also cabanas and picnic tables for folks to relax and chill with the pink juice at the Rosé Playground.
Get your unlimited Newsweek trial >
If all that wine works up an appetite, Taco Dumbo will be on hand to provide sustenance, with menu items including salads, guacamole and chips and plenty of tacos. There's even a tasty Impossible Taco option for those with plant-based diets, which, believe it or not, pairs unbelievably well with a cold glass of rosé!
Balliet said the mansion was created for people to have fun with friends and capture joyful moments with glasses of rosé while learning a little bit more about the pink juice, but he hoped the adult playland would also inspire people to explore wine long after summer.
"We absolutely hope to make people less intimated by wine. It's not intimidating and you don't need to know much—or anything—about wine to enjoy it," he said. "We can get incredibly geeky about rosé but personally, I'm less interested in what is in the glass and more interested in who made it, why they made it, and how this wine came to be. I feel the people is the most interesting story and that's the story we tell."
The Rosé Mansion will remain open throughout the summer. Guests can purchase tickets HERE for the happy hour price of $35—if you can make it to the mansion before 5 p.m. on weekdays—and $45 for general admission.
Rosè Mansion Is Back In New York and Serving Impossible Tacos With Wine | Culture