Rose McGowan Alleges Gavin Newsom's Wife Tried to Bribe Her Before Harvey Weinstein Scandal Broke
Actress Rose McGowan said Thursday that California Governor Gavin Newsom's wife allegedly tried to broker a deal between McGowan and Harvey Weinstein's lawyer before news broke in 2017 of sexual assault allegations made against the former film producer.
A spokesperson for Newsom's wife, Jennifer Siebel Newsom, said in a statement shared with Newsweek the allegations were a "complete fabrication" made by McGowan.
McGowan, who accused Weinstein of rape at the time the allegations were made public, said she received a phone call out of the blue from a woman whom she identified as Newsom's wife, Jennifer Siebel Newsom. McGowan shared her memory of the alleged exchange with Newsom's wife during a Thursday appearance on The Rubin Report.
According to McGowan, the woman who is now the wife of California's sitting governor contacted McGowan to set up a meeting in Brentwood, California about six months before The New York Times published its investigative report about Weinstein. Newsom, who was not elected governor until the fall of 2018, was at the time serving as the state's lieutenant governor.
"She wanted to meet me. She reached out to me," McGowan told The Rubin Report host Dave Rubin.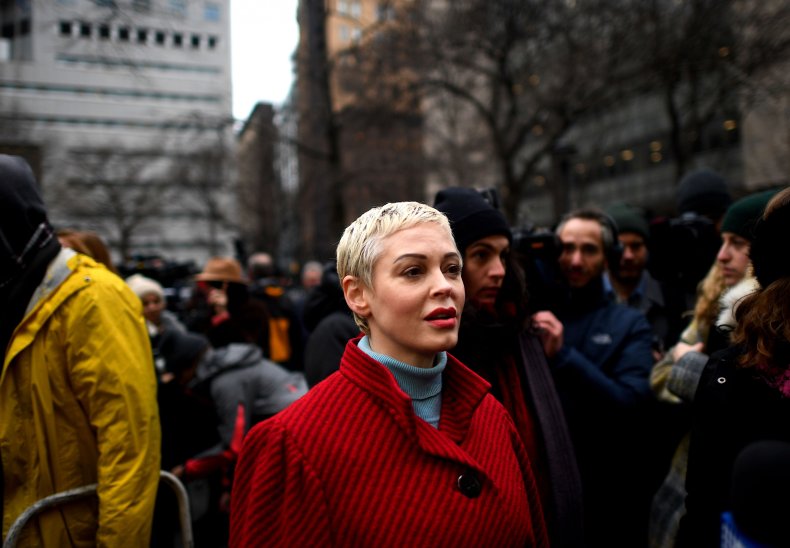 McGowan told Rubin she went to the agreed-upon meeting location but was "creeped out" and drove away after spotting Jennifer Siebel Newsom.
McGowan claimed that Newsom's wife told her she was reaching out on behalf of David Boies, a well-known lawyer whose clients included Weinstein.
"This woman I don't know, some blonde lady with a last name of Newsom, cold calls me and is like, 'David Boies wants to know what it would take to make you happy,'" McGowan told Rubin.
Newsweek contacted Newsom's campaign for comment and later received a response from a spokesperson for Jennifer Siebel Newsom.
"What is being alleged is a complete fabrication," the spokesperson said. "It's disappointing but not surprising to see political opponents launch these false attacks just days before the election. Their limited correspondence has been strictly as fellow survivors of sexual assault and in Jennifer's former capacity leading the Representation Project, an organization that fights limiting gender stereotypes and norms."
Later in the interview, McGowan encouraged Rubin's audience to vote for Larry Elder, one of the Republican candidates running in California's September 14 gubernatorial recall election. Newsom is defending his seat in the special election and could be removed from office if a majority of voters decide to recall him.
"Vote Larry Elder. 'Cause, why? Why the f**k not?" McGowan said. "What have you got to lose?"
McGowan later shared a link to part of her interview with Rubin on Twitter with a caption that read, "Remember when you @JenSiebelNewsom asked me on behalf of Weinstein's gross lawyer 'What it would take to make me happy?' Gavin Newsom's wife has some explaining to do."
Elder retweeted McGowan's post, as well as one from Rubin that included a clip from The Rubin Report interview.
McGowan further addressed the recall election in a short video she shared later Thursday.
"Governor Gavin Newsom, you're facing a recall because you're a fraud, just like your wife Jennifer Siebel Newsom," McGowan said in the video. "I have the receipts. I wish I didn't. I wish you were all real. I wish you really did help, but you don't and you're on the side of wrong.
"I hope this recall goes through because California does not need you," McGowan continued. "The nation does not need you. The world does not need you. We do not need you."
Updated 09/10/2021, 4:49 p.m. ET: This story has been updated with a statement from a spokesperson for Jennifer Siebel Newsom.