Rose McGowan Drug Charge: Actor to Plead No Contest to Possession Charge
Rose McGowan's request to have drug possession charges dismissed was denied by a judge in Loudon County, Virginia, according to a People report released on Tuesday. McGowan was slapped with felony possession of a controlled substance back in February 2017, and had hoped to avoid charges. Instead, she is expected to plead no contest when she appears in court later this month.
In a statement, McGowan's attorney Jim Hundley confirmed the actor's charge would, however, be reduced from a felony to a misdemeanor.
"The Commonwealth and Ms. McGowan have reached a plea agreement in her case. The Commonwealth has agreed to reduce current felony charge to a misdemeanor of possession of a controlled substance," Hundley confirmed to People, adding, "Ms. McGowan will enter a plea of no contest to the reduced charge when she appears in court on January 15, and the Commonwealth will recommend a sentence that requires Ms. McGowan to pay a fine."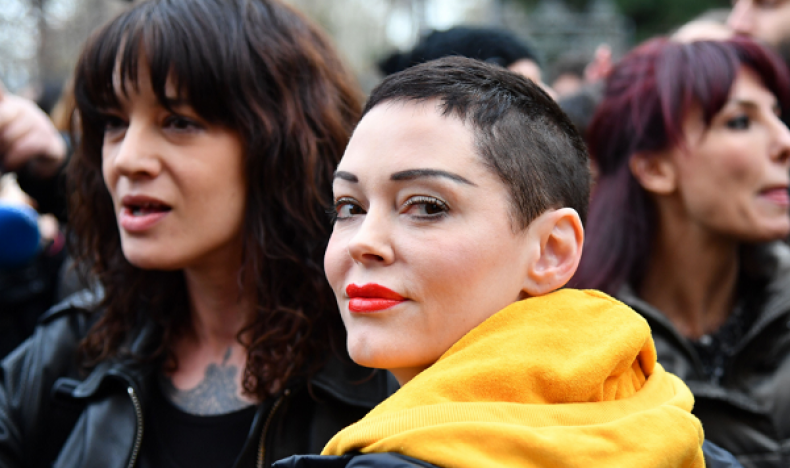 The charge stems from McGowan's arrest in November 2017. The Jawbreaker actor was served with an arrest warrant after two bags of white powder were discovered in her lost wallet at Washington Dulles International Airport in January 2017. A staff member of the airport discovered the wallet, which contained substances that tested positive for cocaine by Virginia police, according to court documents. The drugs were suspected to have been transported in McGowan's wallet via a United Airlines flight.
Jessica Carmichael, another attorney on McGowan's legal team, suggested for the charge to be dropped considering the lengthy amount of time that lapsed when McGowan initially lost her wallet and when it was finally found. Carmichael claimed McGowan's wallet was missing for five hours before someone on the airline's cleaning crew discovered and turned it into airport authorities, the Associated Press reported in October 2017.
Carmichael argued someone may have planted the drugs in McGowan's wallet as a result of the "underhanded targeting" the 45-year-old was suffering at the time in relation to the Harvey Weinstein scandal, in which the actor—and dozens more women—shared accounts of Weinstein's alleged sexual harassment and abuse. McGowan, Asia Argento and several more women made claims that essentially led to the categorical downfall of the Hollywood super-producer's career.
At the time of McGowan's drug possession crisis, the actor suggested the incident could have been one of Weinstein's many tactics to silence her. It was later revealed Weinstein hired private security agencies to spy on a number of his accusers who were featured in New York Times and New Yorker exposés on his alleged sexual misconduct in scathing separate reports in October 2017.
Nonetheless, a judge decided to move forward with the charges—albeit reduced.
Hundly noted McGowan is complying with the decision, telling People that she "accepted this agreement in order to spare her family, her friends, and her supporters the emotional strain of a criminal trial. The agreement brings this ordeal to an end and allows her to focus all of her energy on what matters most to her – creating a better world. Ms. McGowan will comment on the day of the plea."
McGowan's fine is expected to be delivered during her upcoming court appearance on January 15.