Rose McGowan Says Her 'Heart Is Broken' Over Asia Argento Assault Allegations
Rose McGowan responded to an exclusive New York Times report on Sunday that claimed Asia Argento paid an actor who accused her of sexual assault.
"I got to know Asia Argento ten months ago," McGowan wrote Monday. "Our commonality is the shared pain of being assaulted by Harvey Weinstein. My heart is broken. I will continue my work on behalf of victims everywhere."
They met on March 17, 2003, according to the caption of a photo Argento posted of the two women on Instagram in October 2017. Argento and McGowan both became prominent members of the #MeToo movement when they accused producer Harvey Weinstein of sexual assault in October.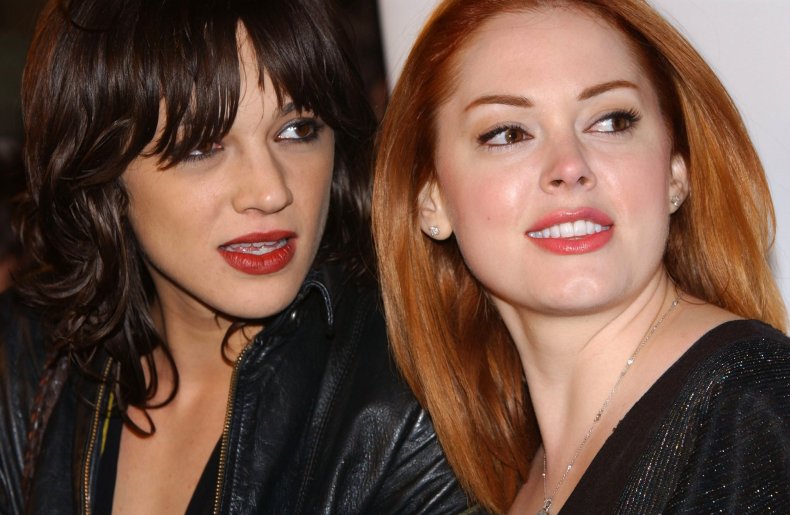 After Argento spoke out about Weinstein, she allegedly paid actor and musician Jimmy Bennett $380,000 after a 2013 incident allegedly occurred in a California hotel room. He was 17, younger than California's age of consent of 18. Argento played his mother in the 2004 film, The Heart Is Deceitful Above All Things.
It was Argento's accusation of Weinstein that led to Bennett's. "His feelings about that day were brought to the forefront recently when Ms. Argento took the spotlight as one of the many victims of Harvey Weinstein," Gordon K. Sattro, the actor and musician's lawyer, said in his notice of intent to sue, according to the report.
McGowan spoke on behalf of Argento following the tragic death of her boyfriend, celebrity chef Anthony Bourdain. "Sitting across from me is the remarkable human and brave survivor, Asia Argento, who has been through more than most could stand and yet stand she does. She stood up to her monster rapist and now she has to stand up to yet another monster, suicide," McGowan wrote in a letter, calling Argento a "pillar of strength."
"To the media and to the random commenter, Anthony would never have wanted Asia to be hurt, I'd like to think he would want us to have the collective conversation that needs to be had about depression," she continued. "Blame is NOT a conversation, it is the shutting down of our collective growth."
McGowan published her memoir, Brave, in which she spoke about Weinstein as "the Monster" and the way women are treated in the film business in January. She also premiered a documentary series on E!, Citizen Rose, about her activism that same month. Argento appeared on the series, and she and McGowan discussed Weinstein.
Weinstein pleaded not guilty to six felony counts, including rape, in New York.