Rose McGowan Attacked For Defending Asia Argento
Rose McGowan is facing accusations of hypocrisy after urging people to be "gentle" to Asia Argento following a New York Times report on Sunday. Argento reportedly agreed to pay $380,000 to an actor who accused her of sexually assaulting him when he was 17 years old.
"None of us know the truth of the situation and I'm sure more will be revealed," she tweeted on Monday. "Be gentle."
McGowan has been one of the harshest critics against those accused of sexual assault, so this statement has led to a backlash on social media, with many accusing her of having double standards when it comes to male survivors of sexual assault.
"[The MeToo] movement will fail if its leaders engage in hypocrisy, cronyism [and] double standards," wrote Christina Sommers, philosopher scholar and host of YouTube's The Factual Feminist. "Rose McGowan's advice should apply to all who are accused, not just her friend [Argento]."
Harry Cook, actor and author of the book Pink Ink, replied, "'Be gentle'? Why? Because she's a woman and your friend? Your comments are a major slap in the face of everything the #MeToo movement represents. Double standard beyond belief."
McGowan claims she met Argento ten months ago, though pictures of them together in 2003 argue otherwise. "Our commonality is the shared pain of being assaulted by Harvey Weinstein. My heart is broken," she wrote on Monday. "I will continue my work on behalf of victims everywhere."
Argento is accused of sexually assaulting child actor Jimmy Bennett, who was a minor at the time. The age of consent in California is 18. Weinstein's lawyer, Benjamin Brafman, responded to the Times report with a statement on Monday. "This development reveals a stunning level of hypocrisy by Asia Argento, one of the most vocal catalysts who sought to destroy Harvey Weinstein," he said.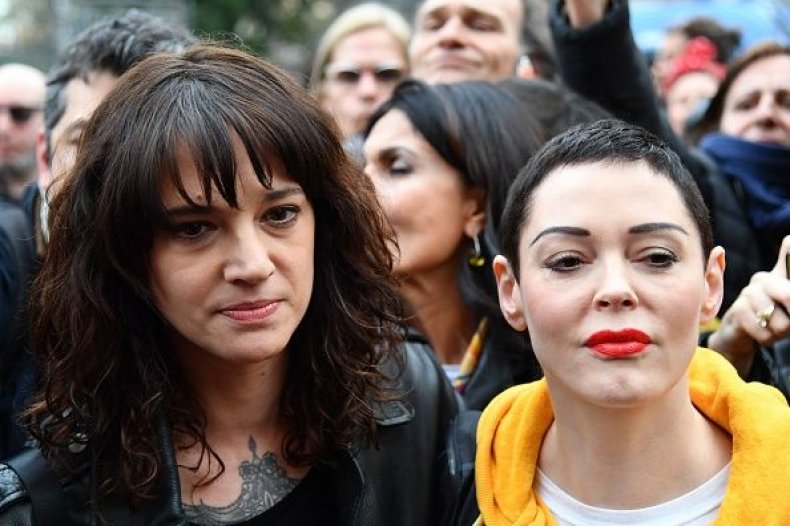 Tarana Burke, the founder of the MeToo movement, also took to Twitter on Monday. "I've said repeatedly that the [Me Too Movement] is for all of us, including these brave young men coming forward," she said. "It will continue to be jarring when we hear the names of some of our faves connected to sexual violence unless we shift from talking about individuals and begin to talk about power."
"Sexual violence is about power and privilege. That doesn't change if the perpetrator is your favorite actress, activist or professor of any gender," she continued. "My hope is that as more folks come forward, particularly men, that we prepare ourselves for some hard conversations about power and humanity and privilege and harm. This issue is less about crime & punishment and more about harm and harm reduction."
"People will use these recent news stories to try and discredit this movement," Burke wrote. "Don't let that happen."