Rose McGowan Says Harvey Weinstein Raped Her, Amazon Looked Other Way
UPDATED | Rose McGowan has now explicitly connected the dots. In a series of tweets directed at Jeff Bezos, Amazon and Amazon Studios on Thursday, she said that "HW," Harvey Weinstein, raped her.
"@jeffbezos I told the head of your studio that HW raped me. Over & over I said it. He said it hadn't been proven. I said I was the proof," she wrote in the first of six tweets. "I had already sold a script I wrote to your studio, it was in development. When I heard a Weinstein bailout was in the works," she said, "I forcefully begged studio head to do the right thing. I was ignored. Deal was done. Amazon won a dirty Oscar."
"I called my attorney & said I want to get my script back, but before I could, #2 @amazonstudios called to say my show was dead," she continued. "I am calling on you to stop funding rapists, alleged pedos and sexual harassers. I love @amazon but there is rot in Hollywood." She ended her thread by telling the founder and CEO of Amazon to "be the change you want to see in the world. Stand with truth."
McGowan declined Newsweek's request for further comment but the Amazon Studios head she tweeted about was suspended from his job later Thursday after separate sexual harassment allegations were made public. "Roy Price is on leave of absence effective immediately," an Amazon spokesman said, just hours after accusations by Isa Dick Hackett, executive producer of Amazon's The Man in the High Castle. Hackett claims that Price repeatedly propositioned her on the way to and during an Amazon staff party in July 2015, reportedly saying "you will love my dick," and yelling "anal sex" in her ear. She claims she brought the allegations to Amazon executives more than two years ago.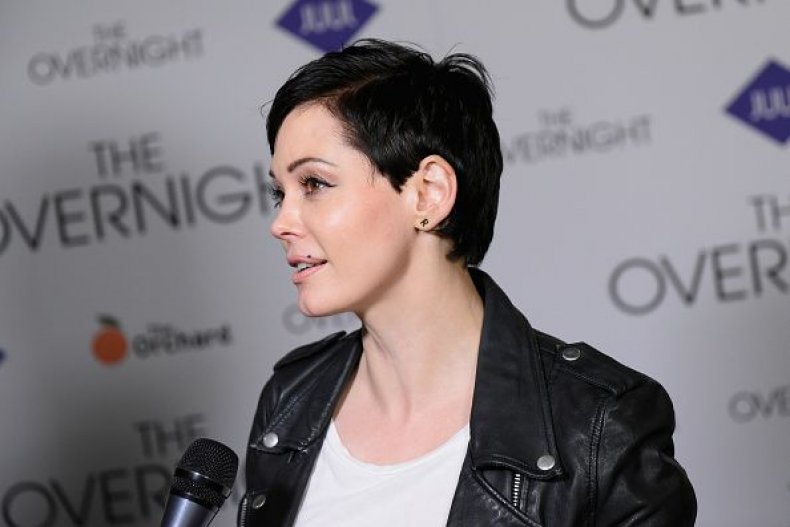 McGowan was named in The New York Times story that first set Weinstein's house of cards tumbling down. The story revealed that McGowan had reached a $100,000 settlement with Weinstein in 1997, when the actress was in her 20s, over an "incident" in a hotel room at the Sundance Film Festival. No further details were included in the story. Though McGowan didn't provide any comment to the Times, she took to Twitter primarily to speak out against Weinstein, his enablers and Hollywood and society more broadly.
McGowan had also previously disclosed that a studio executive had raped her. At the time, she didn't name the perpetrator, although she did say that "my ex sold our movie to my rapist for distribution." She also said that "it's been an open secret in Hollywood/Media & they shamed me while adulating my rapist" and that "it is time for some goddamned honesty in this world."
Well it seems that the time for total honesty has come. And that's not all. McGowan has been pointing her finger at all the people who kept that open secret or looked the other way for so many years. It's Jeff Bezos's turn, along with Amazon and Amazon Studios.
Craig Berman, VP communications at Amazon Entertainment, has already said in a statement that "we are reviewing our options for the projects we have with the Weinstein Co."
Amazon did not address Newsweek's requests for comment on McGowan's tweets.
This article was updated to include details of Amazon Studios head Roy Price's suspension.