Rose McGowan Vows Not To Live in the U.S. Again, Settles in 'Gentler' Mexico
Actress Rose McGowan has stated that she will not live in the U.S. again, citing "random threats of violence" for her decision to settle in "gentler" Mexico.
The Charmed star—who was born in Italy to American parents before settling in the U.S. as a child—moved to Mexico in early 2020, in the early days of the COVID-19 pandemic.
And during an appearance on U.K. TV show Good Morning Britain on Friday, McGowan, 48, said from her home in Cancún that her decision not to make the U.S. her home again was reaffirmed during a recent visit.
"I will not go back and live there," she said during the remote interview. "I went back recently for the first time in quite a few years and it freaked me out. The energy there, people are are short circuiting.
"I went from the top of one half of the country to the bottom of the other and every place I went—and not because I'm Rose, just random people—it was almost like random threats of violence every day. It's not OK and it's sad what's gong on."
She then went on to discuss her new life in Mexico, as she said: "For me, I've found a softer, gentler place. And although a lot of people like to put Mexico down, for me it's been nothing but beauty and healing and softness."
However, she admitted that she doesn't have a particularly strong command of Spanish, which she's enjoying for now.
"I'm taking the language learning slowly, because honestly I'm really enjoying not understanding what people are saying around me," adding that it gave her "peace."
The Scream star revealed in February that she had become a permanent resident of Mexico. She had previously shared on social media that she was staying in Coba, on the Yucatán Peninsula, per The Independent.
McGowan, who said during Friday's interview that she had a "great hand" in "shattering" the "illusion" of Hollywood through her vocal support for MeToo and Time's Up, also said that she doesn't think she will be hired as an actress in the U.S. again.
When asked by her interviewers on the show if she could get hired, she replied: "No. I can't. They've really ensured that... It takes a village to maintain silence and secrets. What I'm doing now is healing.
"I took a lot of blows for a lot of years—when you stop fighting every day you feel them so honestly, I'm trying to put myself back together, and I imagine Britney Spears will probably be in the same boat."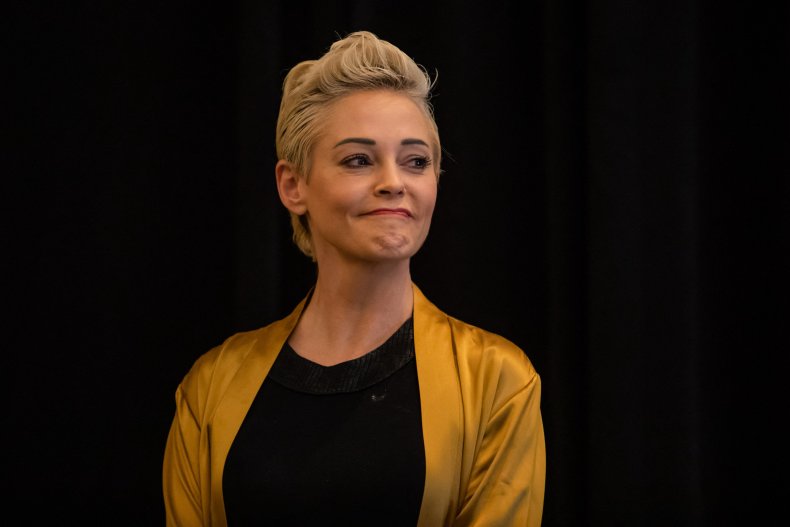 McGowan had made an appearance on the British show to discuss Spears' Friday court hearing, where a judge will hear arguments on whether her 13-year conservatorship should be dissolved altogether.
The actress, who has spoken out in the star's defense in the past, said: "It's a great day because today I believe that Britney Spears will have her own life.
"Why this matters for the bigger picture—well, it matters when people get listened to—from a person working at McDonalds to maybe a fancy pop princess, because if they're doing it to people who are considered untouchable and safe because of money, this shows you clearly that's not true."
McGowan said that she got involved in supporting Spears when the "#FreeBritney" hashtag caught her eye on social media, at the time that she was speaking out against disgraced movie mogul Harvey Weinstein, who she accused of sexually assaulting her.
"I am happy that people are respecting these activists on behalf of a woman who's been kept in a cage," she said, "who's done nothing wrong expect for try to exist not in the perfect way her puppet masters wanted her to be, so it is important."
"The reality is, she's an adult," McGowan went on. "Britney Spears is a free woman and should be after today, and what it is going to take for her probably getting used to the world again, that she's been kept from.
"She's an adult. Maybe she doesn't behave like we could behave in that situation, but most people don't know what that situation is like. Most people have this very idealised or at least used to have this idealised version of fame. For Britney, I don't see that she ever had much of a choice in her life as what she wanted to do with her life.
"Maybe she never wants to sing again. Maybe she just wants to be on a beach for the rest of her life. That is her choice ... and I am happy to lend a voice for this.
"We're here to say one woman, one person, one human, man, woman, anybody, we all count and nobody should get to do this or judge how somebody should be when they're famous."