Rose McGowan's Childhood in 'Cult' Children of God Commune Explained
Rose McGowan made headlines as one of Harvey Weinstein's accusers and a prominent figure of the MeToo movement. Before this, the Hollywood star endured an incredibly tough childhood.
Rose McGowan was born in Florence, Italy, where his parents lived in a commune of the The Children of God (COG), a "cult" that has been blighted by allegations of rape and incest.
Originally formed in 1968 as Teens for Christ by preacher David Brandt Berg, the group initially consisted of runaway hippies and was founded on the concepts of salvation, spiritual "revolution and happiness" and a total distrust of the outside the world.
The group soon changed its name to COG and grew exponentially. Exact figures are disputed but several reports estimate that the group, at its peak, boasted between 15,000 and 19,000 followers worldwide, all of which lived in communes, didn't work nor send their kids to school.
At the core of the swift growth was a strategy Berg himself described as "flirty fishing", which consisted of him ordering the females in the group to recruit men from the outside by engaging in sexual activities with them. COG male members were allowed to have more than one wife.
In 1974, the New York attorney general's office described the group as a "cult".
"A 14-year-old runaway who spent nine days at a COG commune testified that she was raped and because of her refusal to cooperate with the elders, was held in solitary confinement on no less than three separate occasions," it stated.
According to the report, COG members were required to surrender all their money and personal belongings to the leaders of local homes. In 1974, the New York attorney general's office estimated there were approximately 120 communes around the world. By 2006, the group stated the number had grown to over 1,400 across 100 countries.
"Flirty fishing" was just one of the several sexual practices COG became renown for, which attracted the attention of the both the FBI and the Interpol. The FBI, which considered the group as a sect, had received reports alleging COG had either turned a blind eye or actively encouraged incest, child abuse and rape.
In her autobiography "The Children of God: The Inside Story", Berg's daughter, Deborah Davis, described the group as a "worldwide prostitution network", which had resulted in "unwanted publicity and attention from the law."
Berg himself was accused of sexually abusing young girls, including his daughters and granddaughters.
A year before Berg died in 1994, former COG member Ricky Dupuy revealed on Larry King Live he had been ordered to rape a 10-year-old girl by the girl. Dupuy later committed suicide and a report in 2005 estimated that at least 10 former members had committed suicide in the previous 13 years.
Speaking to The Irish Times in 2019, McGowan said her family had decided to leave the cult when "they started advocating child-adult sex and that was too far for my father, so we escaped."
Eight years earlier, in an interview with People, she had detailed how the family fled the commune.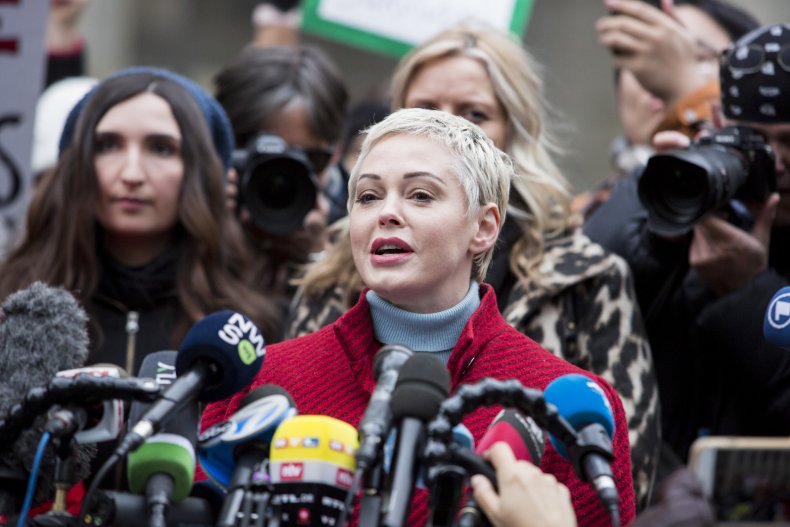 "I was not molested because my dad was strong enough to realize that this hippie love had gone south," she said.
"We had to leave on the sly. My dad, Nat, Daisy [her stepbrother and stepsister] and I escaped with my dad's other wife in the middle of the night. I remember running through a cornfield in thunder and lightning, holding my dad's hand and running as fast as I could to keep up with him.
"We hid in an old stone house and had to boil pots of hot water to take baths. [The cult] sent people to find us. I remember a man trying to break in with a hammer."
According to The Guardian, by 1993 Berg, who saw himself as the last prophet before Armageddon, was under investigation by both the Interpol and the FBI.
He fled to Portugal where he died in 1994, a decade before COG changed its name again, this time to The Family International.
"There's a trail of some very damaged children that were in this group," McGowan told People.
"As strong as I like to think I've always been, I'm sure I could have been broken. I know I got out by the skin of my teeth."