Roseanne Barr Hasn't Found 'Right Words' to Personally Apologize for Racist Tweets, Claims Offers to Return to TV
Roseanne Barr, who had her ABC show Roseanne cancelled on May 29 after sending out a series of racist tweets, claimed she has had multiple offers to return to television in a new interview.
"Inside every bad thing is a good thing waiting to happen, and I feel very excited because I've already been offered so many things and I almost already accepted one really good offer to go back on TV, and I might do it," Barr told Rabbi Shmuley Boteach, a prominent orthodox Jewish rabbi on his podcast released Saturday. She did not specify which networks showed interest or how many had reached out to her.
ABC cancelled Barr's show after the star went on a racist twitter rant. Barr called Valerie Jarrett, a longtime adviser to President Barack Obama, the baby of "Muslim brotherhood and planet of the apes." Barr also incorrectly called George Soros, a prominent liberal billionaire, a "Nazi."
"By the way, George Soros is a nazi who turned in his fellow Jews 2 be murdered in German concentration camps & stole their wealth- were you aware of that? But, we all make mistakes, right Chelsea?" Barr wrote in a tweet directed at Chelsea Clinton who she had previously claimed, without evidence, was related to Soros.
Channing Dungey, the president of ABC Entertainment, called Barr's remarks "abhorrent, repugnant and inconsistent values."
"We have decided to cancel her show," she said.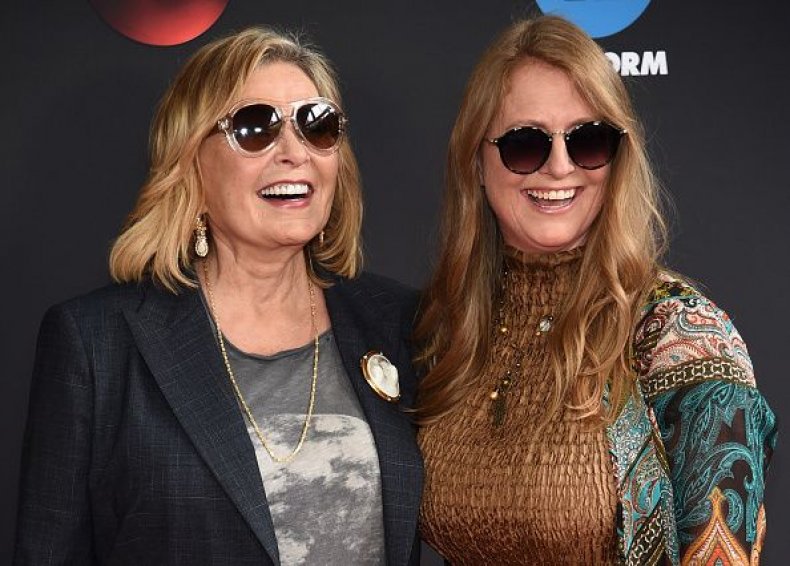 Barr released a statement to BuzzFeed News after her show was cancelled that said: "I deeply regret my comments from late last night on Twitter. Above all, I want to apologize to Valerie Jarrett, as well as to ABC and the cast and crew of the Roseanne show. I am sorry for making a thoughtless jokes that does not reflect my values."
She added, "I apologize from the bottom of my heart and hope you can find it in your hearts to forgive me."
Barr also told ABC News that while she had apologized to Jarrett publicly, she had not reached out to her personally since the incident because she did not have "the right words."
"It's all about right words, and you have to do a lot of meditating and praying for the right words," she said. "And I just don't know what the right words would be."
The Roseanne reboot premiered to record ratings for the network in March when it brought in over 27.2 million telecast viewers according to Forbes. The show was in pre-production for an additional 13-episode season to return this fall before ABC cancelled it and halted production.