Roseanne Barr Says She's Moving to Israel to Study With One of Her Favorite Teachers When 'The Connors' Premieres
Roseanne Barr said she would be moving to Israel when the spinoff series The Connors premieres this fall.
During an interview on the Rabbi Shmuley Boteach Podcast on Monday, Barr discussed her thoughts on the new TV show, The Connors, the spinoff of her reboot of Roseanne. The ABC show was canceled in May following her racist tweet against former Obama adviser Valerie Jarrett.
"I'm not going to curse it or bless it. I'm staying neutral. That's what I do. I'm staying neutral. I'm staying away from it," Barr said during the interview. "Not wishing bad on anyone, and I don't wish good for my enemies. I don't. I can't. I just stay neutral. That's what I gotta do. I have some mental health issues of depression and stuff. I got to stay in the middle or I'll go dark, and I don't want to go dark again. I've done it. After all, I was married to Tom Arnold."
Following her thoughts about the new show, she said that she was not going to be in the U.S. when it premiered in October. Barr said she would be traveling to Israel and would possibly move there.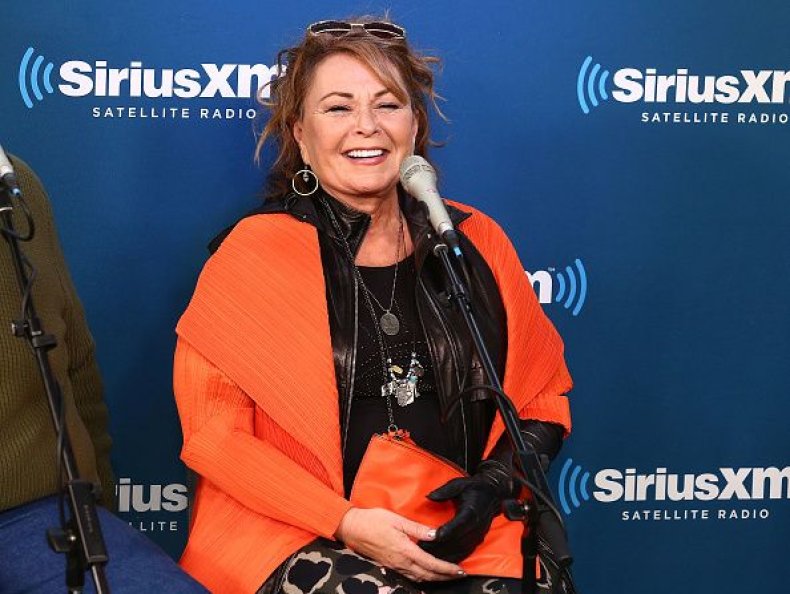 "I have an opportunity to go to Israel for a few months and study with my favorite teachers over there, and that's where I'm going to go and probably move somewhere there. I have saved a few pennies, and I'm so lucky I can go," Barr said. "It's my great joy and privilege to be a Jewish woman."
Barr, 68, said in a tweet in May that Jarrett looked like the offspring of the Muslim Brotherhood and Planet of the Apes. She has since apologized for the tweet, which was condemned as racist, and said she thought Jarrett was white. Barr also blamed the tweet on her taking the prescription drug Ambien.
During her first TV appearance with Sean Hannity after the show was canceled, the comedian said the tweet was a mistake and it cost her "everything, my life's work."
"And I paid the price for it," Barr said.
Roseanne actor John Goodman suggested that Roseanne would be killed off in the spinoff show, The Connors, during an interview with Britain's Sunday Times in August. The show would be about the Connor family without Barr. Goodman said his character would "be mopey and sad because his wife's dead."
Goodman told The Sunday Times that he knew "for a fact" that Barr was not racist and was "surprised" by the network's response to Barr's tweet.
"I'll put it this way. I was surprised at the response," Goodman told the newspaper. "And that's probably all I should say about it."