Roseanne Barr Tweets Support for Right-Wing Trump Conspiracy Theory
Comedian Roseanne Barr has faced criticism for promoting a right-wing conspiracy theory in a series of tweets late Friday.
"President Trump has freed so many children held in bondage to pimps all over this world. Hundreds each month. He has broken up trafficking rings in high places everywhere. notice that. I disagree on some things, but give him benefit of doubt-4 now," tweeted the actor, whose show, Roseanne, returned to ABC Tuesday to sky high ratings.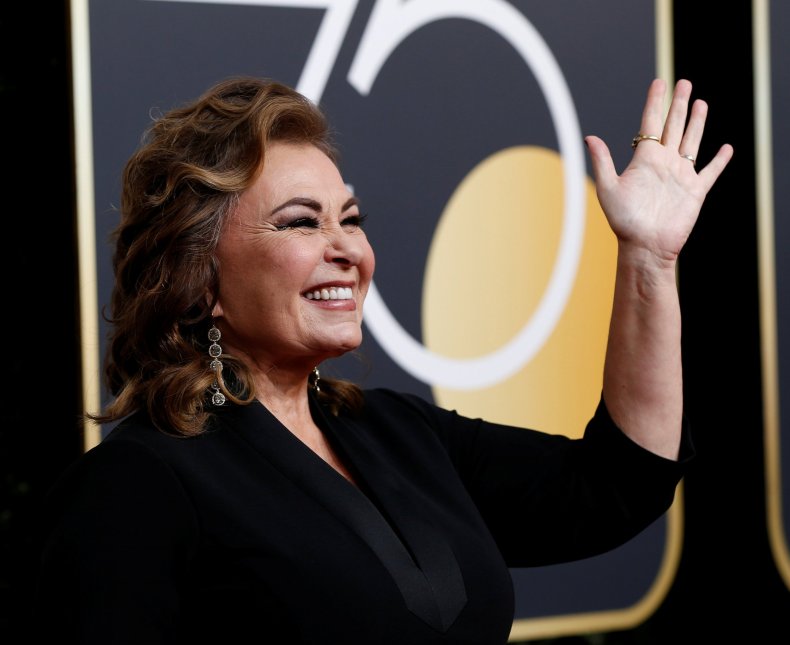 The tweet seems to allude to a conspiracy theory known as The Storm, which emerged after Trump quipped at a photo op last October about it being "the calm before the storm."
Those who believe in the theory allege that cabals of high-ranking Democrats run child sex rings attended by celebrities, which Trump is breaking up.
QAnon refers to a user of internet messaging board 4Chan, who claims to be a White House official with secret knowledge of the investigation into the sex trafficking ring.
"QAnon believers are convinced that the world is run by a nefarious deep state cabal of Democrats, celebrities, and intelligence community figures (many of whom, they claim, are pedophiles)," writes blogger Will Sommer, who monitors right-wing media, on Mediate.
"Trump is about to take them all down, in their telling, often with sealed indictments that are hidden from the public. Hence Barr's tweets about massive pedophile networks."
The success of the reboot of Roseanne, which depicts a blue collar Illinois family, has put new focus on Barr's pro-Trump conspiracy theories.
President Trump reportedly called Barr on Tuesday to congratulate her on the show's success after it returned from being off-air for 18 years.
Barr on Twitter last November asked users to put her in contact with QAnon, and her account was suspended for several hours and website went offline, with conspiracy theorists claiming that she had been silenced by deep state actors determined to supress QAnon's secrets.
According to The Daily Beast, Barr's site went down following a routine technical issue.
After returning to Twitter, she has continued to tweet about QAnon, and in a cryptic tweet on March 24 tweeted "MKULTRA" — a seeming allusion to a 1960s CIA psychological warfare program.
On Tuesday she appeared to promote a conspiracy theory alleging that a survivor of the Parkland school shootings gave a Nazi salute at a gun control rally.
After being criticized for spreading the Storm conspiracy Friday, Barr tweeted "I thought today was a good day to talk about freeing kids from sex slavery, since it is Passover. I didn't realize that so many were not aware of it. Anyway, no more opinions from me on twitter, it invites bullying. Moving on."
She also shared a link to a White House announcement on National Slavery and Human Trafficking Protection Month, as well as links to reports on child trafficking in The New York Times and DailyMail.com.
A similar conspiracy theory to the Storm, the so-called Pizzagate conspiracy, alleged that senior Democrats were running a child sex trafficking ring from a Washington DC pizzeria. In December 2016, a man who claimed he was attempting to rescue children from the restaurant opened fire in a Washington pizzeria.