Roseanne Barr Says 'I'm Not a Racist' Despite Posting Racist Tweet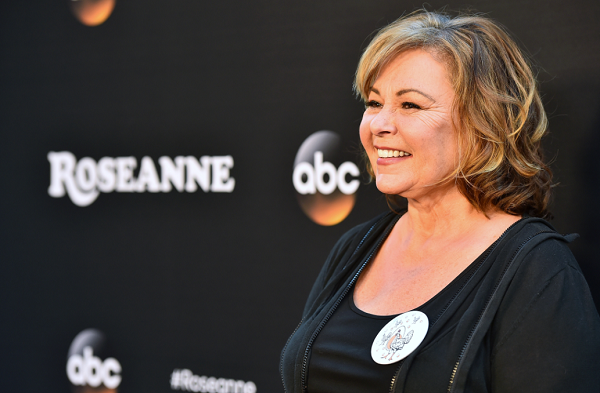 Despite saying on Tuesday she would be "leaving Twitter," Roseanne Barr is still tweeting—except now the former sitcom star isn't posting racist messages but instead insisting she is not racist.
"I'm not a racist, I never was & I never will be," Barr wrote on Wednesday. "One stupid joke in a lifetime of fighting 4 civil rights 4 minorities, against networks, studios, at the expense of my nervous system/family/wealth will NEVER b taken from me."
Barr's tweet came one day after she compared President Barack Obama's former staffer Valerie Jarrett to an ape. "Muslim brotherhood & planet of the apes had a baby=vj," Barr wrote.
Although Barr issued an apology, the aftermath of Barr's tweet—and another in which she referred to business magnate George Soros as a Nazi—resulted in a firestorm of criticism on social media, with dozens of people threatening to boycott her revived ABC show. In response, ABC Entertainment President Channing Dungey pulled the plug on Barr's namesake TV show, even though Roseanne was the most-watched series of the broadcast season and was green-lighted for a second season.
"Roseanne's Twitter statement is abhorrent, repugnant and inconsistent with our values, and we have decided to cancel her show," Dungey wrote in a statement released Tuesday.
When it debuted in the 1980s, Barr's sitcom was praised for breaking TV barriers by presenting shows dealing with gay marriage, poverty, classism in America and abortion. Over the years, Barr often used her platform to champion women's rights, and she advocated for laws that would diminish racial profiling when she was vying for a spot on the presidential ballot in 2015.
In the years since, Barr has perpetuated conspiracy theories and used divisive rhetoric about liberals. According to The Daily Beast, she endorsed transphobic messages on social media against "Muslim Migrants" and claimed that "Americans don't want these savages in our towns!" She also did a photo shoot for the satirical Jewish website Heeb, where she dressed up as Hitler, wore a Nazi armband and pulled burnt "Jew cookies" out of an oven.