'Roseanne' Takes Shots at 'Black-ish' and 'Fresh Off the Boat' in New Episode
Tuesday night's Roseanne may not have mentioned the president, but the episode may still stir up controversy for its jabs at ABC's more diverse family sitcoms: Black-ish and Fresh Off the Boat.
"Roseanne Gets the Chair"—technically the third episode of the revival season, after last week's double feature premiere—opens with Roseanne Conner (Roseanne Barr) lamenting the entitled attitude of her teenage granddaughter, Harris (Emma Kenney). Meanwhile, Dan Conner (John Goodman) surprises Roseanne with an elevator chair to help her get up and down the stairs while her knee heals. Of course, Roseanne refuses to use it, on the grounds that stair lifts are for old people.
While some may grow tired of the "entitled millennials" attitude Roseanne adapts, the story feels relatively tame compared to the President Donald Trump-heavy premiere—until about halfway through the episode. Roseanne and Dan wake up from a nap in front of the TV at 11 p.m., apparently while they were watching Roseanne's home network, ABC.
"We slept from Wheel to Kimmel," notes Roseanne.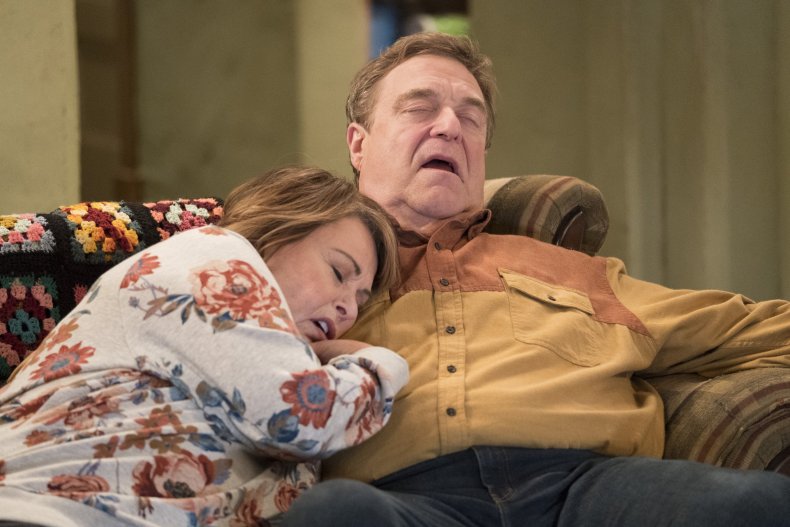 "We missed all the shows about black and Asian families," Dan quips back.
"They're just like us. There, now you're all caught up," Roseanne responds.
The episode, which was written by Sid Youngers, was likely referring to ABC sitcoms Black-ish and Fresh Off the Boat with that line. It's a jab that may hit particularly hard for Black-ish fans, as the show recently had an episode pulled by ABC over "creative differences" with creator Kenya Barris. According to Variety, the unaired episode, "Please, Baby, Please," featured Dre (Anthony Anderson) improvising a political bedtime story for his son, which touched on the debate over athletes kneeling during the national anthem.
The Roseanne premiere ratings climbed to 25 million viewers, after counting delayed viewers up to three days after the premiere, according to Variety. The delayed views—which added 6.6 million viewers to the 18.4 million who tuned in day of—broke a record previously held by ABC's How to Get Away with Murder. The high ratings were good news for Black-ish, which airs one hour after Roseanne, and saw its own ratings boost last week, according to Deadline.
Last week, Roseanne's titular character was revealed to be a Trump voter, much like the real-life star, who is a Trump supporter herself. The show's seeming sympathy for Trump and his supporters earned Barr a congratulatory call from the president—and heavy backlash from fans online. The network green-lighted the Roseanne revival for a second season just three days after last week's premiere.
Roseanne airs Tuesdays on ABC at 8 p.m. ET.