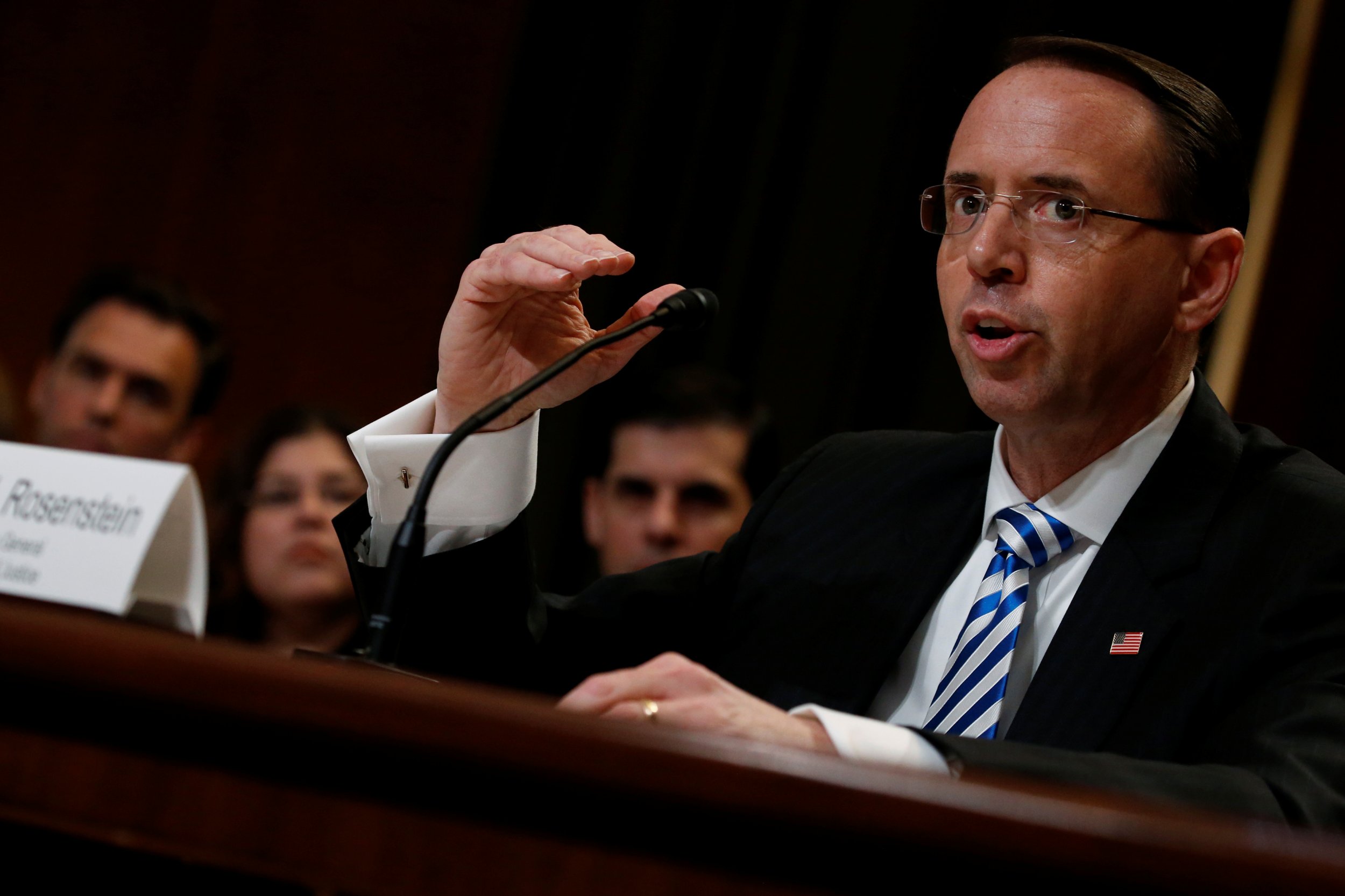 At this rate, the Justice Department might run out of lawyers who can recuse themselves from the government's probe into President Donald Trump's campaign and its alleged links to Russia.
Deputy Attorney General Rod Rosenstein, who took over after Attorney General Jeff Sessions removed himself from the investigation in March, reportedly said in a meeting with Associate Attorney General Rachel Brand that there was a possibility he would recuse himself from the probe that has dogged Trump before and since he took office, ABC News reported Friday.
Rosenstein reportedly told Brand that she could take over the investigation, meaning she would be given authority over its budget if it proceeds to prosecute anyone, and even over appointed special counsel Robert Mueller.
The possibility of a second top Justice Department official recusing himself from the investigation comes after Trump appeared to criticize Rosenstein (and admit he was under investigation) on Friday. The president tweeted that he was being investigated by the person who recommended the firing of FBI Director James Comey, citing a memo Rosenstein drafted for his recommendation to Trump.
However, Trump at one point said during an interview with NBC News that he planned to fire Comey anyway, regardless of Rosenstein's memo. Sessions, during Senate Intelligence Committee testimony on Tuesday, declined to answer questions about any possible conversations with the president over Comey's firing, citing a long-standing policy that he didn't explicitly name.
For now, according to the report, Rosenstein has not discussed a potential recusal with other lawyers at the DOJ, ruling out "any serious contemplation" of such a big move.
Brand, who was confirmed by the Senate on May 18, has experience in both the public and private sides of Washington. A Harvard Law School graduate, she clerked for a Massachusetts Supreme Judicial Court associate judge and U.S. Supreme Court Justice Anthony Kennedy.
She then moved on to the law firm Cooper, Carvin & Rosenthal, eventually landing under former White House counsel Alberto R. Gonzales, according to The Washington Post, and later ran the DOJ's Office of Legal Policy during President George W. Bush's administration.
In 2008, Brand moved on to the WilmerHale law firm, followed by the U.S. Chamber Litigation Center, where she was vice president and chief counsel for regulatory litigation.
Partisanship and the fairness of the Russian collusion probe have been hot topics as Mueller has fleshed out his investigative team. The former FBI director has faced criticism because some of his appointees have donated to Democratic candidates.
Brand, who has been labeled pro-business, has made contributions to the Republican Party and its candidates. In 2008 she donated a total of $4,300, including $2,000 to the then-GOP presidential nominee John McCain, and $1,300 to the Republican National Committee, according to records from political contributions watchdog OpenSecrets.