Rosenstein Briefing to Senate Suggests Russia Probe Now Criminal, Republican Senator Says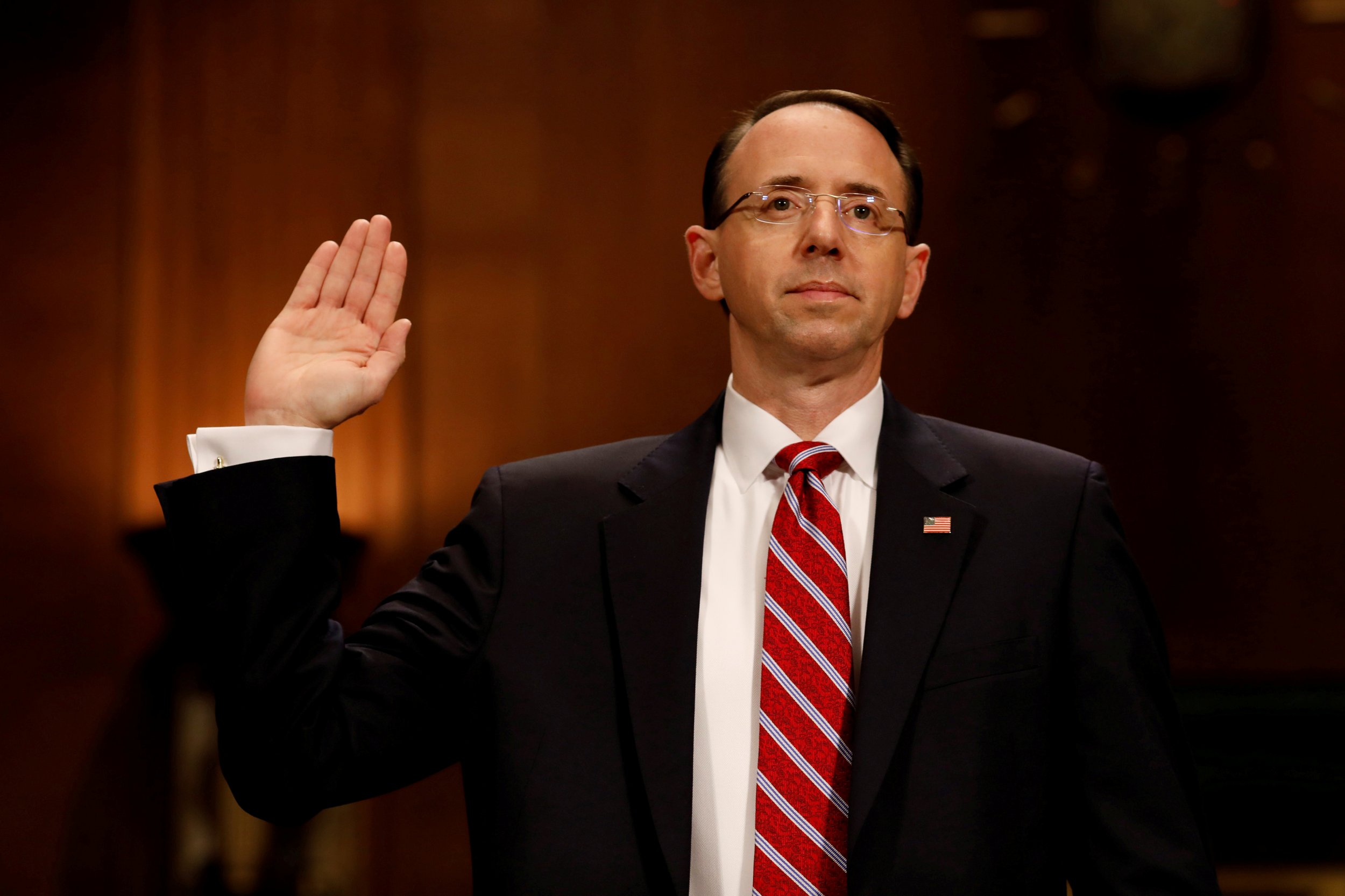 Deputy Attorney General Rod Rosenstein briefed senators Thursday afternoon, and he didn't present a lot of new information on the Department of Justice investigation into Russian meddling in the 2016 campaign or his decision to appoint former FBI Director Robert Mueller to head up that probe. But Rosenstein's remarks to lawmakers suggested that what had been a "counterintelligence investigation" was now morphing into a criminal one, one senator said afterward.
"I think the shot to the body is it's now considered a criminal investigation," Republican Senator Lindsey Graham, a former military prosecutor, said as he exited the closed-door briefing in the basement of the Capitol. And Graham said that could impede Congress's "ability to conduct investigations of all things Russia." For example, "I find it hard to subpoena records of somebody like [former National Security Adviser Michael] Flynn, who may be subject to a criminal investigation because he has a right not to incriminate himself," Graham explained. "As to Mr. [James] Comey, the former director of the FBI, coming before the committee, if I were Mr. Mueller, I would jealously guard the witness pool."
Graham acknowledged that Rosenstein did not explicitly confirm that the department was now looking into possible ties between Russia and the Trump campaign as a criminal matter. And Repubican Senator Bill Cassidy said Rosenstein stressed that the existence of the investigation itself does not mean that somebody definitively committed a crime. But Graham emphasized "the takeaway I have is that everything he said was that you need to treat this investigation as though it may be a criminal investigation."
Until Wednesday, Rosenstein was the most senior Department of Justice official overseeing the investigation, after Attorney General Jeff Sessions, an active Trump supporter during the 2016 election, recused himself on all matters relating to Russia and the campaign. Then, following weeks of pressure from Democrats and outside commentators, Rosenstein announced Wednesday evening he was appointing Mueller as special counsel heading up the department's probe. "Based upon the unique circumstances, the public interest requires me to place this investigation under the authority of a person who exercises a degree of independence from the normal chain of command," Rosenstein explained in a statement.
According to Democratic Senator Richard Durbin, Rosenstein didn't say exactly when or why he decided a special counsel was necessary. "Clearly it wasn't last night, it's been a matter of a few days." he said. The Illinois Democrat added that Rosenstein "kind of rejects the premise that he wasn't going to appoint one" until pushed to do so by the recent headlines. In the past 10 days, the president abruptly decided to fire his FBI director and then acknowledged that it was due, in part, to his objections to the Russia investigation. News reports in recent days have indicated that Trump also previously asked Comey to drop the investigation into Flynn, who quit his post in January after lying to White House officials about his conversations with the Russian ambassador after the election. Those developments have driven up the scrutiny of the Department of Justice probe exponentially.
Rosenstein himself has been under fire for his role in Comey's firing. He wrote a memo criticizing Comey's handling of last year's investigation into Democratic presidential candidate Hillary Clinton's handling of classified information, which White House officials initially cited as the sole rationale for Comey's ouster. In subsequent days, however, Trump acknowledged he'd decided to fire Comey even before he read Rosenstein's memo. And senators from both parties said Rosenstein told them Thursday he was aware that the FBI director would be fired when he drafted it. But Missouri Democrat Claire McCaskill said Rosenstein "was very careful about not going into any details surrounding [Comey's] removal beause he wants to give Robert Mueller the opportunity to make his independent decision about where the investigation is going."
Rosenstein's decision to name a special counsel seems to have helped redeem his reputation as a nonpartisan operative. It was widely welcomed on Capitol Hill, even by Republicans who had long resisted the move. "I have full confidence in former Director Mueller. I think he's an excellent choice," GOP Senator Marco Rubio told reporters after the briefing. But Rubio differed with Graham on whether Mueller's investigation would hinder ongoing probes into the matter by the Senate and House intelligence committees. "It is my hope that there will not be conflict between one another."
While Rubio said he was glad Rosenstein came to the Hill to brief Senators, he and other lawmakers said they didn't learn much more than they already knew. In part, that's because Rosenstein didn't want to step on Mueller's toes, now that the latter is in charge. And it's because he is apparently all too aware of how much senators talk to the media. "He did stress that he was concerned that whatever he said would be made public to the press," Cassidy told reporters with a chuckle, "so therefore he felt limited in what he could say."