Rod Rosenstein Out? Here's Who Donald Trump Could Ask to Fire Robert Mueller
Deputy Attorney General Rod Rosenstein was reportedly expected to leave his post Monday, potentially setting up a significant moment in special counsel Robert Mueller's investigation of Russia's interference in the 2016 election and the Donald Trump campaign's alleged collusion with Russians.
There were conflicting reports Monday morning about whether Rosenstein had resigned or was expecting to be fired. Axios reported that Rosenstein "verbally resigned" to White House chief of staff John Kelly because he anticipated being fired anyway.
However, the Associated Press and ABC News reported that Rosenstein was heading to the White House Monday morning "expecting to be fired."
What seemed clear was that Rosenstein, who technically heads up and signs off on anything pertaining to Mueller's probe, will be the next major Department of Justice official to leave the Trump administration after an apparent row with the president.
The Justice Department did not immediately respond to Newsweek's request for comment.
White House press secretary Sarah Huckabee Sanders said in a statement that Trump and Rosenstein had an "extended conversation" about the recent media reports and would meet again on Thursday after Trump returned from the United Nations in New York.
Should Rosenstein officially be out, the next person in line to take over as deputy attorney general is Solicitor General Noel Francisco. Normally, the associate attorney general would take the reins. Rachel Brand, who previously held that post, resigned in February, and no replacement had been named for her.
Francisco would assume all of Rosenstein's duties, including Mueller's investigation, which the president has repeatedly called a "rigged witch hunt."
Francisco's current job involves representing the government to the Supreme Court. Before his current post, Francisco worked for former President George W. Bush during his court battle over the Florida recount effort in the 2000 election.
Trump might like Francisco's previous statements about special counsels. In March 2007, he told the House Judiciary Committee that he was against the appointment of a special counsel to investigate the Bush administration and thought "career prosecutors" already in the Justice Department were suited to run a probe, according to Mother Jones.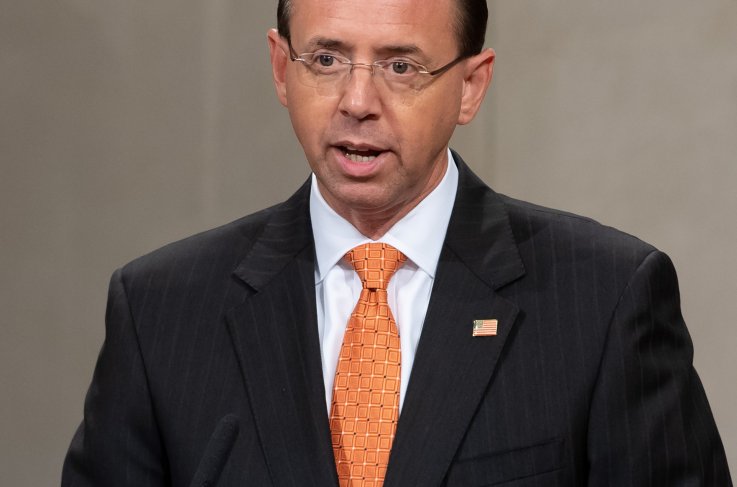 Overall, Francisco has, at least in the past, been a firm defender of executive power. He suggested that a president could use executive privilege when facing a congressional investigation, Mother Jones reported.
Rosenstein has stated that Mueller's probe would continue. Francisco could allow the probe to go forward, but he could also alter its direction or kill it altogether.
Rosenstein is leaving after a report by The New York Times
claimed he had spoken with other FBI and Justice Department officials about possibly recording Trump and even discussing the idea of invoking the 25th Amendment to possibly oust the president. According to the Times, Rosenstein did not take either action, but he did think Kelly, then the Homeland Security secretary, and Attorney General Jeff Sessions could be persuaded to invoke the amendment and possibly take it to the Cabinet.
Rosenstein, a career prosecutor, denied the report and said it was "inaccurate and factually incorrect."
Update: This story has been updated to include a statement from Sarah Huckabee Sanders that Rod Rosenstein and President Donald Trump would meet Thursday.
Rod Rosenstein Out? Here's Who Donald Trump Could Ask to Fire Robert Mueller | U.S.