Rosh Hashanah Recipes: Three Dishes to Bring to Jewish New Year Dinners
When it comes to sharing a special occasion with other people, sometimes a great recipe can be the perfect addition.
Rosh Hashanah, also known as Jewish New Year, is the first of the High Holy Days for the year. When the holiday concludes, the 10 days of repentance begin, which concludes with Yom Kippur, the most important holiday for those in the Jewish faith.
Beginning on Sunday night, the eve before the first day, Rosh Hashanah will end on Tuesday at sundown, the time of day all Jewish holidays start and end. A day of both reflection and joy, many people observing the holiday eat apples and honey to represent the sweet next year they pray they'll have.
When considering what to bring to Rosh Hashanah dinner, a dish centered on apples is a good way to go. It's important to consider who will be attending dinner, as it's possible some people will only eat a kosher diet, which means no pork, shellfish or combinations of milk and meat. Some foods must also be certified kosher to be eaten, so not every recipe that's found on the internet is a safe bet for a Rosh Hashanah dinner.
Jewish Apple Cake
One relatively simple and appropriate option for Rosh Hashanah dinner is to make a Jewish apple cake. This recipe by My Jewish Learning required turbinado sugar for sprinkling on top, but if that's not readily available in your pantry, you can use light brown sugar instead.
Ingredients:
3 cups Golden Delicious or Granny Smith apples, peeled, cored, and chop
2 teaspoons vanilla
3 eggs
1 cup canola oil
2 cups sugar
1 teaspoon baking soda
1 teaspoon cinnamon
1 teaspoon salt
3 cups flour
1 cup chopped walnuts
Turbinado sugar (for sprinkling on top)
Instructions:
In a medium bowl, combine flour, salt, cinnamon and baking soda. Then, using a second bowl, mix together the sugar, oil and vanilla before adding eggs one at a time and stir to combine. Then, fold in apple and walnuts. At this time, the batter should be thick.
Preheat the oven to 350 degrees and grease two loaf pans with either butter or cooking spray. Spread half of the batter into each pan and sprinkle the tops with sugar. Bake for about an hour, or until you stick a toothpick in the middle of the cake and it comes out clean.
Honey Cake with Caramelized Pears
Honey cake is a staple for many households on Rosh Hashanah. This recipe from Martha Stewart adds in a bit of a twist while still maintaining the theme of a sweet new year.
Ingredients:
Unsalted butter
¾ teaspoon baking powder
1 teaspoon coarse salt
2 large eggs
¼ cup packed light-brown sugar
½ cup milk
½ teaspoon freshly grated lemon zest
Caramelized pears
½ cup vegetable oil
½ cup plus 2 tablespoons best-quality honey
½ cup granulated sugar
½ teaspoon ground cinnamon
½ teaspoon baking soda
1 ¾ cups all-purpose flour
Instructions:
Preheat the oven to 325 degrees and butter a 10-inch springform pan. A springform pan has a removable ring so you can serve the dish without running the risk of ruining it by getting it out o of the pan. If you don't have a springform pan, you can use a disposable foil pan or line a cake pan with parchment paper or aluminum foil, according to The Spruce Eats.
Whichever pan you use, dust it with flour and tap out excess. Then, in a bowl, whisk together the flour, baking powder, soda, salt and cinnamon and set aside. In the bowl of an electric mixer, mix eggs and sugar for about three minutes. In another bowl, whisk together the honey, milk, oil and zest and with the mixer on low, add the mixture to the egg mixture for about one minute. Then, add half the flour mixture and mix until smooth. Then, mix in the remaining flour mixture.
Pour the batter into the pan and bake until dark golden brown. A cake tester that's inserted into the center, which could also be a fork, should come out clean after about 50 minutes. Then, top with pears and you can swerved with whipped cream if you want.
Challah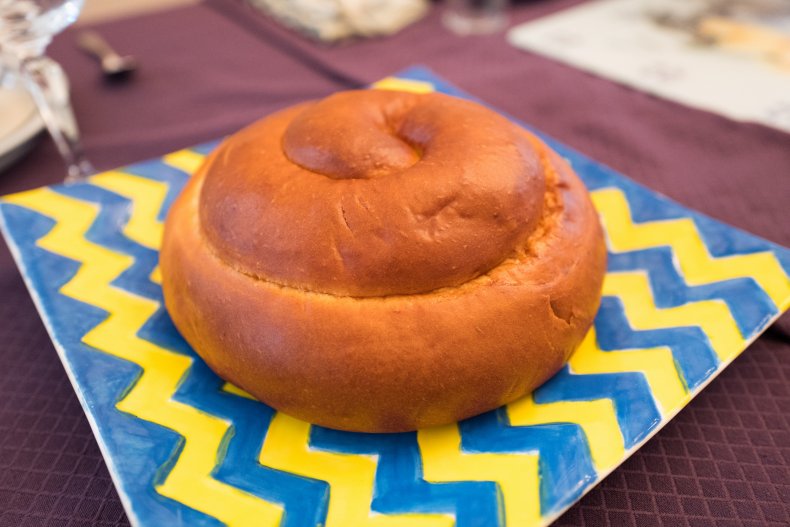 If you're feeling adventurous and want to impress the crowd, bring homemade challah. This recipe from Allrecipes isn't too difficult, although it can take a while and, as is the case with hair, a false braiding move can force you to start back at square one.
Ingredients:
2 ½ cups warm water
1 tablespoon active dry yeast
½ cup honey
4 tablespoons vegetable oil
3 eggs
1 tablespoon salt
8 cups unbleached all-purpose flour
Instructions:
Put the warm water in a large bowl and sprinkle yeast over top. Then, beat in honey, oil, two eggs and salt. Add flour one cup at a time and begin kneading with hands as the dough thickens. Knead until smooth and elastic, adding flour as needed. Cover with a damp cloth and let rise for about an hour and a half until the dough doubled in size.
Once risen, punch down the dough and put it on a floured, clean surface. Divide the dough in half and knead each half for about five minutes, adding flour to keep the dough from sticking to your hands or the surface. Then, dividing into thirds and roll each section into a long snake about one and a half inches in diameter. If you've ever braided hair, this should resemble the three sections you would use to braid hair. Preheat the oven to 375.
Pinch the ends of the three snakes firmly and then braid from the middle. You can either leave your loaf as a long braid or form it into a rounded braid by curving it.
Then, grease two baking trays and put the finished product on each. Cover it with a towel and let it rise for about an hour. After it's risen again, beat the remaining egg and brush it over the dough, then bake at 375 for about 40 minutes. Cool on a rack for an hour before slicing.
Rosh Hashanah Recipes: Three Dishes to Bring to Jewish New Year Dinners | U.S.