Rosie O'Donnell Defends Chris Rock's Netflix Special Amid Backlash
Rosie O'Donnell is speaking up for Chris Rock after he received some backlash for jokes about his Oscars slap in a recent live Netflix special.
Many of the detractors reacting to Rock's "Selective Outrage" show took issue with his jokes about Will Smith. Rock was slapped onstage at the 2022 Oscars by Smith after the comedian made a joke about the actor's wife, Jada Pinkett Smith. A year later, Rock finally responded to the incident during the special.
Some on social media accused Rock of "punching down" on Black women when he made jokes about Pinkett Smith and Meghan Markle. But O'Donnell was one of the first to praise Rock for the special, posting a TikTok video sharing her thoughts after watching it. In the three-minute clip, which was interrupted by one of her daughters several times, O'Donnell said, "I love Chris Rock" and "I love Chris Rock's special."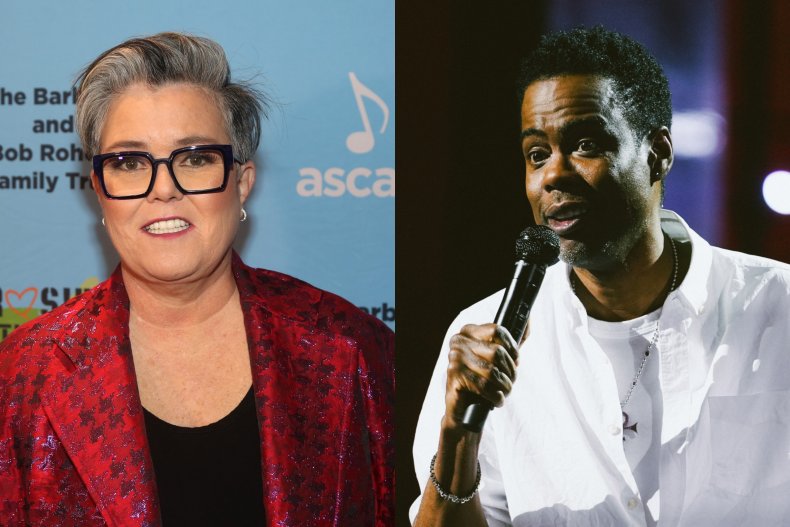 "Did you see Chris Rock's special on Netflix? Unbelievable," she said, addressing her 2.2 million followers. "I think he did a wonderful, wonderful job."
O'Donnell received thousands of comments on the video, with many fans asking the comedian to expand on her thoughts about the special and Rock's jokes. She replied to just one comment.
"Chris Rock was awesome! I hope Will Smith saw it," wrote TikTok user @sueleithguerron. "I'm sure he did," O'Donnell replied.
Rock's Netflix special aired this past Saturday night and is still available to stream and watch. He ended the show with a lengthy routine about being slapped at the Oscars and brought up Jada's infidelity, which Rock said must have hurt Will more than a slap did.
Some of O'Donnell's former colleagues on The View also discussed Rock's performance and his comments about Smith.
"It sounds like Chris did not accept that apology that Will gave after the incident," Whoopi Goldberg said on Monday's show. She admitted that she didn't watch the live special but said she often appreciates Rock's work.
"He doesn't pull punches, he says what he thinks, and he takes the consequences. He's not afraid of saying how he feels," Goldberg said.
Goldberg continued: "This situation is never going to find a really good way to calm down. There's no justification for what happened. There's no amount of apologies that you can have. It's just going to be a 'time will tell.' I don't know that they're going to go running towards each other, but I'd still like to see them in a movie together because I think that'd be funny as hell. But that's [just] me."
View co-host Ana Navarro noted how Rock did fulfill one demand of Smith's. During the Oscars, after Smith slapped Rock onstage, he shouted from his seat, "Keep my wife's name out your...mouth."
"By the way, he kept her name out of his mouth. He called her all sorts of other things, but he didn't say Jada," Navarro said.