Rosie O'Donnell Denies Being 'Evil' to Anne Heche: 'Shocking to Hear It'
Rosie O'Donnell has denied speculation that she was ever "evil" to Anne Heche, as she shared evidence in an attempt to clear her name.
Heche passed away on August 12, after a Mini Cooper that she was driving in Los Angeles crashed into a home, causing the structure to go up in flames. TMZ footage showed that her vehicle had hit an apartment complex's garage shortly before the crash.
In the days since Heche's accident and subsequent death, O'Donnell has weighed in on the tragedy in social media posts, while also telling her audience to watch Heche's films in her memory.
However, on Sunday, O'Donnell spoke out against questions over her treatment of Heche while she was alive, when one of her TikTok followers commented: "We all knew she was on your show and yadda yadda... So... RU Evil too??"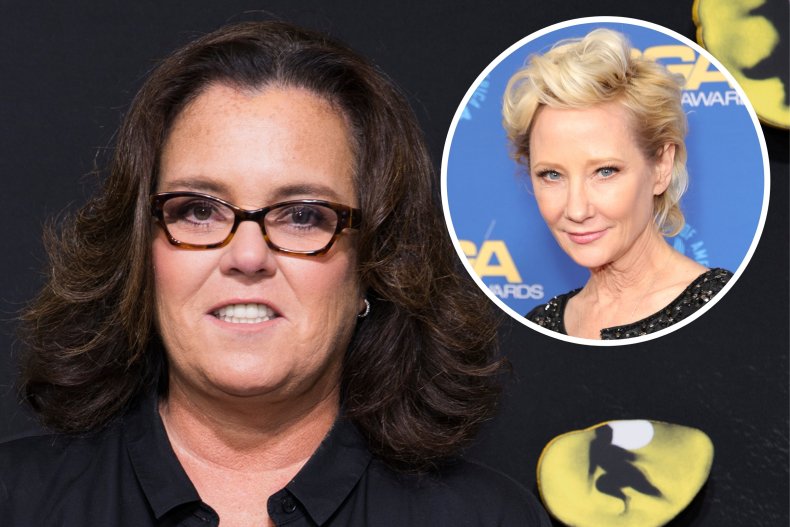 Responding to the post, which she pinned to the top of her video, O'Donnell said: "I would say not true and not likely. I can't imagine ever saying anything like that to anyone, never mind a guest about to appear on my show."
"So no, that was not accurate, and kind of shocking to hear it, truthfully," she went on. "And no, I wasn't participating in Ellen's [DeGeneres] trying to blacklist her, or whatever. No way in God's green hell. So I'm sorry that we never got to talk about that. But I never said that to anyone in my life."
The clip can be viewed in full at the top of this story.
O'Donnell was referencing an episode of Heche's podcast, Better Together, during which she candidly discussed her ill-fated romance with DeGeneres.
In the episode, which premiered on YouTube on June 28, 2021, Heche said that while she was dating DeGeneres in the late 1990s, she made an appearance on O'Donnell's then-NBC daytime favorite The Rosie O'Donnell Show, where she had an alleged encounter with the host backstage.
After claiming that DeGeneres had banned her from appearing on her own talk show following their 2000 split, Heche told podcast co-host Heather Duffy Boylston: "I was promoting, I think, Donnie Brasco, and I went on the Rosie O'Donnell Show...
"So when I was in my dressing room ... I got a knock on the door and Rosie comes in and sets herself down uncomfortably in front of me and basically states, 'Let me cut to the point. If you bring up the fact that you and Ellen are a couple, I will not promote you. We will erase this episode.
"'If you bring her up, if you bring up gay love, if you bring up love, if you bring up anything to do with the movement that you feel that you're a part of, you will not have your film promoted.'"
"Now, that was a long time ago and that was Rosie O'Donnell," added Heche, who pointed out that O'Donnell is "openly gay now; she was not then. And I do have to say, no one at that time stood by Ellen's side. I'm proud to have been the person to do it, because she certainly didn't have support. And for that I feel compassion."
On Monday, O'Donnell took to her TikTok and Instagram accounts to share a video clip of Heche on her talk show, which she timestamped as having taken place in June 1998.
During the episode in question, Heche was seen speaking about her then-partner DeGeneres to host O'Donnell.
"Ellen and I just bought a house this year, which was so amazing that through this year we've found our foundation," said Heche.
When O'Donnell said that Heche had been through "sort of a big, rocky year," the screen star responded: "We had a big year. It was rocky in the press, it wasn't rocky for us. But it was kind of rocky the way the world was digesting our relationship. Now I think it's at a place where I think people celebrating it, which I think is so lovely."
One of O'Donnell's TikTok followers asked the TV personality if she had seen Heche's interview in which she spoke about her, prompting her to respond in the affirmative, adding that she "was shocked."
When another person commented that Heche is no longer here to give her side of the story, O'Donnell replied: "well [that's] my side."
Newsweek has reached out to a representative of O'Donnell for comment.
Before Heche passed away, O'Donnell admitted in another TikTok post that she felt bad for having made fun of the screen star previously.
"So I can't stop thinking about this Anne Heche accident and how horrifying the whole thing is," O'Donnell said, "and feeling bad that I made fun of her when she was talking to Barbara Walters about having a relationship with space aliens."
In 2001, Heche sat down for a 20/20 interview with Walters, telling the veteran journalist that the sexual molestation she had suffered at the hands of her late father, Donald Heche, caused her to escape into a fantasy world on another planet.
"I'm not crazy," Heche said at the time. "But it's a crazy life. I was raised in a crazy family and it took 31 years to get the crazy out of me."
"I had a fantasy world that I escaped to. I called my other personality Celestia," she went on. "I believed I was from that world. I believed I was from another planet. I think I was insane."
Following Heche's death, O'Donnell encouraged her TikTok followers to go back and enjoy some of the screen star's past works in her memory.
"May she find peace now, right?" O'Donnell said. "Go watch one of her movies. Lift her up. Very sad."