'Traitor Trump' Should 'Spend Life in Jail,' Says President's Longtime Enemy Rosie O'Donnell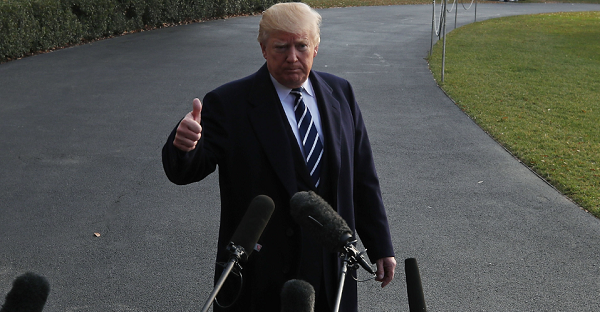 There is still much work to be done in special investigator Rober Muller's probe on Russian influence in the 2016 presidential election, but Rosie O'Donnell is ready to charge President Donald Trump for his potential collusion with Russian enforcements.
On Saturday, the former talk show host, who's endured a longstanding feud with Trump, took to her Twitter to suggest that the 71-year-old should be locked up for any involvement he may have had in Russia's influence over the 2016 election.
Using the hashtag #TraitorTrump, O'Donnell wrote, "rest of your life in jail- u sick MF," alongside a screenshot of Trump's Twitter, which had the words "Traitor u r done" scribbled over it.
O'Donnell and Trump have been engaging in Twitter wars long before he came into office. Their feud extends back to 2006 after O'Donnell appeared on The View criticizing Trump, then a business mogul and owner of the Miss Universe Organization, for not firing Miss USA Tara Conner for her reported drug use, underage drinking and sexual activities. O'Donnell, a co-host of the ABC daytime talk show at the time, said Trump was "not a self-made man" but a "snake-oil salesman on Little House on the Prarie" before calling him out for his several marriages.
Trump responded by telling People magazine that O'Donnell is a "real loser" and called her a "woman out of control."
Their verbal exchanges only continued to escalate after Trump tweeted his thoughts on O'Donnell's 2011 engagement to Michelle Rounds.
Not long after Trump took the White House, the duo sparred again on Twitter, this time regarding the firing of former FBI director James Comey.
O'Donnell's latest comments come shortly after Trump's former national security adviser Michael Flynn pleaded guilty on Friday to "willfully and knowingly making false, fictitious and fraudulent statements" to the FBI regarding discussions he previously held with Russian ambassadors.
As a part of Flynn's plea deal, Flynn promised "full cooperation" in Muller's ongoing investigation. He also admitted he was encouraged by a senior member of Trump's transition team to make contact with Russians last December. Trump's transition team consisted of Vice President Mike Pence as well as the president's son-in-law Jared Kushner and former White House chief of staff Reince Priebus.
Before jetting off to New York City for a fundraiser on Saturday morning, Trump denied allegations of collusion with Russian officials during the election, despite Flynn's earlier remarks at a hearing on Friday. "What has been shown is no collusion, no collusion."
"There's been absolutely no collusion, so we're very happy," Trump added.