The Ross Perot I Knew Was a Billionaire Populist, but He Was No Donald Trump | Opinion
The news Tuesday of the death of Ross Perot sparked a flurry of commentary comparing the Texas tycoon and former independent presidential candidate to Donald Trump.
There are obvious reasons for linking the two. Both hugely successful businessmen spoke frankly and led unorthodox campaigns that upset the world of traditional politics and transformed them into billionaire populists capable of appealing to disaffected, working-class voters. They also agreed on some key issues: anti-NAFTA, deeply skeptical of free trade and concerned that the America they knew was changing for the worse.
More important, both had the DNA of a successful CEO of a private company. Unbeholden to shareholders, these CEOs are less accustomed to being challenged and needing to compromise to achieve results.
The Perot I came to understand during two years of research and dozens of hours of interviews was an intensely patriotic maverick who knew what he wanted and how to get it. He mocked the cumbersome and costly bureaucracy that he claimed was suffocating Washington. His folksy one-liners and blunt talk about how to fix everything from the ballooning deficit to the loss of American jobs made him stand apart from politicians offering dense policy papers and carefully nuanced answers.
"Written reports stifle creativity," Perot once said.
One of his business colleagues told me, "He had a one-page attention span." That, too, sounds a lot like Trump, who seems at times almost boastful that he does not need daily intelligence briefings and prefers spending hours watching cable news instead of reading the reports stacked on his desk.
So was Perot the original Trump? Not at all.
Perot had given up on both political parties, believing they prospered at the expense of effective governing. Running as either a Democrat or a Republican was no way to serve the American people, he told me. In his view, such a campaign would simply lead a morally bankrupt party into a battle for which it would enjoy the spoils for the next four years.
Trump, on the other hand, was much more mercenary—or realistic, if you prefer—in recognizing the impossibility of getting elected president as an independent or third-party candidate. The Perot I came to understand wanted to change the country, but if that meant he had to sit at 1600 Pennsylvania Avenue as either a Republican or Democrat, he would have chosen to stay in Texas instead. He could not change the system, he said repeatedly, if he became part of it.
Although I never spoke to Perot after Random House published my biography in 1996, I stayed in touch with some mutual acquaintances. Perot, they told me, was not a fan of Bill Clinton or George W. Bush or Barack Obama and thought each was someone he would have fired as a mediocre mid-level manager.
In our conversations, he said, "Don't just tell me what the problem is, tell me how you will solve it." The words or themes he often spoke about were integrity, discipline and actions not words. He did not swear.
While Perot did not lecture others about morality, he believed the country's leaders had to set the best example. He was particularly infuriated by the Monica Lewinsky scandal, mutual acquaintances told me. In 1956, the Texan had married his only wife, Margot, who survives him today. Even Perot's most committed foes said he was always faithful, and he felt any true leader should show the same self-discipline and respect.
When he met me and my wife, author Trisha Posner, for lunch, it was at Dickey's Barbecue Pit, a tasty dive not far from his Plano, Texas office. He drove us around town in his Oldsmobile. There was no chauffeur, security guards or entourage. The idea of presidential pomp and circumstance exasperated him.
With regard to Trump, Perot kept his feelings private. There was no doubt in 2016, however, that the ballooning national deficit that sparked his own run in 1992 had picked up steam once again.
One former business colleague of Perot told me that he thought federal politics had devolved into a perpetual food fight at American taxpayers' expense. And Trump had raised the stakes. He might be a fellow billionaire populist who talked about patriotism and upending the system, but he is Perot's antithesis in more important ways.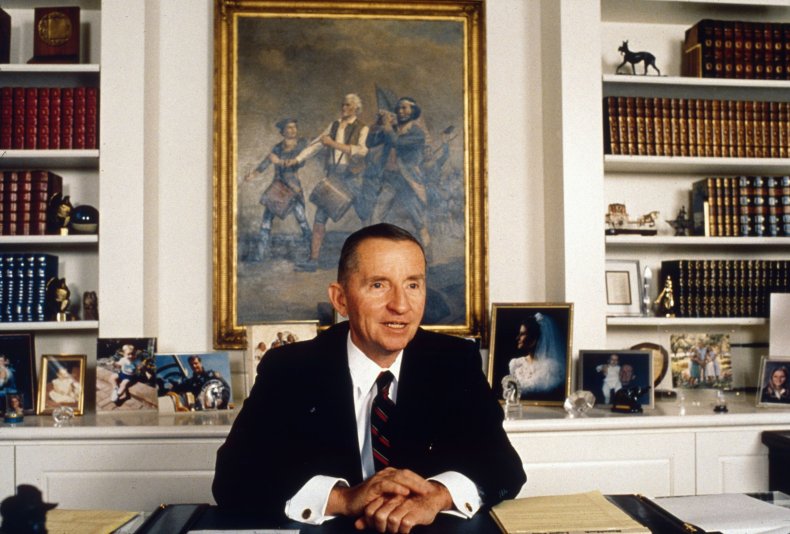 The Perot I knew would have cringed at everything from the Access Hollywood tape to the reports of Trump's 1,000-person entourage on his recent U.K. visit to his frequent criticism of the late war hero John McCain.
When I heard of Perot's death, I made some calls to those who had known him. One of them, a retired policeman, may have summed up the difference between the two men best. "Perot wanted to be president because he actually thought he could fix the country. Whether or not he could have done it, he was sincere," he said. "Trump wanted to be president to be president. For Perot, it really was about America first."
Gerald Posner is the author of 12 nonfiction books, including Citizen Perot: His Life and Times, a 1996 biography of Ross Perot. Pharma, his history of the American pharmaceutical industry, will be published next year by Simon & Schuster's new imprint, Avid Reader Press.
The views expressed in this article are the writer's own.