'Rossy Has Your Back': Biden Campaign Pays Roger Stone to Give 'Joey' Pep Talk Ahead of Debate
Democratic nominee Joe Biden's campaign paid Roger Stone, longtime friend of President Donald Trump, to give the former vice president a little pep talk ahead of the final debate on Thursday night.
Stone is among the more than 30,000 public figures and celebrities that have offered their services on Cameo, an American video-sharing website headquartered in Chicago. The platform allows people to send personalized video messages to fans that pay for them.
"Since you can pay Trump advisors to say anything you want them to on the internet, we asked Roger Stone [to] give a pep talk to ol' Joey ahead of tonight's debate," Biden campaign's Digital Director Rob Flaherty tweeted, alongside a video of Stone's Cameo clip.
"This is Roger Stone. So I understand, Joey, that there are a lot of people out there talking shit about you," Stone said in the recorded video message. "The only way to combat that, of course, is to talk shit about them."
"What I like to say is, when I wipe my derriere after I defecate, what is left on the TP is more intelligent and has more integrity than say, Ari Melber of MSNBC. This is a stunning insult and I invite you to use it on anyone who deserves it," he added. "Good to you Joey. Rossy has your back."
Trump commuted the sentence of Stone on seven felony crimes on July 10, four days before his former campaign adviser was scheduled to serve a 40-month term in a federal prison.
In his order granting clemency, Trump insisted that Stone's release would not compromise the safety of Americans.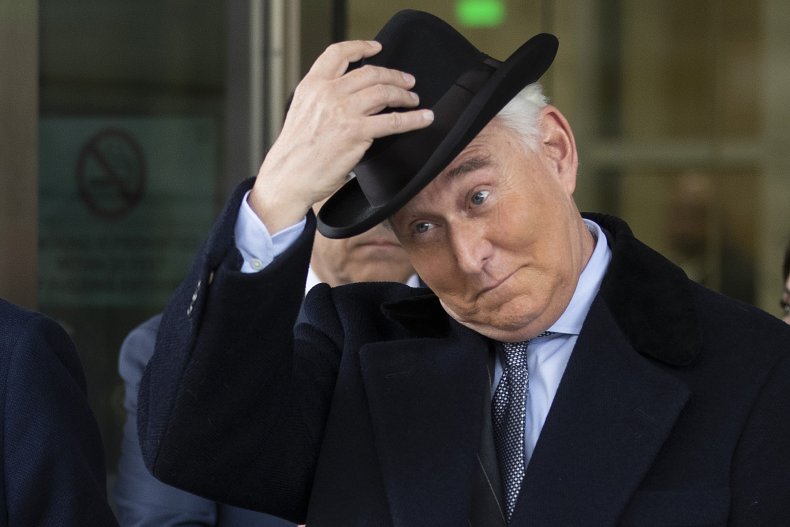 "It has been made to appear that the ends of justice do not require the said Roger Jason Stone, Jr. to remain confined to his home or serve the said sentence, and the safety of the community will not be compromised if he is released from home confinement and clemency is granted," the president wrote.
Stone was sentenced in February after he was found guilty of lying to Congress, witness tampering and obstructing a congressional committee probe into Russian interference during the 2016 presidential election.
Trump and Stone have reportedly been friends for about 40 years. The president told reporters that Stone had been "unfairly treated" on the day that he signed the Executive Grant of Clemency.
Newsweek reached out to the Trump campaign for comment. This story will be updated with any response.