'Rotten-Egg Stench' From Los Angeles Flood-Control Channel Spurs Violation Notices
A "rotten-egg stench" coming from the Los Angeles flood-control channel, known as the Dominguez Channel, led to violation notices on Friday.
The South Coast Air Quality Management District said it gave violation notices to four companies and Los Angeles County, which is responsible for the upkeep of Dominguez Channel, in a statement.
The stench from the channel resulted in over 4,600 odor complaints from those living in Carson, Gardena, Long Beach, Redondo Beach, Torrance, Wilmington, and other places in L.A. County since Oct. 3, SCAQMD said, according to NBC Los Angeles. There were times when they reached 100 complaints a day.
The situation was declared a local emergency by the Los Angeles County Board of Supervisors the previous month. This resulted in the Department of Health going door-to-door to over 8,900 Carson residents. The Department of Public Works even gave or reimbursed residents for air purifiers, air filters, and temporary relocation, totaling around $5.4 million in costs.
The stench is because of a fire that started Sept. 30, SCAQMD said. The district said it was at a warehouse in Carson where two companies kept a lot of wellness and beauty products. The fire, which burned over several days, caused the chemicals from the products, like ethanol, to leak into the channel from the sewer system, said SCAQMD.
The leakage caused organic materials in the channel to decay, as well allowing for high amounts of hydrogen sulfide to be deposited in the air.
Rep. Nanette Barragán had originally called attention to the problem, saying it was an "issue of health and environmental injustice," The Los Angeles Times reported. She asked Gov. Gavin Newsom to declare the stench a state of emergency on Oct. 18.
For more reporting from the Associated Press, see below.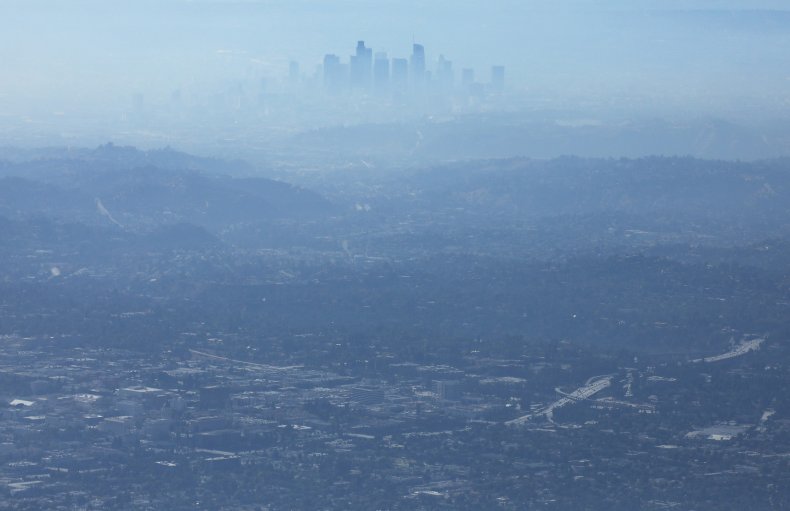 The air district sent violation notices to two companies' whose products were involved, the company that owns the property and its parent company, and LA County. Emails seeking comment were sent to the companies and the county's Department of Public Works.
Prologis Inc., the parent of the company that owns the property, said in a statement that it was working with the Los Angeles County Fire Department to safeguard the property from storm water runoff and to clean up the fire debris.
The company said the notices do not include any corrective actions for Prologis to take but the company will proactively work with the district to address any concerns.
Notices of violation can lead to civil penalties, voluntary mitigation measures or a civil lawsuit if there's no settlement.