110-Pound Rottweiler Dragged Into Water, Eaten by Alligator in Mobile Park
A 110-pound dog was taking a dip in the water of a Mobile, Alabama, park last weekend when she was suddenly grabbed and dragged under by a waiting alligator, local news reported.
Bella the Rottweiler was with her owner, Rauson McClure, when the shocking incident occurred right in front of his eyes, McClure told WALA. The 2-year-old dog loved the water and was swimming when the huge gator took hold of her leg and dragged her down, McClure said.
Related: One million alligators are roaming Florida looking for love
According to Alabama Wildlife Damage Management, an extension of Alabama A&M and Auburn Universities, alligators are found in the waters of the Mobile Delta. Though they are naturally wary of humans, they can lose their shyness quickly if they are fed, AWDM said.
Alligators are protected in Alabama, but the state does have a limited hunting program. AWDM recommends that people call Alabama Wildlife Services if an alligator is becoming a nuisance on a property.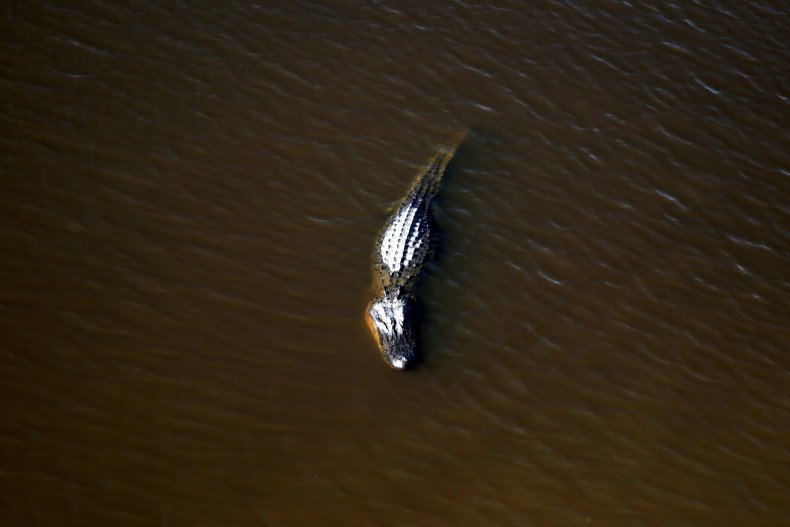 In South Carolina, a woman worried that a waiting alligator might try its luck on her dog. According to The Island Packet, the woman threw a pinecone at the alligator in the hopes that it would keep the giant beast away from her and her dog, and her $8,000 wedding ring flew off in the process.
A spokesperson for the South Carolina Department of Natural Resources told the paper that throwing a pinecone at an alligator is "a terrible idea."