Rough Justice: The Rise and Fall of Eliot Spitzer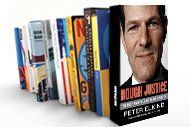 by Peter Elkind
320 pages | Buy this book
He's the two-faced politician at its finest. Public Eliot was a beacon of justice, the scrappy David taking down the Goliaths of Wall Street, the insurance industry, and yes, even prostitution—all while Private Eliot deceived his wife, advisers, and the people he served by sneaking off to rendezvous with $1,000-an-hour escorts. Author Peter Elkind, entranced by "the chasm between public image and private reality" (page vii), follows Eliot Spitzer's rapid rise and faster fall.
What's The Big Deal?
Elkind had good access to Spitzer, whom he first met in college and had profiled pre-scandal for Fortune. For this book he unearthed diaries, handwritten notes, unsent letters, and "thousands of e-mails" (page viii). He also scored interviews with "Angelina," one of Spitzer's favorite escorts, and "Tammy Thomas," a phone booker at the Emperors Club VIP—neither of whom had previously spoken to the press. (From them we learn that Spitzer once booked three consecutive appointments in one afternoon—a juicy morsel that Spitzer denies.) Most noteworthy: the lengthy insinuation that the revelations that led to the governor's downfall might have been the handiwork of a few of Spitzer's very rich, very powerful enemies.
Buzz Rating: Rumble
It was excerpted in Fortune, leaked to the Times, and reviewed in the L.A. Times and Washington Post, among others. But it's not just the book that's getting attention. A profile in the New York Times earlier this month chronicles Spitzer's own media blitz on his "road to redemption"—a road with pitstops as a guest on morning shows, columnist for Slate, diner at "power restaurants," and hobnobber with Tina Brown. His publicity tour has many speculating about a possible reentry into politics. And why not? As he said to Stephen Colbert earlier this month, he has nothing to lose.
One-Breath Author Bio
Elkind, an editor at large for Fortune, coauthored the bestseller on the Enron scandal, The Smartest Guys in the Room, which was turned into a documentary by Alex Gibney. The two teamed up again on this project: in parallel with Elkind's reporting for Rough Justice, Gibney made a Spitzer documentary that was screened at the Tribeca Film Festival last Saturday.
Judging By The Cover
The extreme close-up of the unsmiling pol, cropped midforehead and exposing every little chin scar and stray eyebrow hair, is an eerie match to the cover of The Bridge, the Obama biography published earlier this month. The stories' leading gentlemen are strangely similar as well: studious, intellectual, earnest, forecast when they were young men to become the nation's first [insert appropriate minority group here] president. And both rocket up the political ladder while maintaining a wholesome image that seems too good to be true. At that point, of course, the two tales diverge.
Don't Miss These Bits
1. Spitzer's method of attack when he went after sleazy, illegal practices among Wall Street fat cats, mutual funds traders, and insurance-industry execs, was methodical, according to Elkind. "Step one: broadly investigate a gray area of odorous—but long-accepted—industry practice. Step two: expose an example so grotesque that it rendered the accepted practice indefensible. Step three: leverage the resulting uproar to swiftly exact reform of the entire industry, including gray area behavior" (page 62). Step four? Spit out their bones and go looking for the next victim.

2. Spitzer's nicknames are a story in themselves. As a Princeton student who spent hours at a time in the library, he earned the name "Ironbutt." As a fierce attorney general who went after the big dogs, he was "the Enforcer," "the Sheriff of Wall Street," or "Lord High Executioner." His staff knew to beware of "Irwin," their code word for his hot-blooded evil twin. It was Irwin who barked to the Senate minority leader that he was "a f--king steamroller" who would "roll over you and anyone else," earning Spitzer yet another nickname: "The Steamroller." And then of course, there were the names of shame. From the tabloids, "Luv Guv." From the FBI, "Client No. 9."
3. On Feb. 11, 2008, while the FBI was taping conversations about Spitzer sending cash to the Empire VIP Club for his next liaison, Spitzer was doing some taping of his own: of an episode of The Colbert Report. "Colbert joked about his desire to become a convention 'superdelegate' like Spitzer, and asked what it was like to attain such stature. 'We have capes, we have leotards, we have special outfits that we wear,' explained Spitzer. 'I would like to see some pictures of you in that outfit,' said Colbert" (page 232). Little did they know that just weeks later, people would clamor for photographic evidence of another Spitzer outfit: the nothing-but-black-midcalf-socks attire that one conservative operative claims Spitzer favored during sexual acts. ("Both Spitzer and Angelina—in a position to know—call that claim ridiculous," according to Elkind.)
4. Spitzer struck those close to him as "ridiculously square" when it came to sex. His closest advisers, Rich Baum and Darren Dopp, sometimes commented on women's looks, but "in eight years, Spitzer had joined in the banter only twice: agreeing that Donald Trump's third wife was indeed attractive, and allowing, after meeting the actress Penelope Cruz, that he could 'understand' why people found her 'dramatically alluring' " (page 120).
Hidden Agenda
Given Elkind's consistently negative portrait of Lloyd Constantine, it's hard to not wonder if there's some jealousy at play. Constantine, Spitzer's longtime tennis partner and political adviser, also wrote a book about the governor's downfall. And his came out first. Elkind doesn't talk much about Constantine's book. But he does talk a lot about Constantine—how he continuously schemed for more power within the Spitzer inner circle by trying to oust Baum (pages 168, 212, 220) and Dopp (page 193); that he actually "wanted to be the governor" (page 169), according to Spitzer, despite the fact that, in Constantine's own words, he "was an egomaniac with no feel for politics" (page 126). Even if you finish Elkind's book hungry for more Spitzer gossip, you're not likely to want it from the angry, betrayed friend who wasn't close enough to the action. And maybe that was the goal.
Swipe This Critique
If you're looking for fighting words, skip to the chapter titled "Who Killed Eliot Spitzer," where Elkind asks, "Had Spitzer jumped out a window—or been pushed?" (page 264) Elkind lays out the "conspiracy theories" of who was behind Spitzer's fall, presenting a scenario in which conservative activist Roger Stone (who also put forward the black-socks claim) was paid to "bring down Spitzer" (page 267). The presumed client: some combination of the deep-pocketed Hank Greenberg, former CEO of AIG; Dick Grasso, former CEO of the New York Stock Exchange; and billionaire investment banker Ken Langone—all of whom had been burned during Spitzer's AG regulatory reign. You could argue that Elkind's indictment is mere speculation. In fact, he says so himself, conceding that "on these questions, at this moment, certainty remains beyond reach" (page 270). To dedicate seven pages to a guessing game "does [Elkind's] carefully researched book a disservice," according to Brooke Masters, author of Spoiling for a Fight: The Rise Eliot Spitzer, who reviewed Rough Justice for The Washington Post. But you could also argue that, thinly sourced as it is, this theory of the Goliaths turning the table on David is what makes Elkind's book so suspenseful, and so fascinating in its portrayal of Spitzer as a strange combination of hero, villain, and victim.
Factoid File
The New York Times story breaking Spitzer's connection to a prostitution ring drew so much Web traffic that it crashed the Times's site. The scoop drew "more Web traffic than any day in the paper's online history—including September 11" (page 254). Bonus factoid: Tanya Hollander, the part-time phone booker at the Empire VIP Club, got off on probation. Guess where she works now. A "Buddhist conference center in the Catskills owned by the parents of actress Uma Thurman" (page 282). Definitely a step up.
Gradebook
Prose: Even if there weren't a prostitution thread, this would be a page-turner. Elkin's style is journalism at its best: well-reported but pared down, and full of colorful scenes.

Aesthetics: Given all the powerful white men at play in this tale, you'll appreciate the 16 pages of photos in the center giving you faces to match to the names. (Or perhaps you'll appreciate it for the full-page shot of a tanned, buxom Ashley Dupre.)
Miscellaneous: With this story ending soon after Spitzer's resignation, a major issue is relegated to an aside in the epilogue: Would the financial crisis have gone differently "if only he hadn't seen the hookers" (page 288)? Surely there's a book in that question alone.