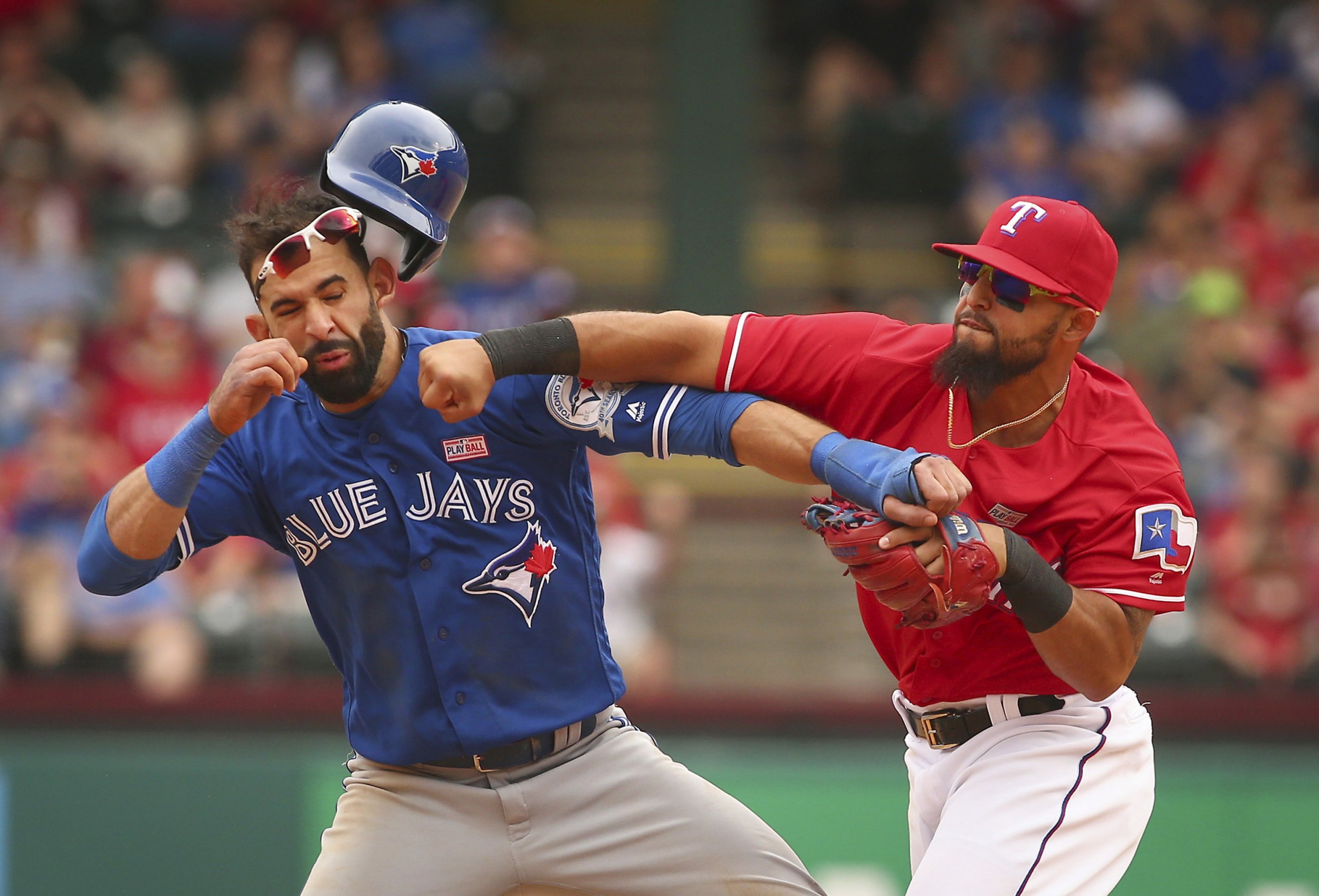 Baseball brawls—as far as brawls go—aren't very violent. The benches clear, a scrum of pushing and shoving ensues, and the instigators are ejected. The only purpose they serve is to unload some testosterone and prolong an already too-long game by 10 or 15 minutes. But last Sunday, after Toronto Blue Jays outfielder José Bautista slid into second base a little too late in the eighth inning of a game against Texas Rangers, Rangers second baseman Rougned Odor provided fans with what may be the most exciting moment in a baseball brawl since Rangers pitcher Nolan Ryan repeatedly pummeled a helpless, headlocked Robin Ventura in 1993.
"The game had an odd flow to it from the get-go," says Richard Rodriguez of the Fort Worth Star-Telegram, who was photographing the game for the paper. "From about the third inning on, when the Blue Jays manager got tossed, the game sort of took on a weird vibe. In the eighth inning, when Bautista got plunked by [Rangers pitcher Matt] Bush, you could kind of feel the engery build in the stadium."
A few moments later, Rodriguez would take the most iconic shot of his career, as well as one that Odor will be autographing for the rest of his life. After Bautista took his base, Rodriguez trained his camera on second, anticipating a double play—which is exactly what he got two batters later, when Blue Jays first baseman Justin Smoak grounded the ball to third. But instead of following the action to first base, Rodriguez stayed focused on second. "Because of the way Bautista slid and the way Odor turned around immediately after throwing [the ball to first base] wide, you just kind of felt like something was going to happen."
Then, a shove. Then, the punch.
"I was just knocking off frames," Rodriguez remembers. "I was just thinking, 'Please, let me have something in focus. Let it be sharp. Let it be sharp.'"
After Odor connected with Bautista, Rodriguez continued to shoot the melee that followed, only pausing to look over what he captured after the commotion died down. He was happy to find that what he shot was indeed in focus. One picture in particular stood out. "I took a picture of the back of my camera with my phone and sent it to my editor to let him know that I might have something," he says. "All I knew is that I had this picture and I needed to get it out."
The gorgeously composed image is fit for a classical painting, with Odor's placid face in full view as his arm is extended, fresh off connecting with Bautista's jaw. Because it captures the moment right after contact and not the moment of contact, Bautista's glasses and helmet are suspended in disarray around his head. "I like how you can see Bautista's face and it looks like his skin is still flying," says Rodriguez. "It's wrinkled on his face. It's a good moment."
The photo quickly went viral as the definitive image of the incident. Rodriguez had made sure it was the first of his photos he transmitted to his editor after the game, and before he could even finish uploading the rest, his phone started to blow up. "I had no idea how quickly that stuff got out there," he says. "It didn't stop. My phone buzzed all night and a lot of the next day."
Odor's punch was covered widely by the media. Baseball, a growing portion of America seems to feel, is boring. In 2015, games lasted an average of two hours and 56 minutes, which is a long time for a casual fan to sit through something that doesn't feature a handful of Steph Curry three-pointers. Earlier this year, National League MVP Bryce Harper even began a campaign to "Make Baseball Fun Again," a reaction to the stuffiness of the game's "unwritten rules."
Ironically, Odor's punch—one of the game's most exciting moments in recent memory—was partially a reaction to Bautista's infamous bat flip during last year's American League Division Series against the Rangers. Bat flips following big home runs are precisely what Harper and others feel the game should embrace, but embracing peacocking means cutting down on violent retaliation to peacocking. Violence, of course, is bad—but it's also, for better or worse, what everyone wants to see. In the case of Odor's punch, it provided a rare crossover moment for a sport bereft of regular-season excitement.
Rodriguez's photo captured it in all its glory. Not surprisingly, there were memes.
Rodriguez cites as his favorites an image equating Whataburger fans to Odor and In-N-Out fans to Bautista, and an image of Bautista's face and Odor's fist imposed over the album cover for Pantera's Vulgar Display of Power.
"People have been linking me and texting me and these things the last three days," he says. "Mostly, they're just sending me links to bootleg shirts with my photo on them, which is cool and not cool. It's just amazing how quickly it got out there and how fast it has blown up. Someone showed me yesterday that Mark Wahlberg posted it on his Facebook page."
Rodriguez acknowledges that any of his colleagues could have taken the same picture. He was just in the right place at the right time, which, when it comes to iconic moments like Odor's punch, is all that matters.
"I was telling a buddy of mine who was working the Cure concert at American Airlines Center that same night that, up until the eighth inning, I was still wishing I could have gone to the Cure concert," laughs Rodriguez. "But I'm glad I was where I was when I was."
Uncommon Knowledge
Newsweek is committed to challenging conventional wisdom and finding connections in the search for common ground.
Newsweek is committed to challenging conventional wisdom and finding connections in the search for common ground.
About the writer
Ryan Bort is a staff writer covering culture for Newsweek. Previously, he was a freelance writer and editor, and his work has appeared at Esquire, Quartz, Paste, Grantland, VICE Sports, and elsewhere. He is originally from Dallas, Texas.