Brazil's Rousseff Says Effort to Impeach Her is Sexist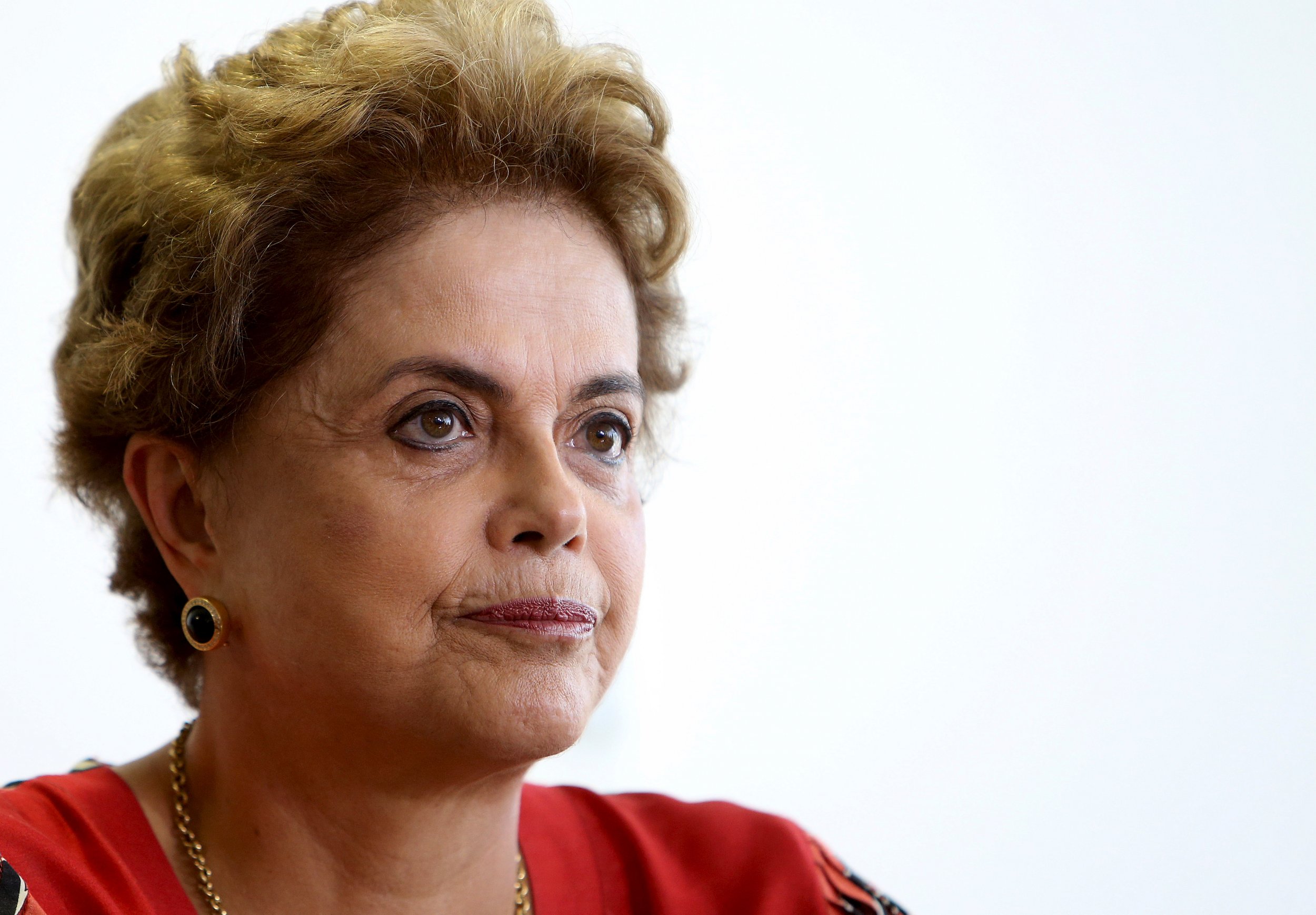 BRASILIA (Reuters) - Brazil's left-leaning President Dilma Rousseff said on Tuesday she had been singled out for impeachment by a male dominated Congress partly because she is a woman and warned that the campaign to oust her was fuelling hatred and intolerance.
Rousseff, Brazil's first female president, once again said there were no legal grounds for her ouster on charges of breaking budgetary laws, after the lower house of Congress backed her impeachment on Sunday.
That vote, in an overwhelmingly male chamber, was marked by tussles and shouts of "goodbye dear" by a number of congressmen as they cast their votes to impeach Rousseff.
"There has been, mixed in all of this, a large amount of prejudice against women," Rousseff said at a news conference with international media in Brasilia. "There are attitudes toward me that there would not be with a male president."
Latin America's largest country has more female than male voters but just 45 of the 513 deputies in the lower house are women.
In the business world, a study by Corporate Women Directors International published last year found that women make up just 6.3 percent of board members at major Brazilian companies.
Rousseff's impeachment case now moves to the Senate where the opposition is expected to win the simple majority required to suspend her and start a trial that could last six months.
Rousseff would become the first Brazilian president to stand trial in more than 20 years.
Senate speaker Renan Calheiros said a 21-member committee that will report on the impeachment case would be selected on Monday, which could delay the start of a trial until mid-May.
That raised protests from Rousseff opponents who demanded it be set up immediately. Rousseff's supporters on the other hand are pushing for delays in an attempt to win the required support in the 81-seat Senate.
The crisis has paralyzed the government as it struggles to revive the economy from its worst recession in decades, copes with an outbreak of the mosquito-borne Zika virus and scrambles to prepare to host the 2016 Rio Olympic Games.
"Rousseff must be removed immediately. Eight ministries have no head and the economic crisis worsens day by day. We cannot wait eight days," Senator Ricardo Ferraço of the centrist PSDB party said in the chamber.
ACCUSERS FACE CHARGES THEMSELVES
Rousseff's ouster would mark the end of 13 years of Workers Party (PT) rule, which has mobilized labor union and leftist social movements to defend the leftist leader, raising the risk of heightened unrest.
The Workers Party warned it would give no quarter to Rousseff's successor if she toppled.
"Our opposition will go far beyond Congress. We are telling society that an illegitimate government will have no peace, there will be a fight," said PT leader Rui Falcao at a news conference in Sao Paulo with party founder Luiz Inacio Lula da Silva at his side.
Brazil's largest oilworkers union federation FUP said it will debate a walkout and is exploring with other unions a plan for a general strike to oppose Rousseff's impeachment which they fear will undermine labor rights and hand over Brazil's oil to foreign multinationals.
Rousseff stands accused of a budgetary sleight of hand employed by many elected officials in Brazil in order to boost her re-election campaign in 2014: borrowing money from state lenders and delaying repayment in order to artificially lower the budget deficit.
Rousseff on Tuesday lashed out at her political opponents, noting that unlike her, many of them were facing criminal charges for corruption.
More than half the lawmakers who decided her fate on Sunday are under investigation for graft, fraud or electoral crimes, according to Congresso em Foco, a prominent watchdog in Brasilia.
Rousseff singled out for attack her vice president, Michel Temer, for conspiring against her, and speaker of the lower house Eduardo Cunha, who faces charges of corruption and money laundering.
She said Cunha set the impeachment in motion out of revenge after her Workers Party refused to help him avert an ethics committee on whether he lied to Congress about having undeclared Swiss bank accounts.
"This is an attempt to have an indirect presidential election by a group of people who would otherwise never be elected," she said, denouncing the impeachment process as a "coup."