RovR RollR Review: Super Tough Cooler Goes Anywhere With Great Accessories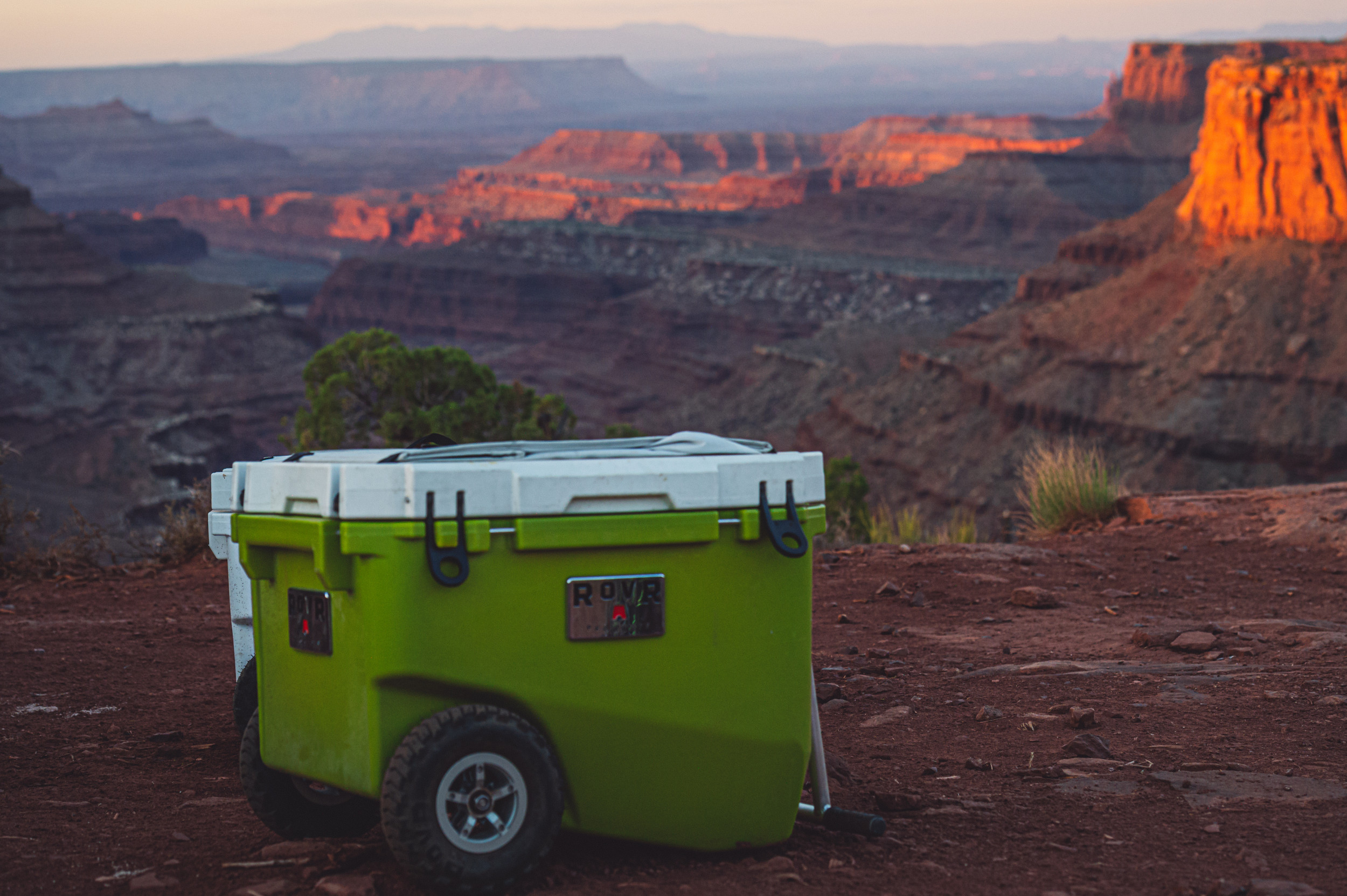 Wherever coolers go, good times happen. The problem is that while rolling up poolside might be a cinch, sandy beaches, forested campsites and other gnarly terrain can prove inaccessible for most coolers—even if they have wheels. (And carrying them fully loaded can be a foreboding task even for two people.)
With knobby, 9-inch, puncture-resistant rubber tires, RovR's RollR series of coolers can go just about anywhere. But while its transportability caught our attention, its other great features and accessories are what sold us on wanting to try one out for ourselves.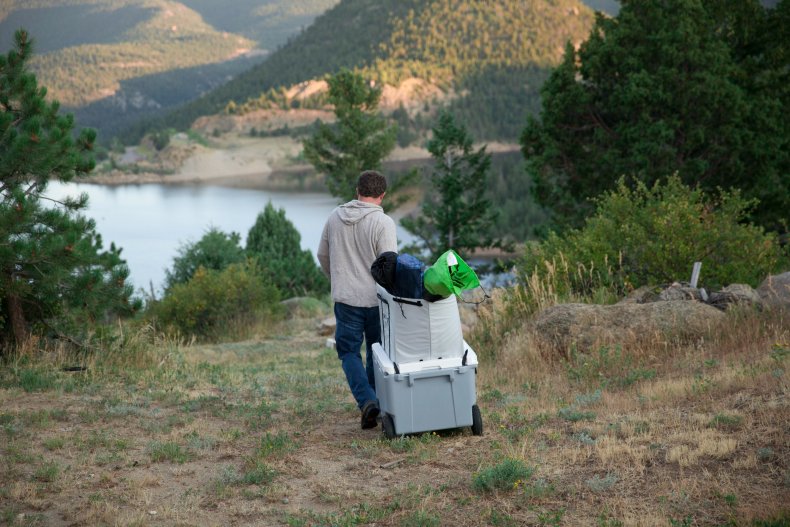 Accessorizing the Journey and Destination
If you've got to roll where you're going, chances are good that you'll want to bring along other stuff outside the cooler, as well. So I really like how the camping bin facilitates that. From a flat position attached to the top of the cooler, it folds up into an open cubby that holds a fair amount of blankets, tents and gear.
Some of that gear might include some of the RollR's other useful optional accessories. Yes, it offers dual cupholders for your drinks and a prep board for readying your vittles. But two extras you might not expect are the umbrella-rod holder—handy for sunny days and car camping—and a tough tow arm designed specifically to connect a bike to pedal the cooler to a site too remote for four wheels.
I like how the six anchor points around the cooler are designed to securely position most of the accessories (other than the BikR kit, which has its own dedicated connection point). I might not be slicing salami or avocados everywhere I go, but it's nice that this product considers the whole experience, in addition to its prime directive of delaying the food-warming process.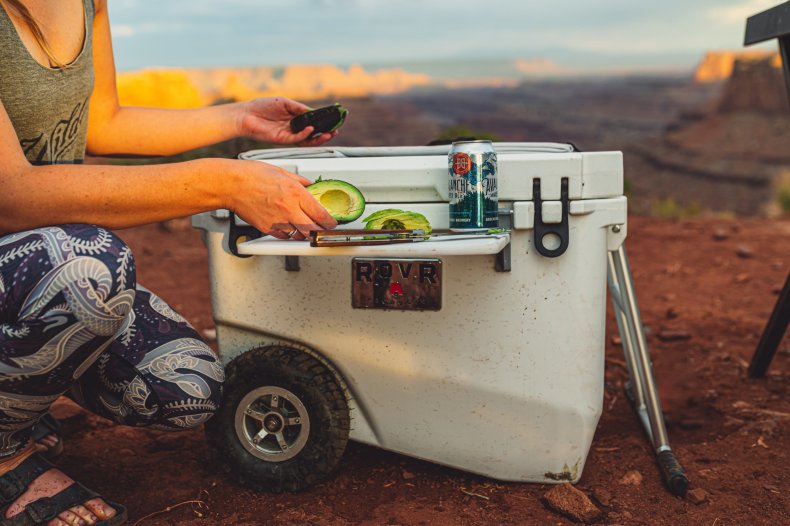 Keeping Its Cool
All the accessories in the world don't mean much if the cooler can't actually keep your beverages chilled and your perishables from spoiling. This does both very well. First, an airtight gasket seals in the cool air with the help of strong but stretchy rubber latches, which hold the lid firmly in place. Next, the big wheels perform a slick secondary function, even when they're standing still: They help to keep the cooler's angled bottom surface off the hot ground.
On the inside, the 60-quart (middle-size) version is rated to hold 60 12-ounce cans with 20 pounds of ice; or it can still hold 40 cans and 10 pounds of ice in the main compartment when the included two-compartment Deepfreeze dry bin is installed. One of those compartments could hold several wine and spirit bottles, and the other might be good for meats, cheeses, bread and really anything you don't want to get soggy as the ice melts. They say it can keep that stuff both dry and between 35 and 40 degrees Fahrenheit for up to 10 days, though I didn't ever wait it out in my use.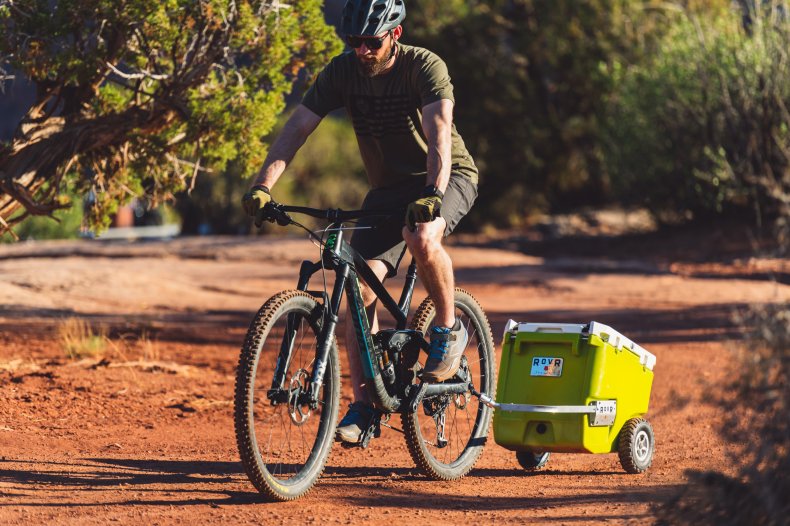 Bearing a Beating
The standard question coolers need to answer when discussing toughness is: Can it stand up to a bear? While I'm not a bear, I did toss it around a bit, though not as much as the persistent grizzlies did in the videos posted on RovR's site. So yes, it's officially certified as bear-resistant. But also keep in mind that RovR built an accessory for the express purpose of dragging this thing behind a bike on rough, dusty trails—facilitated by the fact that its telltale knobby wheels are connected by a full, 1/2-inch thick, stainless steel axle.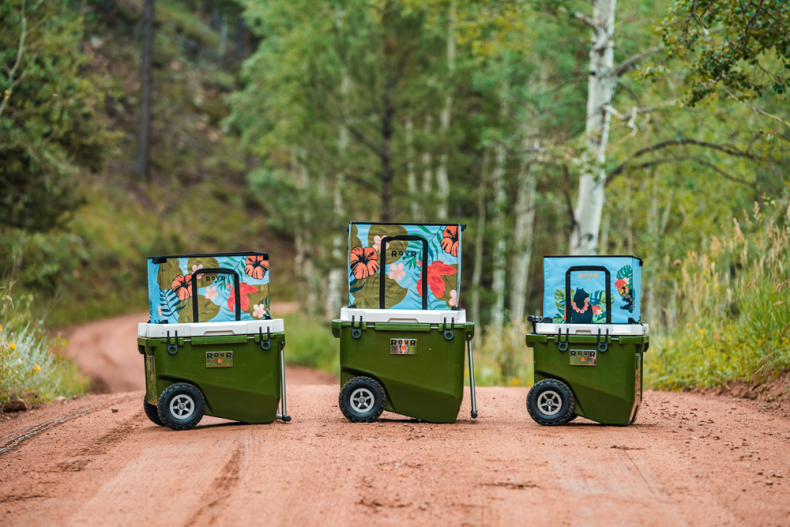 Should You Buy a RovR RollR Cooler?
It may be a little pricier than a few well-known competitors. And at 45 pounds (for the 60-quart model when empty), it's a little on the heavier side. But based on its agility, organization and durability—not to mention its actual cooling ability—it seems like a great cooler to invest in for your next decade or two of adventures.
Buy at Camping World or RovR Products.
Newsweek may earn a commission from links on this page, but we only recommend products we back. We participate in various affiliate marketing programs, which means we may get paid commissions on editorially chosen products purchased through our links to retailer sites.