Roy Blunt Joins 4 GOP Senators Not Seeking Reelection, but Could Democrats Flip Seat?
After more than a decade in office, GOP Senator Roy Blunt will not return to Washington, D.C., after his term is up in 2022, giving Democrats a better chance of flipping the seat, although it will likely be a hard-fought battle.
Blunt joins a growing number of Republicans who have announced that they won't seek reelection. The fourth Senate Republican to make the decision, he's the ranking GOP member on the Senate Rules Committee, and in Missouri, a state that voted for former President Donald Trump in November by more than 15 points, the 2022 race could be favorable to a Republican candidate.
After a decisive 2010 win, when Blunt defeated Democrat candidate Robin Carnahan by 13 points, he faced a stronger opponent in his bid for reelection. The Republican senator only won reelection by three points in 2016, the last campaign he ran, and with open seats being easier to win than taking out an incumbent, it's a sign Democrats could potentially close that gap to flip the seat.
"It [being an open seat] increases the chances of Democrats wining that seat, absolutely," Kelly Dietrich, CEO of the National Democratic Training Committee, told Newsweek. "It's another headache for the National Republican Senatorial Committee. They have another state now that they're going to have to work to defend, because it's not a safe incumbent."
Blunt won his seat in an open race after Republican Senator Kit Bond decided to retire. Bond also gained his seat after it was vacated by incumbent Senator Thomas Eagleton. He was the last Democrat to hold the Senate seat and served from 1968 until 1987.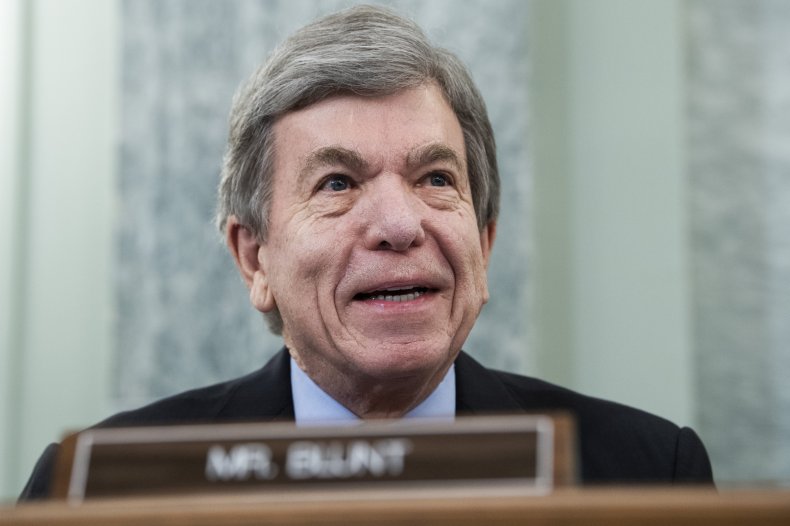 Open races present a rare and unique opportunity for candidates because on average, senators win reelection about 80 percent of the time or more. Being a challenger is often a harder task but it's not impossible.
Two years before Blunt won reelection by a significantly smaller margin than his first victory, Republicans issued a rebuke of their own. In 2019, Republican Josh Hawley defeated 12-year incumbent Democratic Senator Claire McCaskill, who ousted an incumbent Republican in 2006, by nearly six points.
McCaskill quickly put to bed any hope that she would mount another run. In a tweet, she thanked those who said kind things about her but added, "I will never run for office again."
"Nope. Not gonna happen. Never. I am so happy I feel guilty sometimes," McCaskill said.
Jason Kander, who ran against Blunt in 2016, posted on Twitter that he had no plans to run because the decision was "never about who I'd run against." He said he loves his job and doesn't want a new one but offered to campaign for the Democratic nominee.
Even without Kander, there are a number of people who may compete for Blunt's seat, including Scott Sifton, a former state representative and state senator. He announced his campaign in the beginning of February in a video, where he targeted Blunt for being "too weak to stand up to his party's lies," in reference to Trump's claims of election fraud.
Timothy Shepard, an entrepreneur and activist, is also looking for the Democratic nomination.
It will be a "very difficult" seat for Democrats to win, according to Dietrich, because Missouri is still a red state. The ideal Democrat to win needs to be known and a charismatic leader.
"After that, I don't know, honestly," Dietrich said. "I don't think it's about being too liberal or conservative, because you'll be painted as a socialist no matter who you are. It's more about the personality and presentation and their ability to communicate the values to every voter in Missouri."
For example, Dietrich said, Democrats should avoid talking about whether the minimum wage should be $13, $14 or $15 and instead focus on how families are hurting and how workers need to be paid a living wage.
At least one Republican is eying a potential run for Blunt's seat as well. On March 2, former Governor Eric Greitens told St. Louis radio host Marc Cox that he was "evaluating" a challenge to Blunt because "I have always loved fighting for the people of Missouri."
While Sifton criticized Blunt for being too beholden to Trump, Greitens attacked the senator for not adequately supporting the former president, specifically with his criticism of Trump skipping the inauguration and the role he played in the January 6 Capitol riot.
Blunt didn't cite a specific reason for why he wouldn't seek reelection, but in a video posted on Twitter on Monday, said he "tried" to do his best serving Missouri. He acknowledged his family and thanked Missourians for the opportunity to work for them.
"There's still a lot to do and I look forward to every day this year and next year as I continue to work for you in the senate. Another lesson I learned here: finish strong. And I intend to," Blunt said.
This story has been updated with comments from Kelly Dietrich, CEO of the National Democratic Training Committee.