Who is Roy Cohn? Attorney General Barr Draws Comparisons To Donald Trump's Former Personal Attorney and Loyal Fixer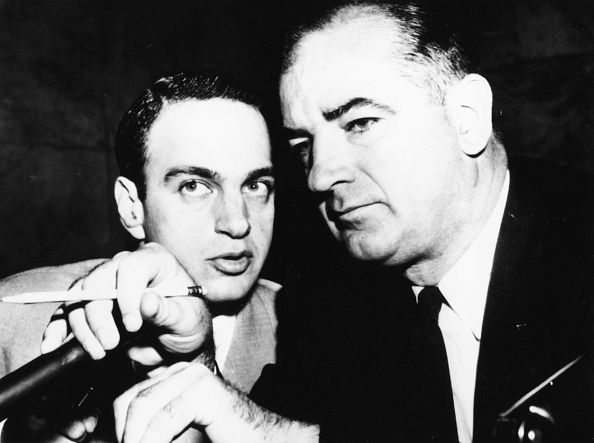 Democrat Adam Schiff, chairman of the House Intelligence Committee, said Donald Trump "is well on his way to having his own Roy Cohn" after Attorney General William Barr claimed that the FBI was "spying" on the president's campaign.
"I thought it was a grave disservice to the men and women of the bureau," Schiff told Politico. "I had deep concerns about him, given how he got the job, but this is far worse than I would have imagined."
Barr said Wednesday during testimony before a Senate Appropriations subcommittee that he plans to examine "the genesis and the conduct" of the FBI investigation into Trump and his 2016 campaign associates. "I think spying did occur," Barr said. "The question is whether it was adequately predicated."
Trump immediately applauded the attorney general, telling reporters that Barr was "doing a great job" and that they "beat" special counsel Robert Mueller and his investigation into Russian election interference and possible collusion.
The president has allegedly complained several times of not having a loyal "Roy Cohn" figure in the White House, referring to his former personal lawyer and fixer. The New York Times reported last year that after then–Attorney General Jeff Sessions recused himself from the Mueller probe, Trump demanded to know "where's my Roy Cohn?"
Cohn, a ruthless attorney who rose to fame during the McCarthy hearings in the 1950s, died of AIDS in 1986 at the age of 59.
Cohn served as the chief counsel to Senator John McCarthy during the investigations of alleged communists during the Red Scare. McCarthy called dozens of government officials, Hollywood producers and labor leaders who were suspected of being communist sympathizers before Congress.
After working with McCarthy, Cohn turned to private practice in New York, where he eventually began representing Trump, who at the time was a young developer. Cohn became Trump's close mentor and helped him to climb social and political circles in New York and grow his real estate empire.
According to Vanity Fair, there was a time when the duo would speak 15 to 20 times a day. In the 1980s, Trump said Cohn had been "vicious to others in his protection of me" and that he was a "lousy lawyer, but he's a genius."
Trump even testified on Cohn's behalf as a character witness during a disbarment hearing in the 1980s. Cohn was officially disbarred weeks before his death for ethical violations, including fraud, misrepresentation and dishonesty.
With Barr's handling of the special counsel's investigation, including accusations he may have skewed findings in order to be more favorable toward Trump, many have compared Barr to Cohn.
Barr has appeared before lawmakers in Congress several times this week. During his testimony, Barr wouldn't say if he shared information about the Mueller report with the White House. His use of "spying" echoed the comments of Trump and other critics of the investigation, who have claimed the FBI's inquiry was politically motivated.
"I think that's a betrayal of what he promised during his confirmation. But it is what he was hired to do, which was to protect the president. The president wanted his own Roy Cohn, and apparently, he's got one," Schiff told reporters on Tuesday.