Roy Moore Changes Story About Accusers, Compares Claims to Trump-Russia Investigation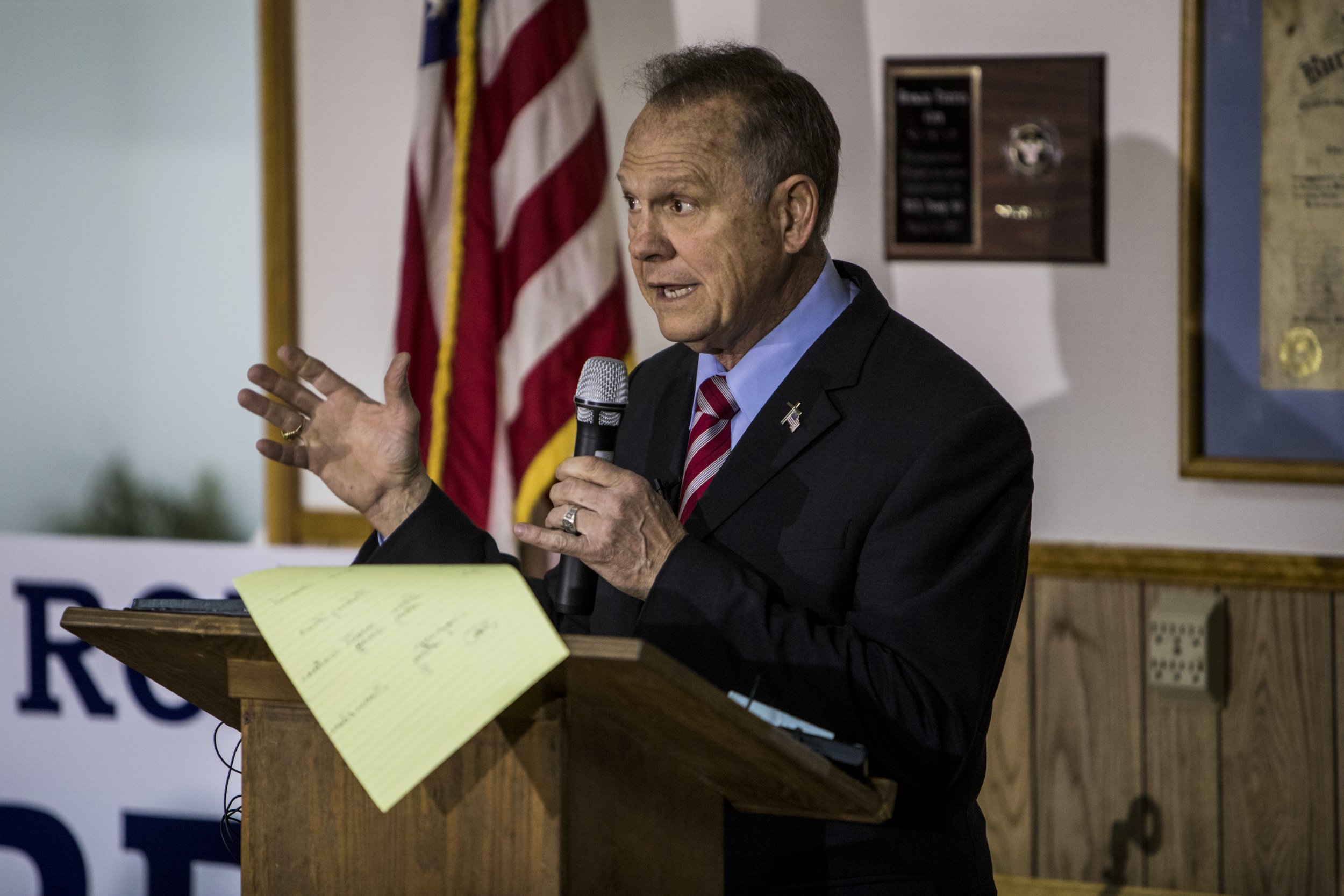 Republican Senate candidate Roy Moore of Alabama made his first public appearance in almost two weeks on Monday night, and he used it to change his account about a series of accusations of sexual contact with teenage girls and to compare the rush of claims against him to the Trump-Russia investigation.
In the past three weeks, Moore's campaign has been rocked by allegations from nine women that he pursued them as teenagers when he was in his 30s. In one case, he is accused of sexual contact with a 14-year-old, and in another, of attempted rape of a 16-year-old.
Related: Roy Moore met wife Kayla when she was a minor, and he was 30, at a girls' dance recital
During a rally Monday night, in which he declined to take any questions, Moore said he did not "know any of [the women]." That contradicts previous statements he has made about his accusers.
Specifically, Moore has said that he did know Debbie Wesson Gibson, who told The Washington Post that the former Alabama Supreme Court chief justice dated and kissed her in 1981, when she was 17.
"I remember her as a good girl," Moore told Sean Hannity earlier this month. "I know her, but I don't remember going out on dates. I knew her as a friend. If we did go out on dates, then we did. But I don't remember that."
In the same interview, he also admitted to knowing Gloria Thacker Deason, who told the Post that Moore took her on dates and gave her wine when she was 18. At the time, the legal drinking age in Alabama was 19.
Moore's claim Monday also undermined an aspect of the defense utilized by his legal team. Attempting to rebut a claim from Beverly Young Nelson that Moore tried to rape her when she was 16, Moore's attorney, Phillip Jauregui, said Nelson's assertion that the pair had no contact after the alleged incident was false because Moore had been the judge on her divorce case. That claim has subsequently been found to be untrue on the basis of court records and interviews that show Nelson never came before Moore.
Moore's team has also questioned the authenticity of a signature in Nelson's yearbook purported to be from the former judge. On Tuesday, Gloria Allred, the attorney representing Nelson, said she would turn over the yearbook for authenticating if Moore agrees to testify under oath.
Moore has aggressively denied all the claims made against him, portraying them as a smear campaign cooked up by Democrats, establishment Republicans and a biased mainstream media. Senate Majority Leader Mitch McConnell has called on Moore to drop out of the race, but President Donald Trump has refused to do so.
Moore has championed Trump's comments about him as a de facto endorsement. But the president, who has faced his own accusations of sexual misconduct, has privately expressed doubts about Moore's accusers, according to reports.
On Monday, Moore said what he was facing was directly comparable to the reporting on the investigation into possible collusion between the Trump campaign and Russia.
"Why are they doing this? I'm going to tell you why they are doing this," he said. "They are trying to hide the true issues which affect the people of this country and this state that they want resolved. It's no different than when The Washington Post brought out the Russia investigation at a time when President Trump is trying to get his agenda passed. That's exactly what they are doing. They are taking the attention away, and they're not getting anything they are doing. They are taking attention away from the Senate and from the Congress, who can't pass legislation. The people of this country want movement. They don't want false attacks like this. And that's exactly what's happening in this case."
Moore, who as of Monday is facing a new challenger in the form of Lee Busby, a former top aide to current White House chief of staff John Kelly, has seen his large lead in the polls over Democrat Doug Jones effectively eradicated since the allegations emerged. That, too, he claimed was a media distortion.
"This is beyond being attacked for various things, having your family attacked," he said. "Politicians stop at nothing. They'll publish false polls—which they're doing today. In trying to distort this, they'll go to false attacks."