Roy Moore Gets Alabama Pastor's Vote Even if Senate Candidate Molested Teenage Girls
An Alabama evangelical pastor said he would vote for Senate candidate Roy Moore even if it's proved he molested teenaged girls.
Interviewed by The Boston Globe, Pastor Earl Wise said that he would continue to back Moore, whose campaign has been rocked by multiple allegations of sexual harassment and assault.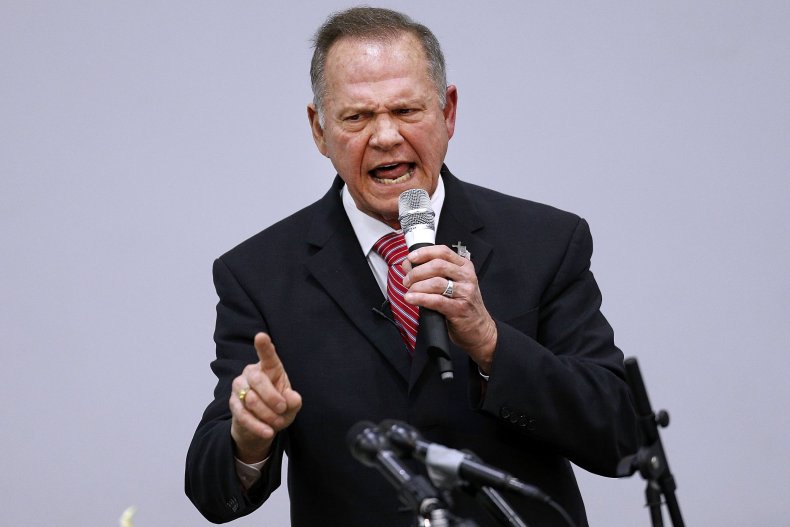 Leigh Corfman alleges that Moore sexually assaulted her when she was 14 and he was a district attorney in his early 30s. Several other women also have come forward with allegations that Moore either sexually assaulted them or made sexual advances toward them in their teens.
"I don't know how much these women are getting paid, but I can only believe they're getting a healthy sum," Wise said.
Wise alleged that if the accusations were true, the alleged victims would have come forward years ago.
"There ought to be a statute of limitations on this stuff," he said. "How these gals came up with this, I don't know. They must have had some sweet dreams somewhere down the line."
"Plus, there are some 14-year-olds, who, the way they look, could pass for 20," Wise added.
Wise, of Millbrook, Alabama, was one of 50 evangelical leaders who endorsed Moore in the Republican primary Senate battle with GOP establishment-backed Luther Strange.
Moore's core support is in Alabama's evangelical Christian community, whose members have continued to back him even as senior Republicans have called for him to step down.
A third of evangelical voters in the state said in a poll taken in early November they would be more likely to vote for Moore after allegations he molested a 14-year-old emerged. Dozens of progressive pastors have denounced Moore in an open letter, claiming his "extremist values and actions are not consistent with traditional Christian values."
Pastor Franklin Raddish of the Capitol Hill Independent Baptist Ministries told Al.com that the accusations about Moore were part of a "war on men."
"More women are sexual predators than men," Raddish told AI.com. "Women are chasing young boys up and down the road, but we don't hear about that because it's not PC."
Moore has denied the accusations against him, and pledged to continue his campaign for a Senate seat.